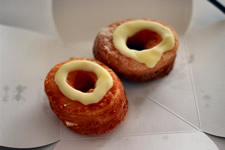 Spencer asks via Facebook:
Are there any bakeries in the capital region making cronut knockoffs? I would love to try.
You might be wondering: What the @#$% is a cronut?
It's essentially a donut made from croissant dough. The "pastry hybrid" is said to have sprung to life from the head of Dominique Ansel, a chef in Manhattan. (It's unclear if the cronut sprang forth from Ansel's head fully grown.) And since taking shape in May, the cronut has prompted a lot of people in NYC to stand in line. The craze -- like some zombie apocalypse virus, no doubt taking advantage of air travel and our interconnected world -- has since spread to other large cities. (Though none of those are officially "cronuts," because the term was trademarked by Ansel.)
So... about finding something like that here in the Capital Region? We haven't heard of any place making them. But maybe there's something like it. Or, perhaps, some local place will see this as an opportunity. (Cider cronut, anyone?)
Have a suggestion for Spencer? Please share.
Earlier on AOA:
+ Trying the glazed donut breakfast sandwich at Dunkin' Donuts
+ Eat This: Boston cream donuts at Bella Napoli
+ Eat This: Glazed donuts at the Cookie Factory
+ A short tour of Capital Region doughnuts
Hi there. Comments have been closed for this item. Still have something to say? Contact us.