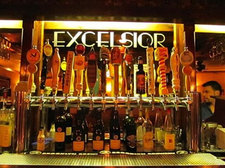 The Excelsior Pub in Albany -- which focused on New York beers and wines -- is closing tonight (August 23). Steve has some of the details over at Tablehopping.
The pub is currently attached to Cafe 217 on Delaware Ave near Lark, an arrangement that apparently has come to an end. But it sounds like owner Jason Bowers is looking for a new space. From an email he sent to "pub club" members earlier this week:
Temporarily is the word to focus on. As some of you know I have been looking into adding a second location for some time now. This is still my intention. My goal is still the same but there are now some added steps and new ideas to take into consideration with this new development. I do ask for your patience and understanding in the coming time. I will do my best to keep you informed of all things EPC, and look forward to serving you again soon.
In the meantime, people are going to miss the Excelsior. As Colleen, a self-described regular, said to us in an email today: "Seriously, the guy loved his bar and his customers. He chose his taps as carefully as a museum curated builds a collection. He traversed the state to pull the beers no one would have thought to try."
Hopefully some new situation will be worked out. The concept behind the pub was a good one, and it highlighted and supported the growing beer and spirits scene in the state.
(Thanks, Lauren and Colleen)
Earlier on AOA: The Excelsior Pub: exclusively New York
Speaking of the beer scene: Greg Back is trying to start up a Capital Region brewery trail
Hi there. Comments have been closed for this item. Still have something to say? Contact us.