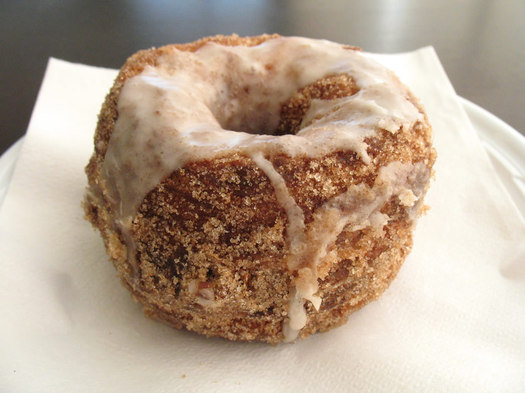 You might have seen the bit last week about Spencer's question -- and an off-hand comment from us -- leading to the creation of the apple cider croissant donut. Yep, read that correctly: it's a croissant donut -- like the now famous cronut -- mashed up with an apple cider donut.
The apple cider "crodo" is the creation of the Crisp Cannoli in East Greenbush. And after owner/baker Jason Grant gave us the heads up last week about its creation, we were left with just one course of action: We had to go try this thing.

The idea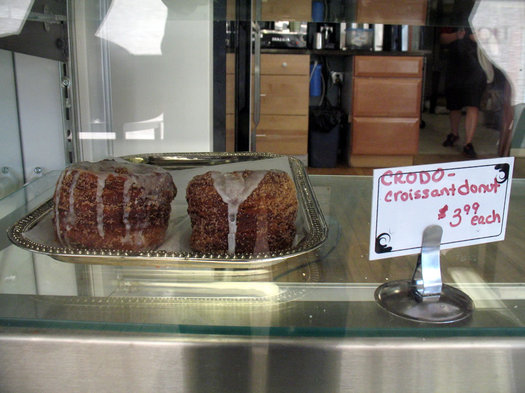 We stopped in at the Crisp Cannoli this past Friday to try this creation, and to talk with Grant a little bit about the idea. He explained that he had started making croissant donuts -- donuts made from croissant dough, "crodo" for short -- recently after customers started asking about them. He'd never tried the cronuts made famous by Dominique Ansel in New York City, or anything like them -- and still hasn't.
"I'd heard about them, read about them. And I kind of just said, 'Well, I gotta figure out what the big deal is about a croissant donut.' So I tried it out and it was actually really, really good -- that buttery, flaky dough."
Customers seemed to agree -- Grant says he's been selling about 8 dozen a day since word started getting around about them. After he took them to the North Greenbush farmers' market, someone picked up a few and took them to a nearby little league baseball game. That led to a stream of people from the game to the market. As Grant recalls, one person walked up and said: "Whatever that person had, I don't know what it is, but I want it."
He now also makes filled versions: nutella, raspberry, chocolate, and vanilla custard. But the apple cider crodo is a departure. It's not filled with apple -- it really is like a croissant donut that also tastes like a cider donut. It's a mashup that's been mashed up.
When we mentioned the idea in that post last week, we were only half serious. You know, it was kind of like asking for a unicorn. But as Grant told us Friday with a laugh: "Oh, you got my wheels turning when you wrote that."
And after 6 or 7 trial batches, he arrived at the final version.
The apple cider crodo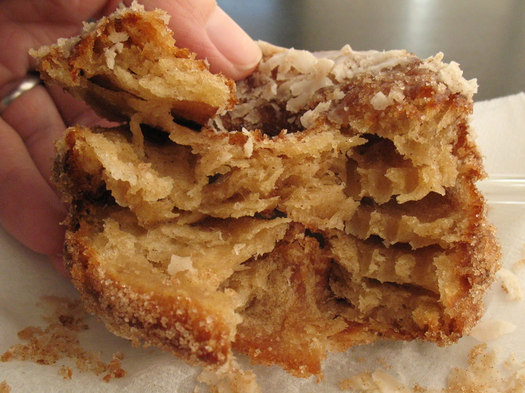 The apple cider crodo is a tall donut. And it's got some heft. This is a solid pastry.
The outside is covered with cinnamon sugar, and the top has a maple glaze. As you bring it up to your nose, it smells of apple cider and maple syrup.
The exterior crunchy and a touch chewy. But the inside is soft and flaky and layered. The whole thing is surprisingly non-greasy, considering it's made from croissant dough (butter) and then fried.
And the flavor? It totally reads as a cider donut, with the apple cider flavor cutting through crunchy/squishy/layered dough. The maple glaze on top adds another note, one that works surprisingly well. (We thought it might be gilding the lilly, but who are we kidding. This is pretty much the definition of too much -- in the best way.) Said Grant about adding the maple: "I love cider donuts -- and they don't have that glaze on there. But when I have that cider donut, I think of all the fall flavors. It was my nephew who was said, 'It feels like I'm eating fall.'"
It's delicious in a slightly weird way because the flavor says "cider donut," but the texture doesn't. In our experience, the weirdness passed quickly as we tried to jam more of the thing in our mouth.
How?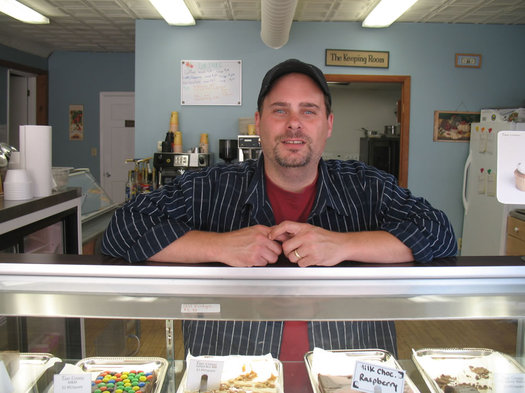 Jason Grant
Two things that stuck out about the apple cider crodo: it wasn't greasy, and the strong apple flavor.
Grant said he keeps the crodos from getting greasy by frying them as quickly as possible so the dough doesn't have a chance to soak up the oil.
The apple flavor took experimenting. The trick: a strong apple cider reduction (he gets the apple cider from Goold's). As Grant explained: "I made sure what I got in there was going to be apple. I didn't want to have a crodo out there that was supposed to be an apple cider donut that didn't taste like apple. So, trying it out, trying out, I had to keep reducing [the cider] down, keep getting it a little thicker."
The bakery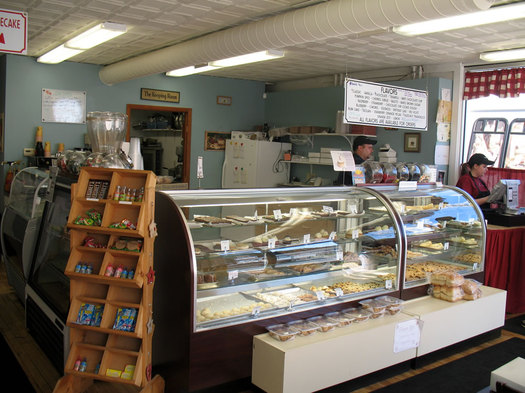 The Crisp Cannoli opened just about a year ago in a space on Columbia Turnpike in East Greenbush. While we wouldn't exactly call it old-school, it's the kind of bakery you don't see much now -- the sort of independent neighborhood place that make cookies, cheesecakes, cupcakes, donuts, and (of course) cannoli (handmade and filled in house).
Grant had been working in the health insurance industry for 17 years before he finally made the jump to full time baker last year. Before that he'd been baking for company functions, and had started a mobile business selling cannoli at events around the area.
His goal for the bakery: "Everything's gotta be fresh. We just won't do it any other way."
Bonus track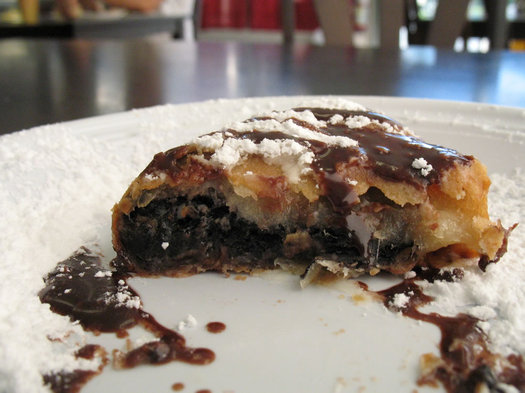 Crodoli cut in half.
While we were sitting in the Crisp Cannoli eating the apple cider crodo, Grant brought over something else he'd created: a crodoli -- a cannoli shell wrapped around filling and then fried. Specifically, the one he brought to us had an Oreo on the inside. And it was warm.
He described it as a "gourmet deep-fried Oreo." It was rich -- and made the crodo feel light and airy. (It was also delicious.)
Find It
The Crisp Cannoli
699 Columbia Turnpike
East Greenbush, NY 12061
Say Something!
We'd really like you to take part in the conversation here at All Over Albany. But we do have a few rules here. Don't worry, they're easy. The first: be kind. The second: treat everyone else with the same respect you'd like to see in return. Cool? Great, post away. Comments are moderated so it might take a little while for your comment to show up. Thanks for being patient.