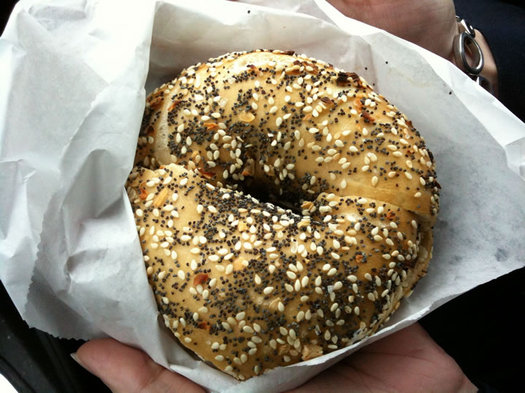 The startup bagel stand Albany Bagel has just three more Saturdays at the farmers' market at the Crossings in Colonie. From an email it sent out this week:
We're still working on figuring out what the next steps will be for the Albany Bagel Company after the market closes. So while this probably won't be your last chance to try one of our bagels, it certainly will be your best chance in the near future. So come on out and grab a bagel on Saturday (9am-1pm).
As a further incentive: we officially crossed the line into profitability last weekend. We donate 100% of profits to charity, so that means that from now on every bagel you buy will mean even more money being donated to charity (even before profitability we've been donating 10% of our revenue).
ABC has an interesting backstory: it's the creation of Michael Dirolf, a software developer, along with his family and friends. They didn't have any baking experience -- they were just dissatisfied with local bagel options. So they spent a year honing a bagel recipe to resemble the bagels Dirolf had gotten in New York City.
Back in May, shortly after the stand's debut, we stopped by to try a few bagels. And they were really good -- still warm from the oven, chewy, with a crackly outside. We especially enjoyed the everything version, which was nicely savory without the burned garlic flavor that sometimes accompanies an everything (ABC wasn't using garlic on its everything -- just onion). It was easily one of the best bagels we've had in the area.
So, if you haven't tried them, yet -- here's your chance. Three more Saturdays.
Hi there. Comments have been closed for this item. Still have something to say? Contact us.