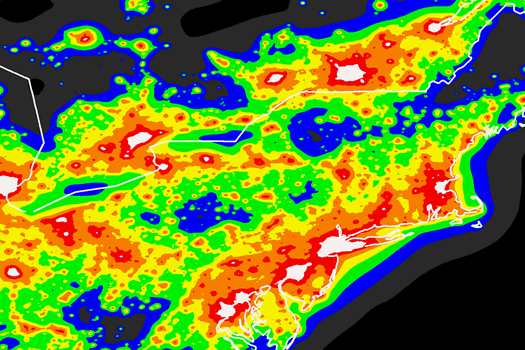 After reading this interview with Paul Bogard, author of The End of Night: Searching for Natural Darkness in an Age of Artificial Light, we were curious the closest, darkest place. We'll get to that in a second. First, a clip from the interview:
There's a statistic that I quote, which is that eight of every ten kids born in the United States today will never experience a sky dark enough to see the Milky Way. The Milky Way becomes visible at 3 or 4 on the Bortle scale. That's not even down to a 1. One is pretty stringent. I've been in some really dark places that might not have qualified as a 1, just because there was a glow of a city way off in the distance, on the horizon. You can't have any signs of artificial light to qualify as a Bortle Class 1.
A Bortle Class 1 is so dark that it's bright. That's the great thing--the darker it gets, if it's clear, the brighter the night is. That's something we never see either, because it's so artificially bright in all the places we live. We never see the natural light of the night sky.
As Bogard mentions in that clip, there's a scale for night sky brightness, the Bortle scale. Nowhere east of the Mississippi qualifies for the very darkest category.
But we're not too far from a few spots that qualify as pretty darn dark (a scientific term). According to maps created by The World Atlas of the Artificial Night Sky Brightness based on satellite data, there's a patch in the middle of the Adirondacks that qualifies for the second-darkest category on the scale used by the atlas -- here's a zoomable map. Specifically, the patch is just west of Blue Mountain Lake, around Raquette Lake. It's about 135 miles from Albany.
It's not surprising the Adirondacks have a spot like this -- it's one of the least-lit places in the eastern United States.
image: The World Atlas of the Artificial Night Sky Brightness
Hi there. Comments have been closed for this item. Still have something to say? Contact us.