Update October 10, 2013: APD says it's arrested the guy.
From the odd alleged crime file: Someone is apparently going around Albany neighborhoods stealing bottles out of the boxes for home-delivered milk.
Bernard emails:
My family has been dealing with the lamest criminal ever for a couple of weeks now. I'd appreciate it if you could share this with your audience. My understanding from the Meadowbrook dairy folks is that they are getting many reports of stolen milk from folks in the New Scotland Ave, Center Square and South End.
This guy is basically driving his bike around 3-5 days a week from 6-7:30 in the morning to steal milk bottles. (Yes, you can still get milk delivered.) The cops and the dairy are pretty sure that he either steals empties, or dumps the full bottle so that he can return them to stores like the food coop, shop-rite, fresh market for a whopping $2.
As a geek, I of course seized this annoyance as an opportunity to buy (an incredibly cheap) wifi network camera with night vision. So here he is. Albany people, if you recognize this dude or see a guy with neon yellow sneakers stealing crap from people, please let me know and call the Albany police.
Bernard's video is embedded above.
We talked with the Albany Police Department about the situation. APD spokesman Steve Smith says they've gotten two official reports of recent milk bottle thefts -- one in the New Scotland neighborhood, the other in Center Square -- but they believe there have been "several" other incidents.
(We've also heard, secondhand, that in one case the milk was poured out before the bottle was taken. And that would be a crime -- Meadowbrook milk is delicious.)
If you have info about the bottle thefts, call the APD: (518) 438-4000.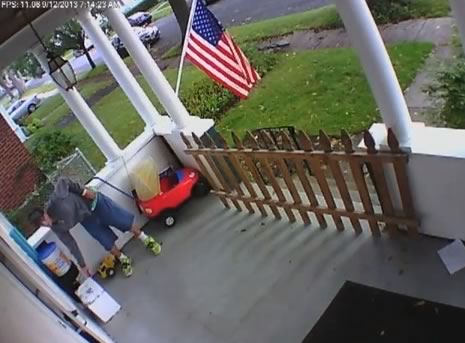 Hi there. Comments have been closed for this item. Still have something to say? Contact us.