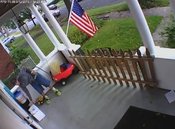 Albany police say they've arrested a man for allegedly stealing a milk bottle off the porch of a house in the New Scotland neighborhood in September (press release post jump). Yep -- you remember, the incident that was apparently caught on camera by the homeowner. At the time APD said it knew of at least two such incidents and suspected other (we heard the same thing).
And get this: APD says the guy accused of stealing the milk bottle is also accused of stealing a 7-foot Christmas tree from a Capital Lights in the Park display in 2011.
APD: Milk Bottle Thief Arrested
A 30 year old city resident is in custody for stealing a milk bottle from a home on Maplewood Street.
On Thursday October 10, 2013, at approximately 8:50 a.m., Detective Michael Nadoraski, of the Criminal Investigation Unit, stopped Frankie Daioczok, 30, of Albany, in the area of Madison Avenue and Partridge Street as part of an ongoing investigation. Daioczok was identified as the suspect in an ongoing larceny investigation and was placed into custody without incident.
On September 12, 2013, at approximately 6:30 a.m., Daioczok walked onto the front porch of a home on Maplewood Street and stole a glass milk bottle from the residents milk box.
Daioczok was charged with Criminal Trespass 3rd and Petit Larceny.
He was arraigned this morning in the Albany City Criminal Court and remanded to the Albany County Jail in lieu of $2,000 bail.
He was also arrested on an active bench warrant from a previous case in the City of Albany.
On December 2, 2011 at approximately 6:00 a.m., Daioczok stole a seven foot Christmas tree from the Capital Lights in the Park display inside Washington Park. He was apprehended moments later by responding officers and was taken into custody. In that case he was charged with Petit Larceny and Criminal Possession of Stolen Property 5th. He was arraigned in the Albany City Criminal Court and released under the supervision of Albany County Probation. Daioczok failed to appear to his scheduled court appearance and a warrant was issued.
video still: YouTube user Bernard Duffy