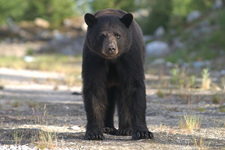 This is intense. From an article in the Adirondack Daily Enterprise by Mike Lynch (map link added):
The DEC has heard of several incidents of nuisance bears between Wakely Dam and Stephens Pond in the town of Indian Lake.
In one encounter, which took place Wednesday, Sept. 18, three bears followed a woman hiking alone, according to the DEC. The woman made several attempts to scare the animals away, but they continued to follow her. One bear, in particular, got very close to the woman near Stephens Pond.
"Feeling threatened she stabbed the bear with a knife," according to a DEC statement.
The bears then fled, and the woman safely hiked to the state-run Lake Durant Campground.
Bears usually run off when humans attempt to scare them. In this case, the DEC tells the Daily Enterprise it might be a case of the bears getting food from hikers in the past.
As we've mentioned before: Don't feed the bears. Really. Not only is illegal, it also usually ends up hurting the bear.
Here's a DEC info page on how to avoid bears and what to do if you encounter one.
[via AP/Post-Star]
Some history: The last person in New York State to be killed by a bear was in 2002 in an odd incident in which a young bear dragged a 5-month-old human into the woods in Sullivan County. Before that, the last human death by the paw of a bear was in 1933 when an 11-year-old on Long Island was killed by a bear tied up in front of an inn. Of course there have been other non-fatal encounters, including a 2011 incident in which a woman in Greene County was knocked down by a bear. And in recent years bears have been wandering into more urban areas of the Capital Region. [CBS News] [Wikipedia] [TU]
In other wildlife news: The DEC captured a moose in Halfmoon today. DEC says he's being transported to the Adirondacks. [TU] [NYS DEC]
photo of a black bear -- NOT the black bear: Flickr user peupleloup (cc)
Hi there. Comments have been closed for this item. Still have something to say? Contact us.