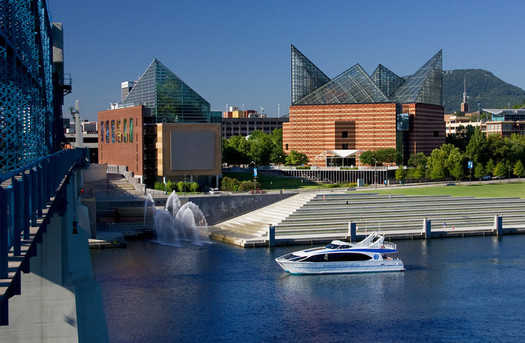 The company that's been pushing the idea of an aquarium for downtown Albany -- Omni Development -- released the first phase of a feasibility study for the idea yesterday. And the very short story: the report concluded there appears to be demand for something like an aquarium here.
After hearing hearing a presentation about the study, and going over the materials distributed from the first phase, here are a few bits, observations, and thoughts...
Demand
The feasibility study is being conducted by ConsultEcon, which has consulted on aquarium, zoo, and museum projects at sites around the world. The first phase of the study is aimed at figuring out whether there's potential demand here for an aquarium/science center/something like that. And, they concluded, there is. A pdf presentation of the study's findings distributed to the media is embedded below.
This table sums up a big part of their argument. It compares other similarly sized metro areas, along with the average attendance of attractions in those metros.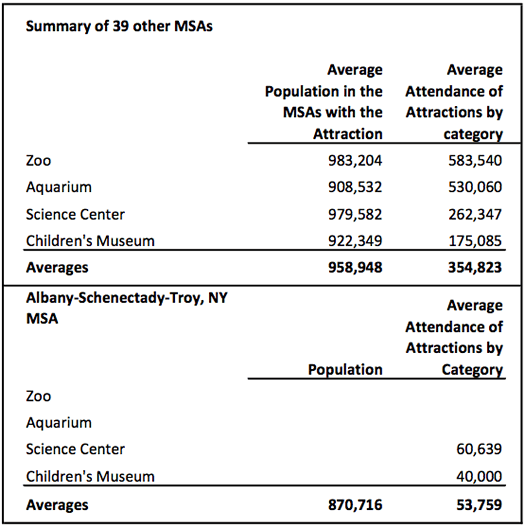 table: ConsultEcon
Framed that way, the Capital Region's current attendance at science-type attraction is far out of line with other metros of the similar size, and maybe indicates there's opportunity for something like that here. Or as ConsultEcon's Elena Kazlas put it: "This really represents a latent demand for family-oriented educational attractions in the Albany market area."
(Update: See the comment below from CMoST's Deborah Onslow about attendance figures.)
Of course, because ConsultEcon is a hammer for this sort of thing, it's not unreasonable to expect that it will see nails everywhere it looks. But Tom Martin, the president of the consultancy, asserted at the press conference that if they didn't see opportunity here, they would have said so -- in part because future clients ask about how past predictions have panned out.
By the way: An interesting bit from the study: the State Museum draws more 500,000 people a year.
Penguins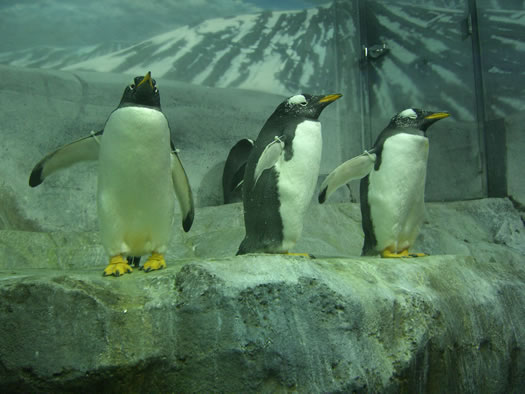 Penguins at the Tennessee Aquarium. / photo: Flickr user Andrew Kuchling (cc)
Omni officials stressed Thursday that nothing about this potential project is set in stone. But, perhaps with ConsultEcon's nudging, they appear to very much be leaning toward some sort of science/educational project that includes animals.
Why? Because animals apparently keep people coming back. "With animals it's always changing, it's always different," ConsultEcon's Martin said. "And we identify with living creatures."
And for what's worth, the former mayor of Chattanooga (more below) said that even though Atlanta now has an aquarium, people still travel to his city because the Tennessee Aquarium has "better penguins."
Chattanooga
Shortly after the aquarium idea first surfaced, Chattanooga and its aquarium were tossed in as an example of how things could play out here. And it appears Omni still very much believes that to be the case. They brought in the former mayor of Chattanooga, Ron Littlefield, to talk about the city's experience with the Tennessee Aquarium, which opened in 1992.
Littlefield said at the time Chattanooga was a "very depressed" former industrial city, and many residents didn't think it had a future. Community leaders decided "something dramatic" had to be done -- and part of that something ended up being the $45 million aquarium project. He said public money was used to help prepare the site and install necessary infrastructure, and private investors raised the money for the aquarium itself.
Chattanooga is now "the most transformed city in America," according to Littlefield (of course, he is rather biased on this account), thanks in part to the aquarium. As he described the situation, the aquarium helped spur new development downtown, including offices and residential. "There was a rub between pro-industry and pro-tourism people -- but it turns out quality of life appeals to everyone."
Littlefield said he saw similar potential here, especially with the opportunity to tell the story of the Hudson River. He said he wasn't paid for the endorsement, and "has no dog in this hunt."
Other models
ConsultEcon also identified two other projects that could possibly serve as models for Albany:
+ The Greensboro Science Center in North Carolina -- it now has an aquarium (and penguins, it appears)
+ The International Centre for Life in Newcastle upon Tyne (UK) -- it includes "scientists, clinicians, educationalists and business people" in a "science village" (with an ice skating rink)
Money
It's a key question: Where is the money going to come from for this project? Omni officials said they've been talks with community leaders to think about ways to pull together the necessary funding -- in whatever form it might take: public, private, grants, and so on. But they say it's still too soon to talk specifically about how to finance it. And when asked whether Omni itself was ready to invest, the officials didn't say either way.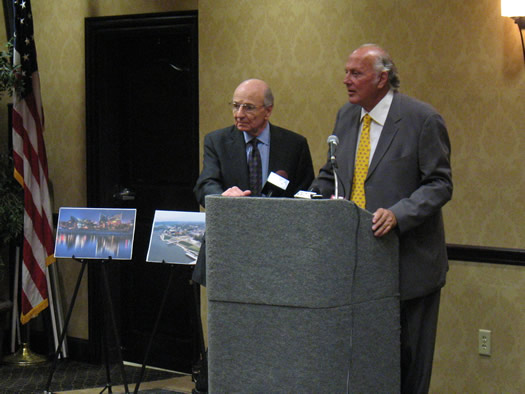 Omni Development's David Swawite and Richard Zipes
Ways of thinking about development
We were caught a few times by some of the language used by Omni officials in talking about Albany and its current situation.
Omni chairman Richard Zipes: "The city as it is today is languishing in decay. And if you know anything about the budget, there's a tremendous deficit in the budget. So this story is not about Omni, it's about a journey and the journey is try to turn Albany into a destination city, so ... that it will turn around and the tax base will generate far greater revenue."
Omni president David Swawite, on the potential project: "It's to get the community together, and our public officials together, to find another transformational project to turn around this city from where it's at."
There's a range of ways to think about urban planning and development. Two perspectives -- to totally oversimplify -- are:
1) Aiming for large-scale transformational projects that will stamp a vision onto a place
2) Aiming for lots of smaller developments that will add up in way that's maybe more about self-organization than one master plan
Based on the Omni officials' comments, we get the impression they're very much on the large-scale-transformational side. And that makes sense -- they're developers of big projects.
It will be interesting to watch, if this idea moves forward, whether people who are more in that other camp start to push back on the large-scale approach. You can already see this tension a bit in discussions that have already gone on about downtown development as some people have advocated for building-by-building residential conversion -- and amenities like maybe a small supermarket -- instead of a large-scale project like the convention center.
____
As mentioned the presentation this week was phase one of the consultancy's study. Omni says phases 2 and 3 -- about an operating business plan, and an evaluation of economic impacts -- could be finished in 4-6 weeks.
Phase 1 presentation
Omni Albany Aquarium Phase 1 Feasibility
Earlier and elsewhere
+ Push continues for Albany aquarium
+ The Albany Aquarium group, which isn't associated with Omni, has also been pushing the aquarium idea
Hi there. Comments have been closed for this item. Still have something to say? Contact us.