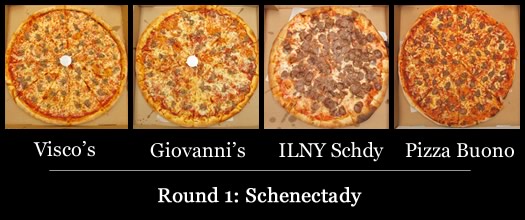 The opening round of the 2013 Tournament of Pizza -- sponsored by The College of Saint Rose -- continues with the Schenectady bracket.
The new-to-the-tournament pizzerias in this Round 1 pool competition of sausage pizzas:
Visco's - Scotia
Giovanni's - Scotia
I Love NY Pizza of Schenectady - Schenectady
Pizza Buono - Niskayuna
The judges gathered at the Mop & Bucket Company studio...

A quick note about how all this works:
The judges taste the pizzas blind. That is, they don't know which pizza they're tasting during judging. They taste the competitors side by side. Each judge assesses the pizzas by crust (5 points possible per judge), sauce (5 points), toppings (5 points), and overall taste (10 points). Each judge represents either 1/4 or 1/5 of the possible points, depending on the number of judges present. However many judges, all scores will be according to a 100-point scale.
How this year's brackets were selected.
If you'd like to get a closer look at the pizzas, there are large-format closeups above -- scroll all the way up.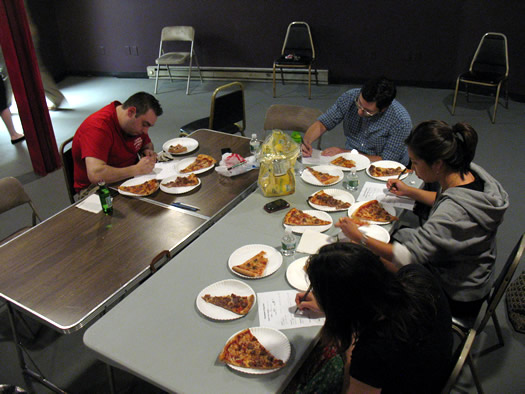 Round 1 pool
Post game
There weren't many fireworks -- and no barns were burned -- but Giovanni's separated itself from the pack.
Giovanni's
The Scotia shop's pizza didn't necessarily stand out in any one category -- but it performed consistently in each aspect, posting the top score (in some cases tying) in each category. And that gets it done. One judge remarked that Giovanni's crust was "firm, yet still pleasantly chewy" and another noted the "cornmeal dusting is a nice touch." Many of the judges noted the sweetness of the sauce. And Giovanni's got good marks for "zesty" sausage and cheese that worked well with the meat.
Pizza Buono
This Niskayuna pizzeria posted OK scores for crust ("nice chew") and sauce ("sweet"). But it didn't rally on toppings. A few of the judges weren't fans of what they described as an overly fennel-y flavor. And one judged remarked they didn't think the pizza had enough cheese.
Visco's
This Scotia representative got varied marks from the judges -- they noted what they perceived to be a crust with inconsistent texture (tough in one place, gummier in another). And sauce that was described as a bit "sour" and "under seasoned." Many judges noted the fennel flavor in the sausage, some liking it more than others.
I Love NY of Schenectady
This pizza didn't click with the judges. They seemed to appreciate the crust's flavor, but not its texture ("too chewy"). The sauce was described as "sparse." And some of the judges weren't fans of what they described as "way too much" sausage.
Up next
So, Giovanni's carries the flag of Scotia into the second round. It will face last year's bracket champ, Mario's of Niskayuna.
Tomorrow: the Tournament of Pizza heads to Troy.
Thank you, thank you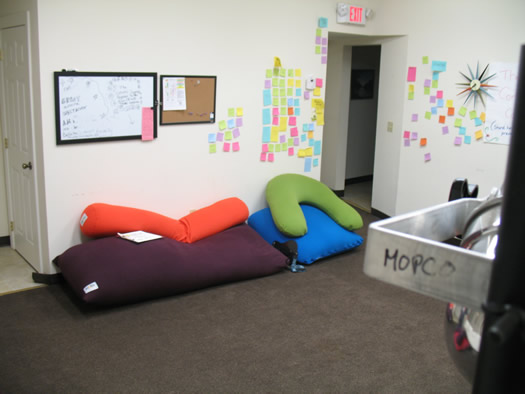 Many thanks to the Mop & Bucket Company, especially Peter Delocis, for hosting us in the rehearsal/class space at its studio on Union Street in Schenectady. MopCo's improv shows are Friday nights at Proctors.
The 2013 Tournament of Pizza is sponsored by The College of Saint Rose.
Hi there. Comments have been closed for this item. Still have something to say? Contact us.