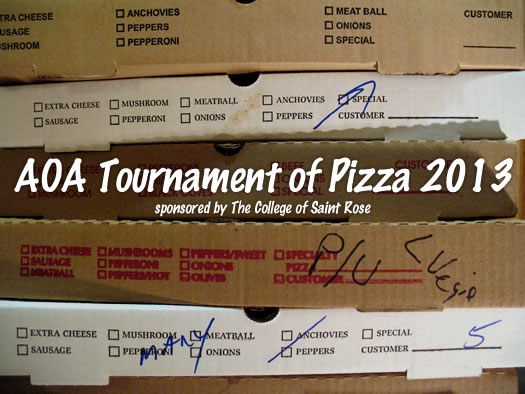 Feel the warm autumn sun. Breathe in the cool autumn air. Smell... the pizza.
Yes, the seasons are changing and that can only mean one thing.
That most august of traditions -- the Tournament of Pizza, sponsored by The College of Saint Rose -- has returned.
Here's a breakdown of this year's field, which include a few new twists...
Scroll all the way up for the brackets in graphic form. Also, here's a printable version of the brackets (pdf), if you're so inclined.
How the brackets were assembled
As in year's past, Tournament of Pizza field is into four regions: Saratoga, Schenectady, Troy, and Albany. But this year's field includes 20 pizza shops, instead of the normal 16. For the first time ever, the returning bracket champs are getting a first round bye. Last year's winners will meet the winner of round one pool play in the second round.
So, that leaves four slots in each region. And in an effort to shake things up a bit more, this year's round one field is composed entirely of shops that have not previously appeared in the Tournament of Pizza. Yep, A whole round of entirely new pizza blood. (It tastes like marinara.)
As we note every year...
Did your favorite shop get left out? There's a good chance it did. Even with the expanded field, there are only so many spots -- and there are many, many pizza shops in the Capital Region. Also, your favorite might have appeared in a previous tournament, and even done well. But that's one of the trade-offs in the all-new-to-the-tournament first round.
Another annual note: The Tournament of Pizza focuses on neighborhood-type takeout shops/restaurants/pubs. Again, we acknowledge that's going to leave out some good pizza from higher-end restaurants that may be doing more artisan-style pizza. Unfortunately, those places often don't fit in the format because of a combination of factors, notably the types of pizza available and the fact that TOP pizzas are picked up and eaten at a different location.
Format and scoring
This year's TOP again includes pool play in the first round, not head-to-head matchups. The four pizzas in each bracket compete in the first round for one slot in the second round -- highest scoring shop advances. The round one winner will face the returning bracket champ from last year in the second round.
About scoring this year: Pizzas will again be tasted blind (that is, the judges don't know where the pizzas are from) and scored on the 100 point scale -- 100 being a pizza that achieves the highest possible score in each category: crust, sauce, toppings, overall taste. As with last year, this year's judges' panel will often include five judges. All scores will be adjusted to fit the 100-point scale.
We'll have more about this year's lineup of judges in another post soon.
On with the brackets...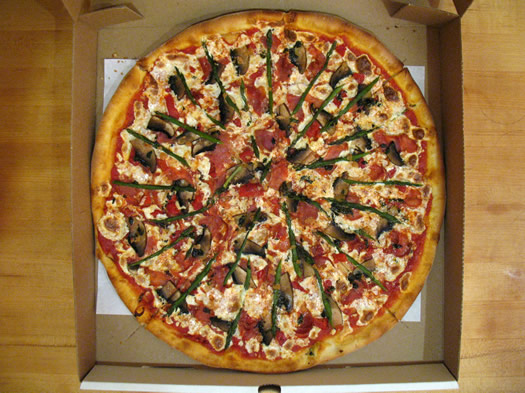 Last year's title-winning pizza from Marisa's Place in Guilderland.
Saratoga
Returning champ: Mama Mia's - Saratoga (in place of Amore)
The returning champ in the Saratoga region would be Amore, but the shop closed earlier this year. (The "pink store" location, which has housed a series of pizza shops, is now occupied by Spa City Pizza, which opened this past summer.) The returning champ slot reverts to the winner from the previous year, and that's Mama Mia's. This Saratoga Springs shop posted a series of fantastic scores in 2011... until the semi-final, when it had a dud pizza at the wrong time.
Round 1 field
LaBella Pizza & Pasta - Halfmoon
Location not far from the Mohawk River in Halfmoon, LaBella boasts a brick oven.
Pizza Works - Saratoga
Pizza Works is an established local brand with locations in Ballston Spa, Burnt Hills, and Saratoga Springs.
Publik House - Ballston Spa
The Idiots named one of the pizzas from the Publik House as a favorite thing to have eaten in 2012.
Pizza Nook - Malta
The TOP selection community loves neighborhood showdowns. And Pizza Nook is just down Route 9 from the Publik House.
Schenectady
Returning champ: Mario's - Niskayuna
Out of Niskayuna, Mario's was perhaps a surprise winner in last year's Schenectady bracket. But stop by this place midweek at dinner time and it's can't-find-a-spot-in-the-parking-lot jammed.
Round 1 field
Visco's - Scotia
Scotia represented in 2011 when 5th and 50 won the whole tournament. Can Visco's repeat the feat for the village?
Giovanni's - Scotia
Again, we love intra-neighborhood rivalry. Can Giovanni's beat out its village competition?
I Love NY Pizza of Schenectady - Schenectady
There are many "I Love NY" pizza shops in the area. Can ILNY of Schenectady distinguish itself.
Pizza Buono - Niskayuna
Pizza Buono sits right on the Niskayuna/Schenectady border. Can it represent the whole region?
Troy
Returning champ: DeFazio's - Troy
DeFazio's is almost certainly the best pizza shop to never win the whole tournament. It's come close so many times, including last year. Maybe 2013 is its year.
Round 1 field
Pizza DaVinci - Troy
Pizza DaVinci sits on the busy Hoosick Street corridor.
Deli and Brew - Troy
Deli and Brew is a popular spot near HVCC, well known for its subs. How does its pizza stack up?
Elia's - East Greenbush
There have been calls in the past for the suburbs to get more run in the TOP. Elia's has a chance to make a mark for East Greenbush.
Goomba's - East Greenbush
Same goes for Goomba's.
Albany
Returning champ: Marisa's Place - Guilderland
Marisa's took the overall title in 2012 with a truly excellent pie built on attention to detail. The Guilderland shop's gotta be a favorite to win it again.
Round 1 field
Soho Pizza - Albany
There has been a consistent complaint in previous years: What about Lark Street?! Here's Soho's chance to represent.
Dino's - Albany
Another shop from the Lark Street area. Can Dino's, at the corner of Delaware and Madison, corner this bracket?
DC's - Albany
DC's is on Western Ave, across the street from UAlbany. So they no doubt have plenty of experience turning out pies at volume. Will that translate into quality in the TOP?
Andriano's - Delmar
Andriano's is long-established part of the Four Corners area in Delmar.
____
(deep breath)
Results start Tuesday. Get ready.
Many thanks to The College of Saint Rose for its sponsorship of this year's Tournament of Pizza. Without its support, the Tournament of Pizza wouldn't be possible. Thank you.
Previous Tournaments of Pizza:
+ Results from Tournament of Pizza 2012
+ Results from Tournament of Pizza 2011
+ Results from Tournament of Pizza 2010
+ Results from Tournament of Pizza 2009
+ Results from Tournament of Pizza 2008
Hi there. Comments have been closed for this item. Still have something to say? Contact us.