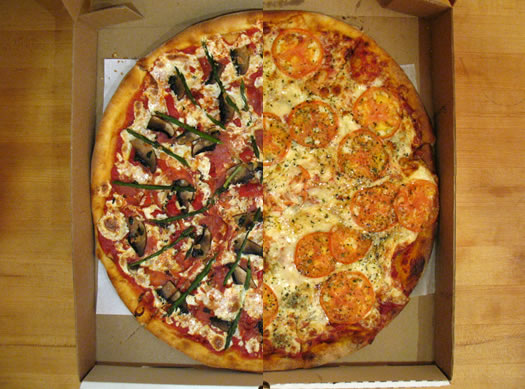 After 28 pizzas from 16 pizza places, we're now down to just two pizzas and two shops.
It's the final of the 2012 Tournament of Pizza -- sponsored by Sunmark Federal Credit Union. The match-up in this championship round:
DeFazio's (Troy bracket) vs. Marisa's Place (Albany bracket)
How we got here: DeFazio's blew the roof off during its semi-final match with Amore (Saratoga), scoring a TOP-record 82 with its Buffalo chicken pizza. And Marisa's posted a solid score of 69 in its matchup with Mario's of Niskayuna.
Despite posting a string of excellent scores, and two previous appearances in the final, DeFazio's has never won the Tournament of Pizza. With its huge score in the last round, the Troy shop has to be the heavy favorite in this final match. But Marisa's is a formidable opponent -- with a set of its own strong performances.
Can DeFazio's finally claim the crown? Or will Marisa's Place take the title?
Bring on the pizza!

A quick note about how all this works:
The five judges -- Albany Jane, Daniel B, Jerry, Joe, and Renee -- taste the pizza blind. That is, they don't know which pizza they're tasting during judging. They taste the competitors side by side. The scoring is on a 100 point scale -- each judge represents 1/5 of those possible points. (We're using an adjusted scale this year to accommodate five judges.)
How this year's brackets were selected.
If you'd like to get a closer look at the pizzas, there are large-format closeups above -- scroll all the way up.
The challenge
Unlike the other rounds of the TOP in which orders are called in anonymously, the last two shops are notified of their spot in the finals and allowed to choose which pizza they'd like to enter. Here are the entries...
DeFazio's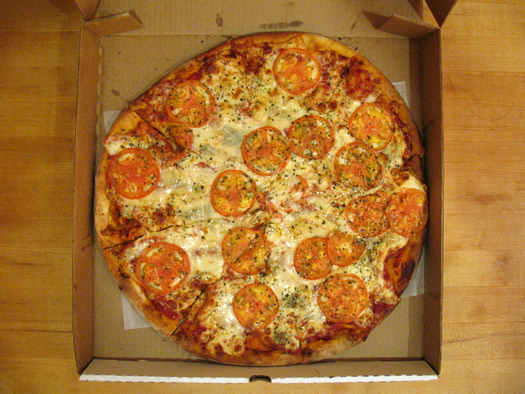 Four Cheese: mozzarella, fontinella, gorgonzola, pecorino romano, sauce and sliced tomatoes.
Marisa's Place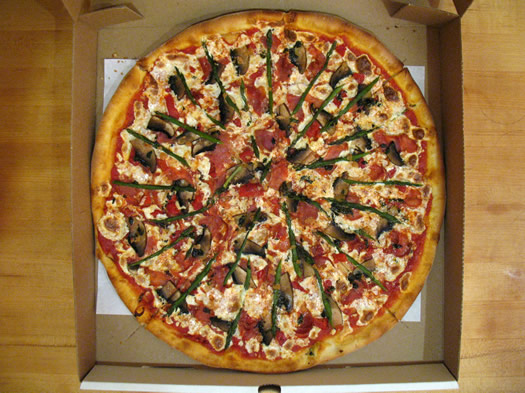 Rusticana Pizza: Italian prosciutto, roasted red peppers, asparagus, portobello mushrooms, fresh basil and garlic, fresh mozzarella.


Marisa's Place vs. DeFazio's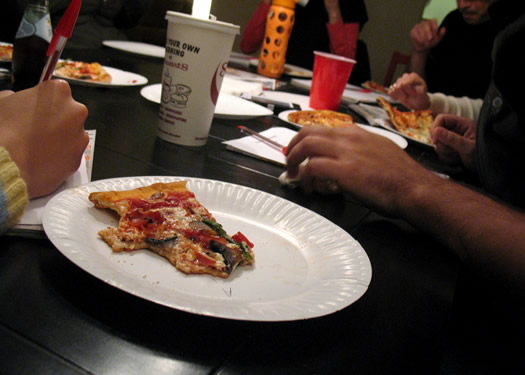 Post game:
Holy. Moly.
Crust
DeFazio's won this category with a "chewy," "floury," "well-cooked" crust with "just the right amount of burnishing." The judges said it had good crispness and a "beautiful mottled bottom." Marisa's crust wasn't far behind, though. The judges said it had a "cracker-y" end crust and held up well to the toppings, but a few of the judges thought it was a bit underdone.

Sauce
Here's where things started to shift. Marisa's sauce was called "beautiful" and a "smooth operator" with a "rich, concentrated" and "sweet, vibrant" flavor. One judge called it "absolutely perfect." As in previous rounds, the judges liked DeFazio's sauce -- "sweet, garlicky, thick, hearty" and "full of tomato flavor" -- but many thought it got lost on the pizza. Among the comments: "would like to taste more of it" and "tough to detect."
Toppings
This category sealed it for Marisa's. The judges were big fans of the toppings combination put together by the Guilderland shop. "Delightfully savory" with "balanced distribution," wrote on judge. As another described the mix: "very bold roasted pepper flavor, earthy mushrooms, salty prosciutto, slightly bitter asparagus, garlic." The judges appeared to be surprised and delighted by the asparagus. "Tender and delicious" wrote one. Wrote another: "asparagus brings a brightness that works perfectly with the roasted peppers." And another: "Asparagus!"
DeFazio's mixture of cheese didn't go over so well with the judges. While acknowledging the high quality of the ingredients -- and a surprising, welcome gorgonzola flavor -- judges found the toppings "too heavy" and multiple judges called the combination "overpowering." And as one judge commented, "there's no foil for the gorgonzola." Wrote another: "tastes like gorgonzola and crust." The tomatoes on top didn't do much to help, either. "Sliced tomatoes look pale and limp," wrote one judge. Another commented that the tomatoes looked "sad."
Overall
DeFazio's made a quality pizza. A score of 70 is good. And one of the five judges did score it slightly ahead of Marisa's offering -- "welcome to umamiville" that judge wrote. But the other judges decided the combination of all those cheeses was overwhelming in a way that ultimately didn't work.
Meanwhile, the judges had high praise for Marisa's pizza, with its "great fresh balance of flavors and textures." Another judge commented that the pizza "looks lovingly prepared... beautiful... this pizza has heart."
Congratulations!
So congratulations to Marisa's Place -- it is the 2012 Tournament of Pizza champ! It makes pizzas with an obvious passion, and an admirable attention to detail. The title has found a very suitable home in Guilderland.
And this has gotta be a tough loss for DeFazio's. But we'd like to congratulate them for making a series of great pizzas. They continue to impress. It just hasn't quite all come together in the final for the Troy institution. Yet.
Thank you, thank you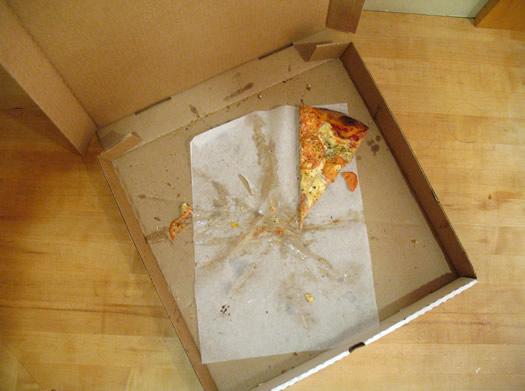 Thank you to everyone who helped out with this year's TOP. The tournament is a bit of a logistical challenge and we could never make it happen without help from our friends.
Thank you also to the venues that graciously provided us with space to taste pizza: Skidmore College in Saratoga, Anthology Studio in Schenectady, and the Arts Center of the Capital Region in Troy.
Many, many thanks to our judges -- Albany Jane, Daniel B, Jerry Papandrea, Joe Esposito, and Renée McAllister. They take the judging seriously -- but also make the tournament a lot of fun. We appreciate all the time.
And, of course, thank you to Sunmark Federal Credit Union for once again sponsoring the Tournament of Pizza. Its continued support helps make the TOP possible.
Earlier in Tournament of Pizza 2012
+ Results from Round 1 in Saratoga
+ Results from Round 1 in Schenectady
+ Results from Round 1 in Troy
+ Results from Round 1 in Albany
+ Results from Round 2 in Saratoga
+ Results from Round 2 in Schenectady
+ Results from Round 2 in Troy
+ Results from Round 2 in Albany
+ Results from the Semi-finals
+ Crunching the numbers
Hi there. Comments have been closed for this item. Still have something to say? Contact us.