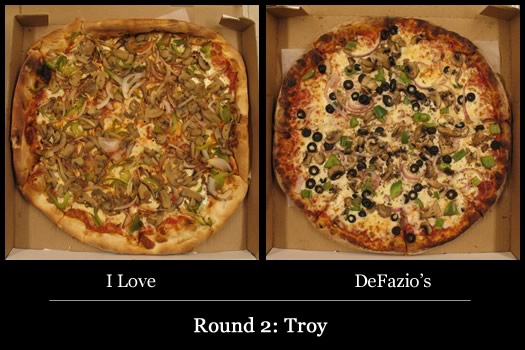 Hello, Collar City. Round 2 of the 2012 Tournament of Pizza -- sponsored by Sunmark Federal Credit Union -- finds itself back in your warm embrace.
The pizzerias in this head-to-head matchup of veggie pizzas (green peppers, mushrooms, onions, black olives):
DeFazio's vs. I Love
How we got here: DeFazio's posted a big number in the Round 1 pool (78) and I Love joined it in advancing with a respectable score of its own (64).
DeFazio's has pretty much owned this bracket for the last few years -- can I Love end the domination?
Let's go back to the Arts Center of the Capital Region for the tasting...

A quick note about how all this works:
The five judges -- Albany Jane, Daniel B, Jerry, Joe, and Renee -- taste the pizza blind. That is, they don't know which pizza they're tasting during judging. They taste the competitors side by side. The scoring is on a 100 point scale -- each judge represents 1/5 of those possible points. (We're using an adjusted scale this year to accommodate five judges.)
How this year's brackets were selected.
If you'd like to get a closer look at the pizzas, there are large-format closeups above -- scroll all the way up.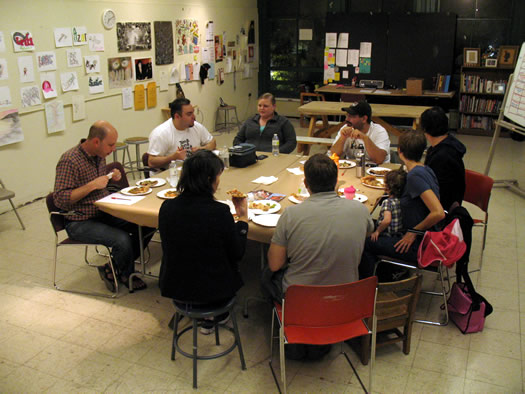 Round 2
Post game:
Three years in a row for DeFazio's.
Crust
Crust was the closest category in this matchup. One judge said I Love's crust had "good crunch and flavor." Another praised it for being able to hold up to the toppings. And another simply said, "I love this crust." But the judges liked DeFazio's crust a bit better. "Beautiful on the bottom and end," said one judge. Another described it as "overdone, but flavorful."
Sauce
This is where DeFazio's started to pull away. The judges called its sauce "salty, herby, bright" and "peppery." I Love sauce was either thinly spread -- or just got lost among all the toppings. Multiple judges noted a lack of sauce, one calling "barely detectable."
Toppings
The toppings further separated these two pizzas. The judges weren't fans of I Love's mix of veggies. They said there "way too many," and criticized the peppers for being too big, the mushrooms for being "mushy," and commented there were few or no olives. They also noted the cheese tasted "bland." DeFazio's scored with "tasy cheese, beautiful vegetables" -- "even the olive rings have good flavor," according to one judge. And another said "the mushrooms stole the show." Though a few of the judges noted they would have preferred smaller pieces of pepper and onions.
Overall
While the judges appreciated I Love's crust, they ultimately decided its veggie pizza just didn't pack enough flavor. DeFazio's takes the match with a quality crust, "bright" sauce, and "nicely" mixed flavors in the veggies and cheese.
Up next
DeFazio's moves on to yet final four. Could this be its year to take the overall title? It will face Amore in the semifinal.
Tomorrow: The TOP wraps up Round 2 with a matchup between The Fountain and Marisa's Place in the Albany bracket
Thank you, thank you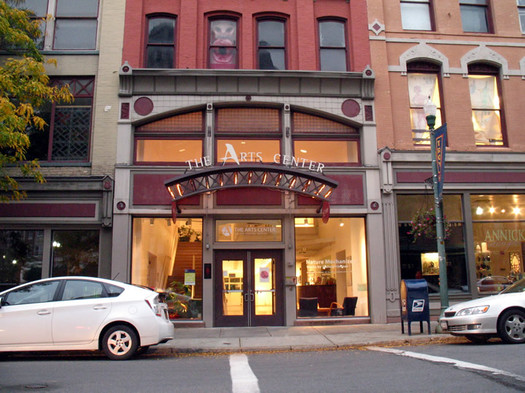 Many thanks to the Arts Center of the Capital Region for hosting us in one of their studios. We appreciate it.
The 2012 Tournament of Pizza is sponsored by Sunmark Federal Credit Union.
Earlier in Tournament of Pizza 2012
+ Results from Round 1 in Saratoga
+ Results from Round 1 in Schenectady
+ Results from Round 1 in Troy
+ Results from Round 1 in Albany
+ Results from Round 2 in Saratoga
+ Results from Round 2 in Schenectady
Hi there. Comments have been closed for this item. Still have something to say? Contact us.