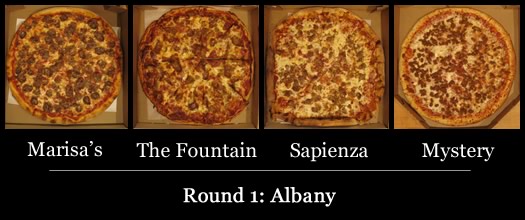 The opening round of the 2012 Tournament of Pizza -- sponsored by Sunmark Federal Credit Union -- heads for home with a final stop in Albany.
The pizzerias in the Round 1 pool competition of sausage pizzas:
Returning champ: Marisa's Place - Guilderland
Crowd pick: The Fountain - Albany
Tough luck: Pizzeria Sapienza - Albany
Mystery entry
Marisa's Place has turned out a series of high quality pizzas in the Tournament of Pizza -- though it's never won the championship. The other shops are facing a formidable competitor.
The judges gathered for the tasting...

A quick note about how all this works:
The five judges -- Albany Jane, Daniel B, Jerry, Joe, and Renee -- taste the pizza blind. That is, they don't know which pizza they're tasting during judging. They taste the competitors side by side. The scoring is on a 100 point scale -- each judge represents a 1/5 of those possible points. (We're using an adjusted scale this year to accommodate five judges.)
How this year's brackets were selected.
If you'd like to get a closer look at the pizzas, there are large-format closeups above -- scroll all the way up.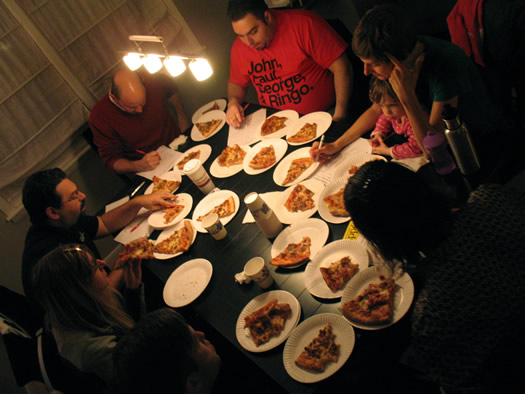 Round 1 pool
Post game:
Marisa's Place
Boom! The Guilderland shop drops not only the highest score of the entire first round this year (DeFazio's sausage pie had the second highest score, a 78) -- it posts the highest score in the modern, 100-point scale era of the TOP. Pasquale's 2009 sausage pie had held the record, at 80 points.
The judges were big fans of Marisa's crisp, thin, "awesome" crust -- "super thin and flavorful, no sogginess," "good lift and chew." Its "sweet, bright" sauce had "great" color -- though a few judges thought it was a bit lacking in flavor. Ratings on the sausage ranged from good to very good -- one judge declared it "perfect" and another called it their "ideal sausage -- big, thick, sweet." Other judges noted its flavor of black pepper, and scored it down just a bit for having a spongy texture. Concluding comments: "This is what a sausage slice should be," "Solid NY style slice," "One of the best pies to eat at home."
The Fountain
The Fountain is a longtime favorite in Albany's New Scotland/Helderberg neighborhood. But in years past, tavern-style pizza has not fared well in the TOP. Yet The Fountain turned out a pie this year that not only looked good -- it also scored well. One judge called the "bar style" crust "buttery, garlicky." Other judges praised its crispy outside, and noted a fluffy, soft underside. The sauce was described as "thick" and "rich." The sliced sausage was called "hot and assertive" and "well integrated" with the cheese, which itself had a "slight char that tastes great" (though some judges noted its texture was a bit rubbery). Concluded one judge: "A very good pub-style slice." Said another: "Good for soaking up drinks."
Pizzeria Sapienza
This downtown Albany shop did well last year, advancing to the second round -- it even bested Marisa's in the opening cheese pizza round. But its pizza this year didn't light up the judges. They liked the flavor of the crust, but dinged it for being too thick and too chewy. And the "tangy, sour" sauce was deemed a little "thin." But what really held back the pie was the toppings. The judges said the ground sausage was "gristly" and the cheese "unpleasantly funky." Concluded one judge of the Sapienza's heavy slice: "Good crust brought down by bad topping."
Mystery entry
And the mystery entry in this bracket is... CiCi's. Known for its all-you-can-eat pizza buffet, the Wolf Road chain appears to prioritize price above all else -- it was just a little over $10 for two pizzas, an absurdly cheap price. As for quality... well... uhhh. The crust was described as "gummy" and "industrial." The sauce "tastes like it came from a can." The sausage was called "mushy" and "unappealingly peppery," the cheese "pasty." One of the concluding comments included the phrase "pile of goo." But one positive comment: "This would be awesome drunk food."
Up next
The Fountain represents for taverns, and it advances with Marisa's Place. They'll face each other in Round 2.
Next week: Round 2 opens with a stop back in Saratoga.
The 2012 Tournament of Pizza is sponsored by Sunmark Federal Credit Union.
Earlier in Tournament of Pizza 2012
+ Results from Round 1 in Saratoga
+ Results from Round 1 in Schenectady
+ Results from Round 1 in Troy
Say Something!
We'd really like you to take part in the conversation here at All Over Albany. But we do have a few rules here. Don't worry, they're easy. The first: be kind. The second: treat everyone else with the same respect you'd like to see in return. Cool? Great, post away. Comments are moderated so it might take a little while for your comment to show up. Thanks for being patient.