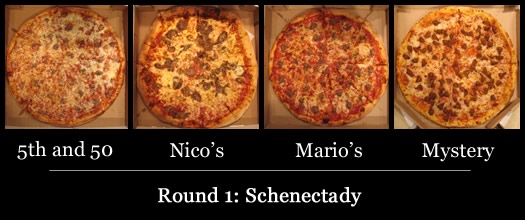 The opening round of the 2012 Tournament of Pizza -- sponsored by Sunmark Federal Credit Union -- rolls ahead to Schenectady.
The pizzerias in Round 1 pool competition of sausage pizzas:
Returning champ: 5th and 50 - Scotia
Crowd pick: Nico's - Schenectady
Tough luck: Mario's - Niskayuna
Mystery entry
5th and 50 is not just the defending bracket champ -- it won the whole the tournament last year. Its title defense starts now.
The judges got together at Anthology Studio in downtown Schenectady...

A quick note about how all this works:
The five judges -- Albany Jane, Daniel B, Jerry, Joe, and Renee -- taste the pizza blind. That is, they don't know which pizza they're tasting during judging. They taste the competitors side by side. The scoring is on a 100 point scale -- each judge represents 1/5 of those possible points. (We're using an adjusted scale this year to accommodate five judges.)
How this year's brackets were selected.
If you'd like to get a closer look at the pizzas, there are large-format closeups above -- scroll all the way up.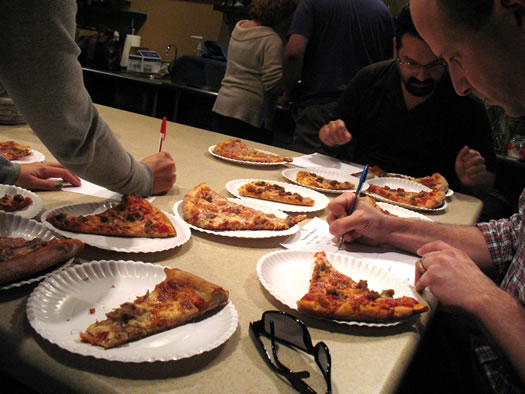 Round 1 pool
Post game:
Upset!!!
Down goes the champ! And hard. Madness.
Nico's
The downtown State Street shop dominated the pool, winning or tying each category. Judges praised its "chewy," "yeasty" crust, with a "beautiful texture." One judge said the sauce had "fine tomato flavor," describing it as "judiciously applied" -- but other judges thought it was a bit short on sauce. The sliced sausage was called "fennel-y and spicy." One judge said the sausage and "salty" cheese worked together well. Overall, one judge said Nico's pizza would be "close to my favorite in the region" if it had a bit more sauce. And another called it "super enjoyable." A fine performance by a shop that got a spot in the bracket because of the uncertainty surrounding Pizza King.
Mario's
The Niskayuna shop turned out a good crust -- in spots. Some judges said their slices had "enjoyable [crust] with great texture." Others said it was uneven, floppy, and even a bit burned in places. One judge said Mario's sauce had "good tang" and another called it "bright." The sausage was described as "porky" -- but the cheese was dinged as being grainy and rubbery. But overall, it was a solid pie. Concluded one judge: "yum, yum, yum."
5th and 50
Oof. This was a hard fall. The Scotia shop has turned out some great pizzas, obviously. But this sausage pie was not one of them. The judges called the crust "dense" with an odd aftertaste. The sauce was described as "herbal" with prominent oregano flavor. And the judges weren't fans of the toppings, marking the sausage down for a lack of flavor and hitting the cheese for uneven distribution (some had too much, others too little). Ultimately, the judges concluded the champ's pizza wasn't bad -- it just didn't light them up. Wrote one judge: "If there wasn't the issue of the [odd aftertaste in the crust], this could be a really good pie." Everyone has bad days. Unfortunately for 5th and 50, it came during the opening round of its title defense.
Mystery entry
And the mystery entry in this bracket is... Domino's. (Sensing a trend?) Again, we put a chain pizza to a blind test against quality local competition. And Domino's just couldn't handle the heat. At all. The mega chain pizza's total score -- 30 -- is one of the lowest in TOP history. Its crust was called "bland" and "brittle." Its sauce "too sweet, like ketchup." Its cheese: "pasty." And the sausage? "Spicy... but it doesn't have the texture of meat." Concluded one judge of Domino's pizza: "poor."
A few years back Domino's ran ads admitting that it had made bad pizza -- and promising to do better. It needs to keep working.
Up next
After the defending champ falls, Nico's and Mario's advance. They'll face off in Round 2.
Tomorrow: the Tournament of Pizza heads to Troy.
Thank you, thank you
Many thanks to the lovely Anthology Studio in Schenectady for again hosting the Tournament of Pizza. The floral design shop is not only beautiful -- it also smells great. We very much appreciate Evan and company letting us taste pizza there again.
The 2012 Tournament of Pizza is sponsored by Sunmark Federal Credit Union.
Earlier in Tournament of Pizza 2012
+ Results from Round 1 in Saratoga
Hi there. Comments have been closed for this item. Still have something to say? Contact us.