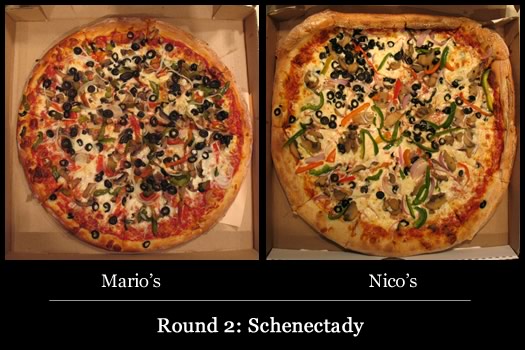 The second round of the 2012 Tournament of Pizza -- sponsored by Sunmark Federal Credit Union -- stops back in the Electric City.
The pizzerias in this head-to-head matchup of veggie pizzas (green peppers, mushrooms, onions, black olives):
Mario's vs. Nico's
How we got here: Nico's and Mario's both separated themselves from the other shops in this bracket with scores of 74 and 64. Those are very good totals. And they ousted the defending tournament champ from the contest.
Now, it's the always difficult veggie pizza.
We head to Anthology Studio in downtown Schenectady. Pizzaaaaaaa...

A quick note about how all this works:
The five judges -- Albany Jane, Daniel B, Jerry, Joe, and Renee -- taste the pizza blind. That is, they don't know which pizza they're tasting during judging. They taste the competitors side by side. The scoring is on a 100 point scale -- each judge represents a 1/5 of those possible points. (We're using an adjusted scale this year to accommodate five judges.)
How this year's brackets were selected.
If you'd like to get a closer look at the pizzas, there are large-format closeups above -- scroll all the way up.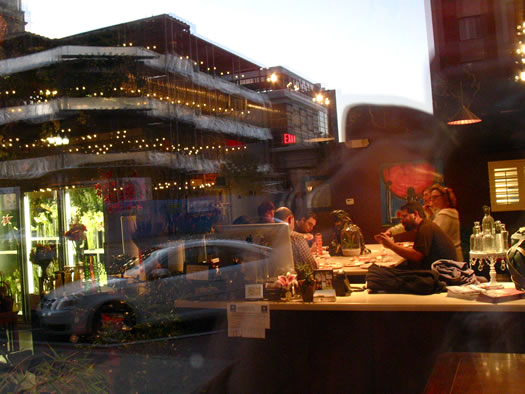 Round 2
Post game:
Niskayuna represent. Mario's narrowly moves past Nico's. This was close.
Crust
The crust category basically broke down like this: Mario's crust had the structure to hold up against all those toppings. Nico's crust did not. But a majority of the judges thought Nico's had better flavor. And it takes the narrow category win.
Sauce
The judges preferred Mario's sauce -- both its flavor and distribution. "Thoroughly applied, almost meaty," noted one judge. Said another, "Yum." One judge described Nico's sauce as "almost non-existant -- but any more would make this a soggy mess."
Toppings
The judges praised Mario's combination of veggies and cheese, noting its balance and the way it all worked together. And as one judge said, "nice to see a real mushroom." The judges liked Nico's cheese -- but weren't necessarily fans of the other toppings. "Bell pepper overpowers everything," said one judge. "Canned mushrooms are squishy and unappealing," said another. And a different judge commented that Nico's pizza "feels imbalanced."
Overall
The judges had good things to say about Nico's pizza -- "a nice, flavorful pizza" is how one judge summed up the downtown Schenectady shop's offering. And one of the judges scored Nico's ahead of Mario's. But the Niskayuna restaurant scored narrow victories with the other judges thanks to its balance of toppings. Said one judge of Mario's pizza: "The overall balance of the toppings, cheese, crust, and sauce make it well balance and overall more enjoyable."
Up next
Mario's takes the bracket and advances to the semi-finals. It will face the winner of the Albany bracket.
Tomorrow: The TOP heads back to Troy for a Round 2 matchup between DeFazio's and I Love.
Thank you, thank you
Many thanks to Anthology Studio on State Street in downtown Schenectady. We very much appreciate Evan and company allowing us to sit at their giant work table.
The 2012 Tournament of Pizza is sponsored by Sunmark Federal Credit Union.
Earlier in Tournament of Pizza 2012
+ Results from Round 1 in Saratoga
+ Results from Round 1 in Schenectady
+ Results from Round 1 in Troy
+ Results from Round 1 in Albany
+ Results from Round 2 in Saratoga