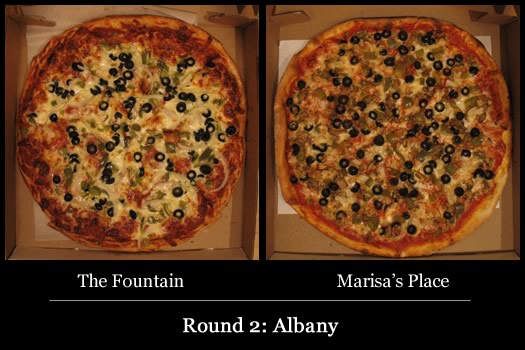 Here we are, at the final stop in Round 2 of the 2012 Tournament of Pizza -- sponsored by Sunmark Federal Credit Union -- the Albany bracket.
The pizzerias in this head-to-head matchup of veggie pizzas (green peppers, mushrooms, onions, black olives):
The Fountain vs. Marisa's Place
How we got here: Marisa's posted a huge number in Round 1 -- an 81, the highest ever in the TOP. And The Fountain represented for taverns, putting a very respectable 68.
Tavern pizza hasn't had the best track record in the TOP, but The Fountain turned out quality in the opener. Could this be the year a tavern pizza breaks through?
Let's. Eat. Some. Pizza.

A quick note about how all this works:
The five judges -- Albany Jane, Daniel B, Jerry, Joe, and Renee -- taste the pizza blind. That is, they don't know which pizza they're tasting during judging. They taste the competitors side by side. The scoring is on a 100 point scale -- each judge represents 1/5 of those possible points. (We're using an adjusted scale this year to accommodate five judges.)
How this year's brackets were selected.
If you'd like to get a closer look at the pizzas, there are large-format closeups above -- scroll all the way up.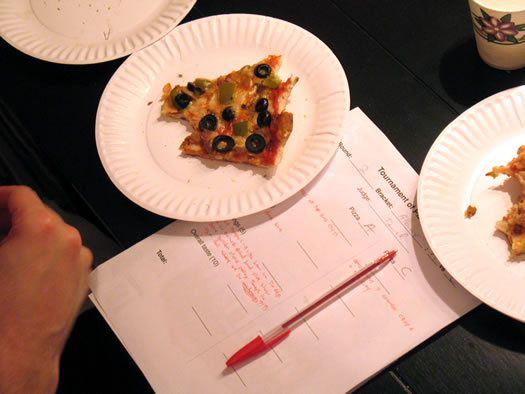 Round 2
Post game:
Yow, this was a close one.
Crust
A tie! "Squishy, nicely greasy," is how one judge described The Fountain's crust. Multiple judges noted that Marisa's crust was crisp, with good flavor, but a bit dry.
Sauce
Another tie! The Fountain's sauce was described as "rich, dense" with "so much garlic." Marisa's was praised for its "nice tomato flavor" -- but was "a bit sparse."
Toppings
This is where Marisa's pulled ahead. The judges liked The Fountain's "rich strips of onion" and "juicy peppers" (though one judge thought both those toppings were a bit undercooked). But The Fountain got marked down for "bland, hard olive slices" and its few (if any) mushrooms. Over to Marisa's, the judges praised the chop of the veggies, noting how the diced onions allowed a bit of onion in every bite. One commented that the (apparently canned) mushrooms "add nice savory flavor." And the olives were "juicy" if not necessarily very flavorful.
Overall
It's hard to overstate the closeness of this match-up. No judge's scoresheet had the pizzas separated by more than 4 points. Wrote one judge of the pizzas: "Both are about the same in terms of enjoyability." And commented another on the difficulty of judging two good pizzas of contrasting styles: "apples | oranges."

But Marisa's narrowly came out on top on four of the five sheets, gaining an edge because of its balance and mix of toppings.
Give The Fountain props, though -- it very capably carried the banner for taverns.
Up next
Marisa's Place advances to the semi-finals. The Guilderland shop will meet Mario's of Niskayuna.
Next week: The semi-finals -- featuring a type of pizza never before seen in the TOP.
The 2012 Tournament of Pizza is sponsored by Sunmark Federal Credit Union.
Earlier in Tournament of Pizza 2012
+ Results from Round 1 in Saratoga
+ Results from Round 1 in Schenectady
+ Results from Round 1 in Troy
+ Results from Round 1 in Albany
+ Results from Round 2 in Saratoga
+ Results from Round 2 in Schenectady
+ Results from Round 2 in Troy
Hi there. Comments have been closed for this item. Still have something to say? Contact us.