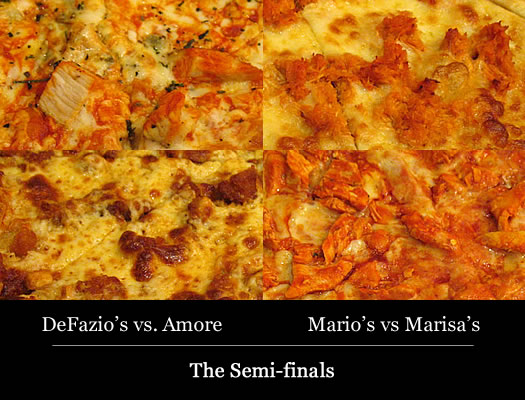 We've arrived at the final four in the 2012 Tournament of Pizza -- sponsored by Sunmark Federal Credit Union. The match-ups in this showdown of bracket winners:
DeFazio's (Troy) vs. Amore (Saratoga)
Mario's (Niskayuna) vs. Marisa's (Guilderland)
How we got here: DeFazio's topped its fellow downtown Troy shop, I Love | Amore gutted out a win against Pope's | Mario's represented for Niskayuna in beating Schenectady's Nico's | and Marisa's held off a tough tavern challenge from The Fountain.
Now these four face a challenge never before taken on in the TOP: Buffalo chicken pizza.
Yep, things just got real. Ready, set, pizza!

A quick note about how all this works:
The five judges -- Albany Jane, Daniel B, Jerry, Joe, and Renee -- taste the pizza blind. That is, they don't know which pizza they're tasting during judging. They taste the competitors side by side. The scoring is on a 100 point scale -- each judge represents 1/5 of those possible points. (We're using an adjusted scale this year to accommodate five judges.)
How this year's brackets were selected.
If you'd like to get a closer look at the pizzas, there are large-format closeups above -- scroll all the way up.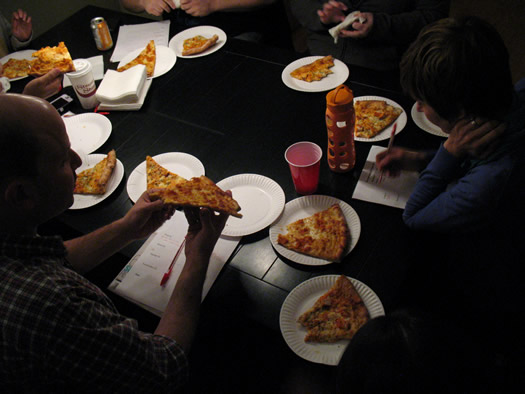 DeFazio's vs. Amore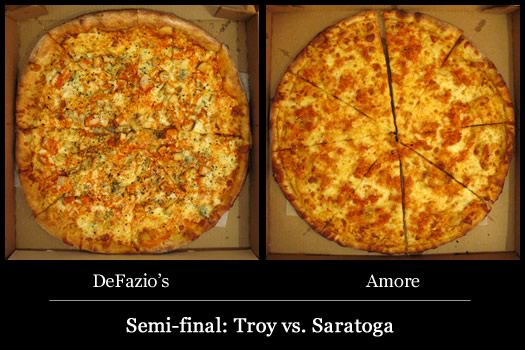 Post game:
Boom! DeFazio's blows the roof off with an 82, the highest score in TOP history.
Crust
DeFazio's crust was called "hearty," "nicely charred" on the outside, "light and airy" on the inside. Other judges described it as being up to the challenge of holding all the toppings. Amore's crust didn't score badly -- it just left some of the judges a little flat (well, "flat without lift"). Commented one judge: "doesn't add or subtract." But another judge called it "crispy and delicious."

Sauce
DeFazio's was praised for its even application of Buffalo sauce ("sauced like a pizza") -- and a flavor described as "assertive heat with true Buffalo flavor," but "not overwhelmingly hot." The judges found Amore's pizza to be under sauced.
Toppings
Here's where DeFazio's really put it away. The judges were big fans of the blue cheese used by the Troy shop -- "so good," "zesty and creamy," "real blue cheese," "blue cheese FTW!" They also liked DeFazio's chicken -- "nice and tender," "tastes like chicken." And one judge commented that the herbs used by DeFazio's "put it over the top."
Amore used a shredded chicken, which the judges thought was interesting -- "good for sauce," but they dinged it for "spotty distribution." And some judges noted the sauce overwhelmed the chicken.
Overall
Amore turned out a good pizza. In fact, one judge scored it narrowly ahead of DeFazio's. But the Troy shop made a stellar pie that had the other judges raving about its use of blue cheese -- "awesome," "blue cheese sets it apart." Concluded one judge: "It's a lot of fun to eat. The flavors go to 11."
Mario's vs. Marisa's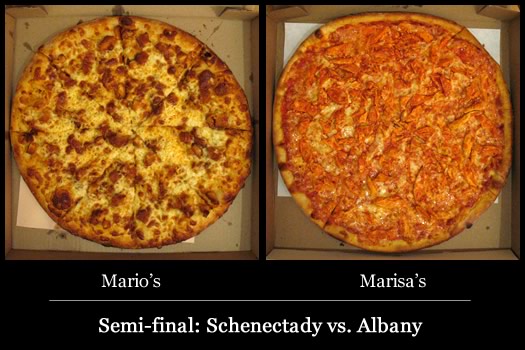 Post game:
Marisa's takes the win in the suburban showdown.
Crust
Marisa's scored points with its "great" "ultra thin, crispy" crust with "nice crunch." One judge called it "perfect." Mario's crust was described as chewy -- "too chewy."

Sauce
This category create a lot of separation between the two pizzas. Marisa's used tomato on the bottom with Buffalo sauce on top of that. A judge praised it for being "nicely applied" and another called it "super flavorful and spicy!" Meanwhile, Mario's sauce was... somewhere. Judges described Mario's pie as "dry" and one judge commented "What sauce?"
Toppings
Mario's scored better in this category with its fried chicken topping. As one judge wrote, "Fried chicken! Yes! Yes! Yes!," but... "Oh no! It's mostly breading." That said, the judges pretty much universally liked the fried chicken -- they just didn't get much Buffalo along with that chicken. "Very little Buffalo sauce flavor," wrote one judge.
Marisa's scored with "lots of sliced chicken breast -- woo heat!" Another judge described the chicken as "slathered" in sauce. The judges found the chicken a little tough and dry, perhaps because it was slightly overcooked. But it wasn't lacking for sauce.
Overall
Ultimately, this matchup came down to a contest of who brought the heat. Mario's pizza was described as "kind of plain." And Marisa's had plenty of heat. "The hottest of the pies in the [semi-final]," wrote one judge. Added another: "Makes the skin on my head tingle." And another: "So spicy, but I can't stop eating it!"
Up next
So DeFazio's and Marisa's advance to the big, big TOP final. Troy bracket vs. Albany bracket. City vs. suburb. Based on what we've seen so far, we're looking forward to some excellent pizza.
The result later this week.
The 2012 Tournament of Pizza is sponsored by Sunmark Federal Credit Union.
Earlier in Tournament of Pizza 2012
+ Results from Round 1 in Saratoga
+ Results from Round 1 in Schenectady
+ Results from Round 1 in Troy
+ Results from Round 1 in Albany
+ Results from Round 2 in Saratoga
+ Results from Round 2 in Schenectady
+ Results from Round 2 in Troy
+ Results from Round 2 in Albany

Hi there. Comments have been closed for this item. Still have something to say? Contact us.