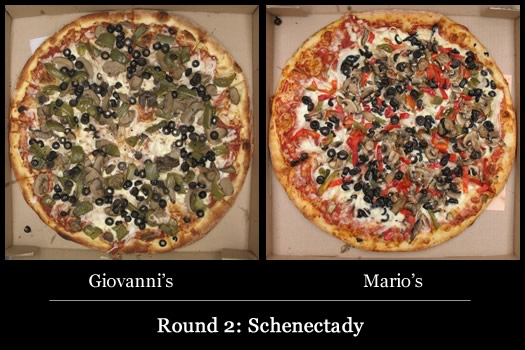 The 2013 Tournament of Pizza -- sponsored by The College of Saint Rose -- continues its Round 2 tour with a stop in the Schenectady bracket.
The pizzerias in this head-to-head matchup of veggie pizzas (green peppers, mushrooms, onions, black olives):
Giovanni's - Scotia - winner of the Round 1 pool of new-to-the-tournament shops
Mario's - Niskayuna - the returning bracket champ, who had a first-round bye
Can the Scotia shop wrest the bracket from its fellow suburban competitor? Or will the ever-treacherous veggie round be too tall a challenge?
We head back to the headquarters of the Mop & Bucket Company...

A quick note about how all this works:
The judges taste the pizzas blind. That is, they don't know which pizza they're tasting during judging. They taste the competitors side by side. Each judge assesses the pizzas by crust (5 points possible per judge), sauce (5 points), toppings (5 points), and overall taste (10 points). Each judge represents either 1/4 or 1/5 of the possible points, depending on the number of judges present. However many judges, all scores will be according to a 100-point scale.
How this year's brackets were selected.
If you'd like to get a closer look at the pizzas, there are large-format closeups above -- scroll all the way up.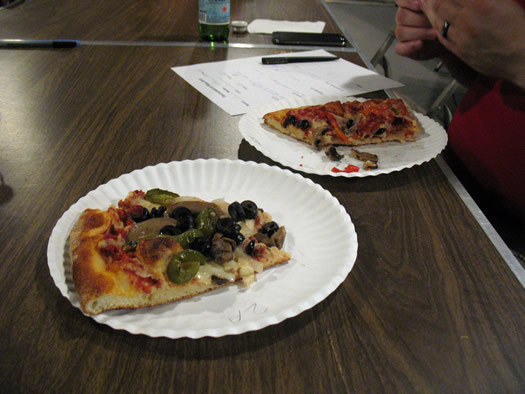 Round 2 Schenectady
Post game
The veggie round continues to vex.
Crust
Giovanni's was able to improve its crust score in this round, rising 2 points from Round 1. Judges called it "dense," "thick," "not soggy" -- and one judge commented, "[it] has character." But a few judges scored down for either being too thick, or too uneven in thickness, in their opinions.
The judges thought Mario's crust started to sag under the weight of the toppings. But its other qualities -- including a "pleasantly chewy" end crust and good flavor -- helped it post a score to equal to Giovanni's.
Sauce
Here's where the matchup started to separate. The judges thought Giovanni's sauce was too sparse ("almost undetectable in spots.") Mario's scored points for "well-distributed" sauce that "plays nicely off the veggies."
Toppings
Giovanni's toppings didn't keep up, in the judges' estimation. They thought there were too many veggies, with peppers that were "too thick" and mushrooms that were "chewy." Mario's also got tagged for loading up on the toppings, but the judges were generally more positive about what was there, praising how the combo of veggies worked together. Mario's peppers -- in varying colors -- were called a highlight. And a judge commented that Mario's pie had "bright, fresh" flavors.
Overall
In the end, Giovanni's pizza just didn't light up the judges. One called it "substantial," but commented that it didn't register with much flavor. And Mario's, on the relative strength of the veggies and sauce distribution, managed a victory.
But, it wasn't a bad first TOP showing for Giovanni's. Any time you win a round, you know you're doing something right.
Up next
So, Mario's advance to its second consecutive semi-final. The River Road restaurant will face the winner of the Albany bracket.
Tomorrow: the Tournament of Pizza heads back to Troy.
Thank you, thank you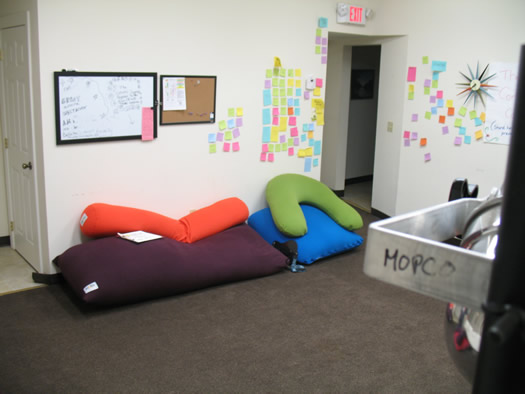 Many thanks to the Mop & Bucket Company, especially Peter Delocis, for hosting us in their rehearsal/class space at their studio on Union Street in Schenectady. MopCo's improv shows are Friday nights at Proctors.
The 2013 Tournament of Pizza is sponsored by The College of Saint Rose.