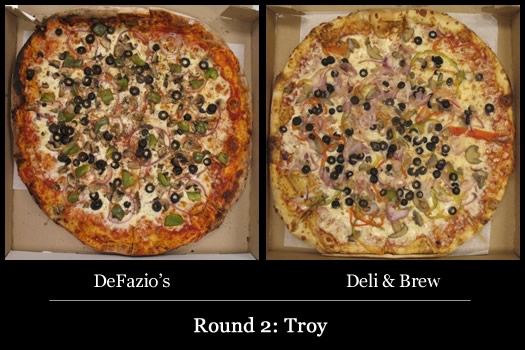 With two down and two to go in Round 2, the 2013 Tournament of Pizza -- sponsored by The College of Saint Rose -- heads back to Troy.
The pizzerias in this head-to-head matchup of veggie pizzas (green peppers, mushrooms, onions, black olives):
Deli & Brew - Troy - winner of the Round 1 Troy pool of new-to-the-tournament shops
DeFazio's - Troy - the returning bracket champ, coming off a first round bye
You gotta think DeFazio's is the favorite here -- it's posted a series of great scores in past tournaments (without ever taking the overall title). But Deli & Brew, known for its subs, posted a very respectable score in Round 1. It faces a great challenge -- but there's also great opportunity.
Once again we head to the Arts Center of the Capital Region...

A quick note about how all this works:
The judges taste the pizzas blind. That is, they don't know which pizza they're tasting during judging. They taste the competitors side by side. Each judge assesses the pizzas by crust (5 points possible per judge), sauce (5 points), toppings (5 points), and overall taste (10 points). Each judge represents either 1/4 or 1/5 of the possible points, depending on the number of judges present. However many judges, all scores will be according to a 100-point scale.
How this year's brackets were selected.
If you'd like to get a closer look at the pizzas, there are large-format closeups above -- scroll all the way up.
Round 2 Troy
Post game
Boom. DeFazio's thunders back into the TOP, tying the highest-ever score in the modern era of the tournament. And it did so in the ever vexing veggie round.
Crust
DeFazio's took the early lead with its crust. The judges called it "tender, poofy," "yeasty" with "excellent flavor" and "excellent char." Deli & Brew's crust also got positive marks for an "end crust with good chew" and "nice," "yeasty flavor." But a few of the judges noted D&B's crust had trouble holding up under the weight of the toppings.
Sauce
DeFazio's pizza started to create some serious separation in this category. Judges called its sauce "salty, sweet, flavorful without being metallic" and "the best sauce in the Capital Region" (though one judge thought the pizza could have had a bit more sauce). Deli & Brew's "sweet" sauce didn't necessarily fare poorly, it just didn't light up the judges, and some found it hard to detect.
Toppings
Where DeFazio's sealed the win. Multiple judges appreciated the Little Italy shop's balance of toppings, noting they got "the true flavor of each vegetable." DeFazio's mushrooms -- which appeared not to have been canned -- also drew praise. One thing that held back a few judges: they thought DeFazio's used a bit too many peppers.
Deli & Brew's toppings polarized the judges. A few were on board, with one commenting the peppers had "nice texture" and imparted a "a gentle flavor." But other judges were not impressed. One thought the mushrooms and olives didn't impart any flavor, and another thought there were "waaaay too many onions."
Overall
Deli & Brew turned out an OK pizza here -- one judge scored it ahead of DeFazio's, and another had it marked closely behind, calling it a "worthy competitor." But as with so many pizzas in the past, DeFazio's was just too much.
Up next
So DeFazio's powers ahead into the semi-finals. It will face Mama Mia's, winner of the Saratoga bracket.
Tomorrow: the Tournament of Pizza heads back to Albany.
Thank you, thank you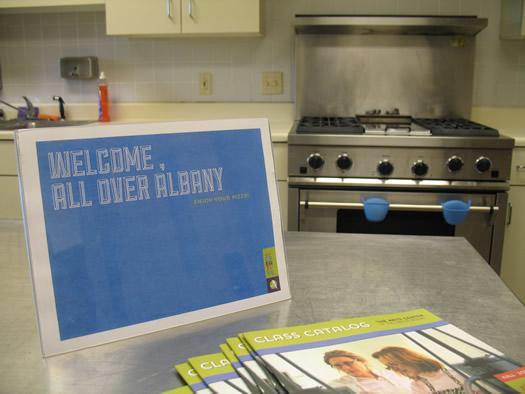 Many thanks to The Arts Center of the Capital Region for hosting us in their kitchen. We've always been treated warmly there, and this was no exception.
The 2013 Tournament of Pizza is sponsored by The College of Saint Rose.
Hi there. Comments have been closed for this item. Still have something to say? Contact us.