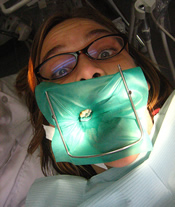 A asks via Twitter:
I have real, severe, serious fear of the dentist. But I have to go. Recommendations [for] who will treat me accordingly?
It's been a few years since we've had a question about dentists. And A is looking for someone who can help ease her anxiety about being in the dental chair. (Sometimes the right person and a little bedside manner can make all the difference.)
So... know of good dentist for A? Please share. Non-redeemable bonus points will be awarded for answers that include a bit of explanation about what makes that dentist/dental office good.
Earlier on AOA:
+ Ask AOA: A good dentist? (2010)
+ Ask AOA: A good oral surgeon? (2010)

photo: Flickr user Betsssssy (cc)
Hi there. Comments have been closed for this item. Still have something to say? Contact us.