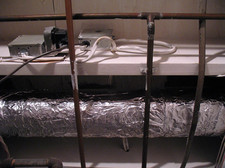 Emily emails with follow-up -- and a question (emphasis added):
A few weeks ago, someone asked for recommendations for a reputable home inspector who specialized in old homes (they specified farmhouses). As luck would have it, a few weeks later my husband and I found ourselves needing a reputable home inspector with experience looking at old homes.
Your readers' recommendations were unbelievably spot-on. The inspector we chose (Peter Shaming of Excelsior Home Inspections if I may be specific) was incredibly thorough, knowledgable and professional. He found things that had been missed on a previous inspection and even managed to impress the two engineer team of my husband and father-in-law which is not an easy task.
Well, with all that- one of the things he found was a small amount of old asbestos wrap around some ductwork in the basement. We would like to get it professionally removed and are looking for recommendations. Your readers gave us awesome guidance the first time, does anyone have any reputable and licensed asbestos abatement contractors they would recommend?
First off, it's great to hear those earlier answers were helpful. +1 to everyone who offered a suggestion.
Now, onto Emily's question: Have a suggestion for a good company to handle this asbestos issue? Or maybe your house also had a similar asbestos situation and you found away to address it without removal? Please share.
Hi there. Comments have been closed for this item. Still have something to say? Contact us.