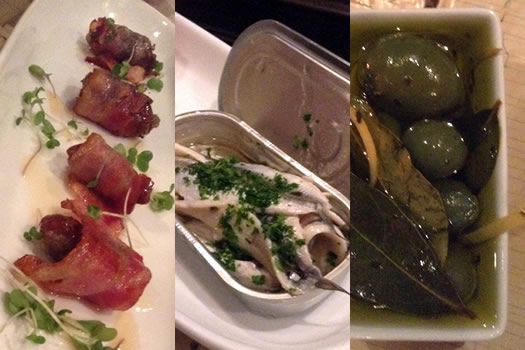 By Jeff Janssens
As a diner it's hard not to be skeptical of tapas. The term, referring to traditional small plate dishes from Spain, has been co-opted by some American restaurants as a fancy way of saying "appetizers." At other restaurants, you get the feeling that tapas might translate to "tiny portions that cost a lot of money but don't fill you up."
Thankfully, neither is true at Boca Bistro in Saratoga Springs. Their tapas menu is extensive and traditional. It's also not hard to fill up on these small plates at a reasonable price. These dishes feature assertive flavors, both from bold spicing and thoughtful showcasing of quality ingredients.
With so many appealing options on the tapas menu at Boca, the hardest part might be deciding where to start. Although the goal of Eat This! is generally to highlight just one dish, in this case I thought it might be most useful to detail a few of my favorites.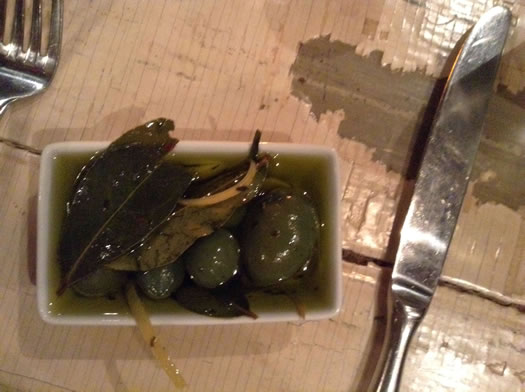 Boca offers a complimentary sampling of olives at the start of your meal, presented in a dish with olive oil and bay leaves, and served with a small loaf of bread. I won't pretend to know the variety of olives here, but there are multiple green ones, ranging in taste from tart to slightly bitter. Meanwhile, the bread is excellent when dunked into the fruity olive oil.
Datiles Rellenos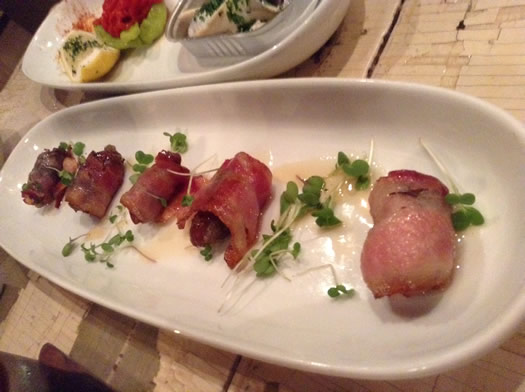 My first tapas recommendation off the menu is at once both familiar and unique: Datiles Rellenos, or bacon-wrapped dates.
Instead of a mild filling, Boca includes Valdeon, a bold Spanish blue cheese. Just a touch of it allows for the saltiness and pungency of the cheese to stand out. These dates are also stuffed with Marcona almonds, which are chopped and blended with the Valdeon. Marcona almonds are Spanish nuts often featured at gourmet grocers and prized for their sweeter, more delicate flavor compared to regular almonds. There's also a cider mustard glaze streaked across the plate; if a diner dips their date in this, they'll find that the sweetness of the cider and spiciness of the mustard add another layer of complexity to the dish.
At $7, this serving of five Datiles Rellenos is a fine introduction into the tapas menu at Boca Bistro.
Anchoas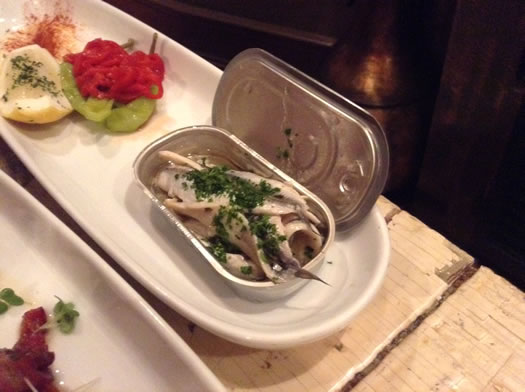 Seafood dishes are an integral part of the cuisine in many parts of Spain, unsurprising considering the country's borders with the Mediterranean Sea, Atlantic Ocean, and Bay of Biscay. Boca Bistro makes good use of seafood on their tapas menu. Anchoas -- white anchovies marinated in vinegar and oil and covered in parsley -- are playfully served in an opened anchovy tin. Piquillo and guindilla peppers and a dollop of aioli are plated beside the anchovies.
These are not your typical overpoweringly salty anchovies. Instead, the white anchovies served by Boca ($6) are mild and tender with hints of the oil and vinegar marinade. The aioli works nicely with the anchovies, that garlicky taste pairing well with the delicate fish flavor. The sweet and spicy peppers on the side, meanwhile, are tasty on their own and provide a bright and bold pop next to the anchovies and aioli.
Pulpo con Patatas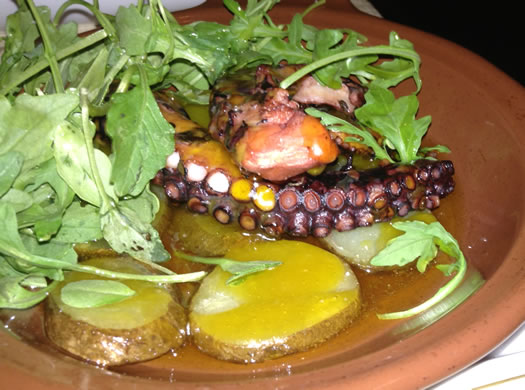 Boca heads to a different part of the sea for their Pulpo con Patatas -- grilled octopus with potatoes ($11). Upon first glance I noticed mostly a pile of arugula, but underneath I found two small octopus tentacles and a few slices of potatoes; a saffron vinaigrette coated the potatoes and parts of the octopus. With a dish like this, the key lies in the execution, and Boca nails it.
The cooking of octopus requires a deft touch; the slightest bit of overcooking, for instance, will result in unpleasant chewiness. I found the octopus in this dish to be wonderfully tender. The flavor of the octopus was rather mild, but accented perfectly by the slight char from grilling. This was a great example of a restaurant knowing just how to showcase a special ingredient. And the potatoes were a great conduit for the vinaigrette, which was accented by honey; the sweetness worked well with the bitterness of the arugula.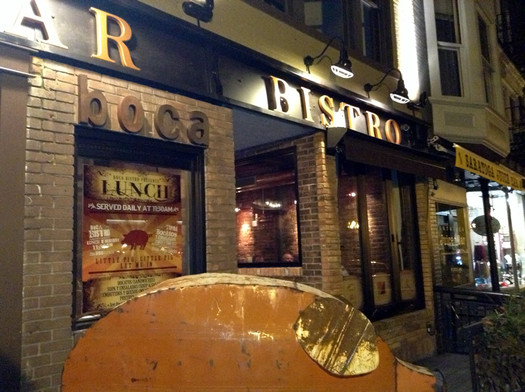 These are just a few examples of the many tapas selections at Boca. The others I tried, such as the Patatas Bravas and Chorizo a la Sidra, were also well-executed. The entire dining experience falls in this line, in fact. With the food and the restaurant's stylishly rustic décor, Boca is a good spot for both a casual or sophisticated night out.
Along with a side of Calle del Maaz from the Verduras menu and a pint of Lagunitas IPA, I found this to be a fully satisfying meal for two at a reasonable cost.
Jeff Janssens writes about food and beer at The Masticating Monkey.
More Eat This!
+ Apple pie from Green Acres Farm
+ Mofongo de Chicharron at Casa Dominicana
+ Koozi Sham at Oasis Mediterranean Café
Find It
Boca Bistro
384 Broadway
Saratoga Springs, NY 12866
Hi there. Comments have been closed for this item. Still have something to say? Contact us.