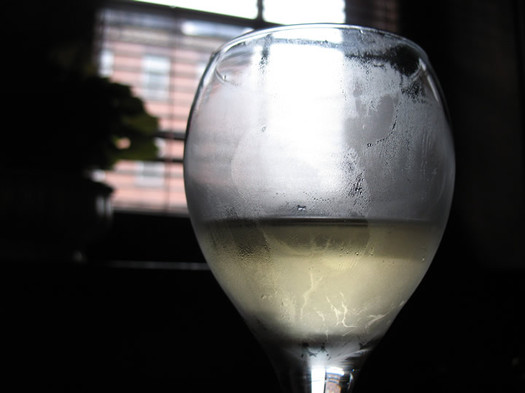 The Cuomo admin announced Thursday that the governor has signed the Farm Cideries Bill. The legislation extends a range of opportunities and tax advantages to cideries that "farm" breweries, wineries, and distilleries in the state already had thanks to other recent legislation. From the press release:
The Farm Cideries bill authorizes the establishment and licensure of farm cideries for the manufacture and sale of cider made from crops grown in New York State and would exclude licensed farm cideries from the sales tax information return filing requirements. In order to obtain a farm cidery license, the hard cider must be made exclusively from apples grown in New York State and no more than 150,000 gallons may be produced annually. Farm cideries will be allowed to offer tastings of and sell not only cider, but also beer, wine, and spirits made from New York products. In addition, because farm cideries may also sell products such as mustards, sauces, jams, jellies, souvenirs, artwork, crafts and other gift items, these businesses, much like farm wineries, will become destination locations that will promote tourism within their communities. Also, the need for apples in the manufacture of New York State labeled cider would create a sustained demand for products from New York's farmers.
Here's a practical example of what all that means: The Farm Cider Bill opens the way for Nine Pin Cider -- the startup cider maker in North Albany -- to eventually open a tasting room and retail shop at its location on Broadway. (When we talked with Nine Pin founder Alejandro del Peral earlier this year, the Farm Cider Bill was a key part of their business plan. They had been eagerly anticipating its signing.)
For much of the last century hard cider has kind of been a fringe product compared to beer, wine, and spirits. But it has a long history in this country -- Johnny Appleseed wasn't setting up those orchards for eating apples -- and was once very popular. It never recovered its status after Prohibition, though. [Serious Eats] [Slate]
But the beverage has been on the comeback in recent years. New York State is even promoting a "cider revival." And if you look around this area, you can see signs of it taking root here (again). There's the aforementioned Nine Pin. Hicks Orchard in Granville is planting more than a thousand new trees for its Slyboro hard cider. The Rogers Family Orchard near Johnstown is setting up a hard cider operation. And apparently Saratoga Apple is considering it, too. [Nation's Restaurant News] [Post-Star] [Daily Gazette] [Saratogian]
Hey, you gotta do something with all those apples.
Earlier on AOA:
+ Nine Pin Cider Works
+ Last year the founders of the Albany Distilling Co. told us about how the state's Farm Distillery Bill helped open the way for their business
Hi there. Comments have been closed for this item. Still have something to say? Contact us.