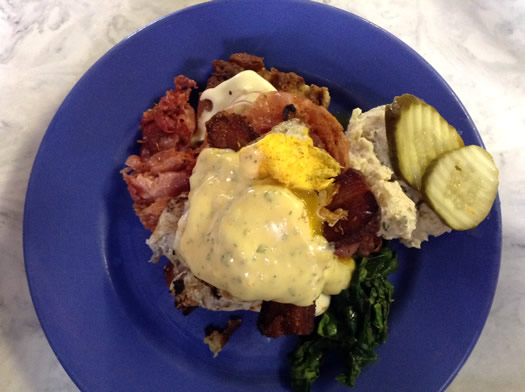 By Jeff Janssens
The Cajun Pork Belly and Crispy Prosciutto Open-Faced Panini from Illium Café in Troy is fatty, rich, heavy food. It packs such a punch that it's liable to knock you out for the rest of the afternoon, if not the entire winter.
Truth be told, a sandwich that features pork belly, prosciutto, a fried egg, hollandaise sauce, a savory bread pudding, and a creamy brie sauce is not something you want to be eating with much regularity. It may also seem, at first glance, to be an exercise in excess.
But once you taste this panini, you can't help but wonder how it was that you never before found all of these ingredients served together on a plate.
The first thing I noticed here, in this majestic mountain of food, is the fried egg covered in hollandaise sauce. My yolk was just a bit runny, best when eaten with some of the pork belly below. The hollandaise is creamy and rich, laced with tarragon; it serves as the perfect condiment for the small pile of steamed spinach served on the side of the panini.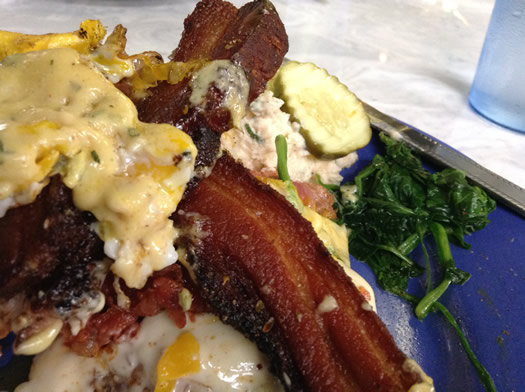 Beneath the egg is one of the stars of this dish, the pork belly -- two pieces, approximately the length of a slice of bacon, but more than a quarter of an inch thick. Illium cooked these perfectly. Pork belly has a deserved reputation of being one of the more delectable foods on the planet, but that doesn't mean it isn't sometimes basically ruined in the cooking process. Occasionally you'll find it either too soggy or too hard. Illium cooked it so the outside had a really satisfying crispiness to it, while the fatty layer on the inside was nearly soft enough to melt in your mouth.
Of course, the pork belly isn't the only piggy element on the plate. And as good as it is, it might have to take a backseat in this case to the crispy prosciutto pieces that are scattered about the plate. Prosciutto isn't as fatty as pork belly; you're dealing in a completely different taste profile. Here we have a unique combination of saltiness and sweetness, byproducts of the aging process of prosciutto -- the ham often spends around a year hanging, dry curing, to impart those flavors. But to then take this prosciutto and bake it and crisp it up? The flavor only becomes more intense, the texture more satisfying.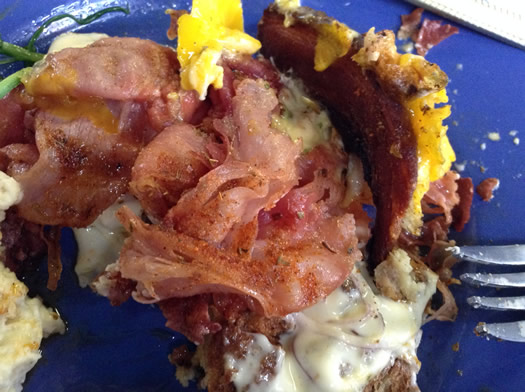 The prosciutto pieces here are crisped evenly and curl up in parts. At first I thought the Cajun seasoning topping much of the prosciutto would be that bit of excess to push things unnecessarily over the edge. Instead, it's yet another element that fits in seamlessly. It brings a little bit of heat, which is nice, and the paprika and oregano blend play nicely off the meaty elements of the dish.
At the bottom of this pile is a final treat: the savory bread pudding covered in a creamy brie sauce and thin slices of red onions. I like the bit of piquant flavor the onions provide, that hint of heat to cut through the richness of the cheese and the bread. The brie is fairly mild in this melted form, coating the bread pudding with its buttery taste.
The bread pudding itself, which is unexpectedly crisped up on the outside by the panini press (this is, admittedly, an unusual take on the classic panini sandwich), has a somewhat spongy interior that is the perfect conduit for the melted brie.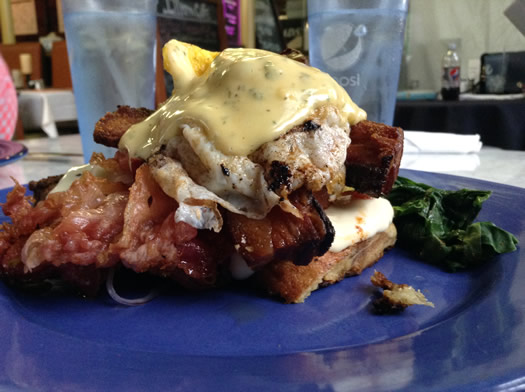 Of course, looking at the elements of this dish individually doesn't do it justice. It is, you might say, similar to a sports team filled with all-stars that is still, incredibly, greater than the sum of its parts. There are some classic combinations here -- hollandaise and fried egg (or spinach), pork belly or prosciutto and fried egg; and some unexpectedly fun ones -- like the brie with the prosciutto, or the pork belly with egg yolk and bread pudding.
Illium is a restaurant in the heart of downtown Troy with an eclectic nature that's half old-school diner, half chic and quaint café. There are enough unique sandwich combinations to satisfy a range of tastes. But it's their Cajun Pork Belly and Crispy Prosciutto Panini that should appeal to those who are both adventurous and hungry; it's a wild shot of creativity that all comes together with delicious results.
Jeff Janssens writes about food and beer at The Masticating Monkey.
More Eat This!
+ Tapas at Boca Bistro
+ Apple pie from Green Acres Farm
+ Mofongo de Chicharron at Casa Dominicana
Find It
Illium Cafe
9 Broadway
Troy, NY 12180
Hi there. Comments have been closed for this item. Still have something to say? Contact us.