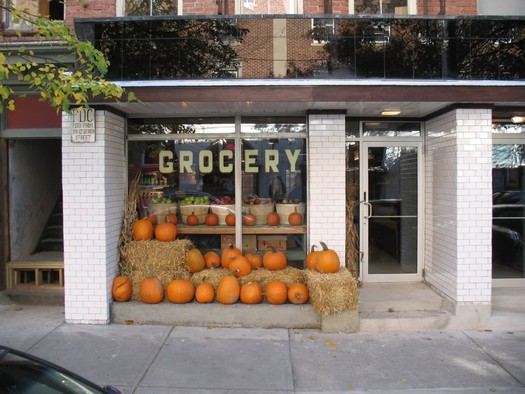 The new food market in downtown Troy -- The Grocery -- officially opened Tuesday on Broadway, half a block from Monument Square.
It's the latest project from Vic Christopher and Heather LaVine, owners of The Confectionery, located in an adjacent building. And much like the wine/coffee bar, Christopher and LaVine have created another space with a definite sense of place.
We stopped in Tuesday afternoon to have a look and talk with a few of the people involved, about how it came together and trying to find the right approach for a grocery store in downtown Troy.
There are large-format photos above -- click or scroll all the way up.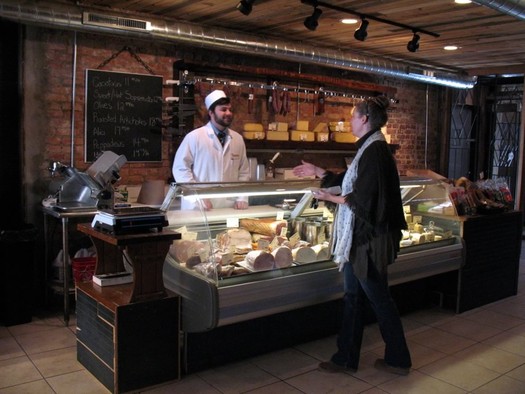 Christopher and LaVine bought the building that houses The Grocery -- 207 Broadway -- this past March. And at the time, the building was in bad shape. So the first order of business was getting it cleaned up and stabilized.
"We started asking people what a need would be, or what a cool thing would be [for 207 Broadway]," Christopher explained Tuesday afternoon. "And by far -- beyond anything we could have imagined -- a grocery was what the people wanted."
And as they kicked around the idea, LaVine said they realized a grocery store could work well with the Confectionery (the two spaces are linked by a patio). The wine bar could use ingredients from the grocery, and the grocery could sell items -- like cheese -- that people tried at the wine bar.
But they'd need the right person to run the grocery store. And that's when they encountered a bit of serendipity. Andrew Siskind, who had worked in specialty food and cheese shops in Brooklyn and Manhattan, was up in Troy visiting a friend who worked at the Confectionery. He met Christopher and LaVine and they talked. LaVine said the light went on right way: "We basically offered him the job on the spot because we knew he was the person we had to have to run the store."
Now open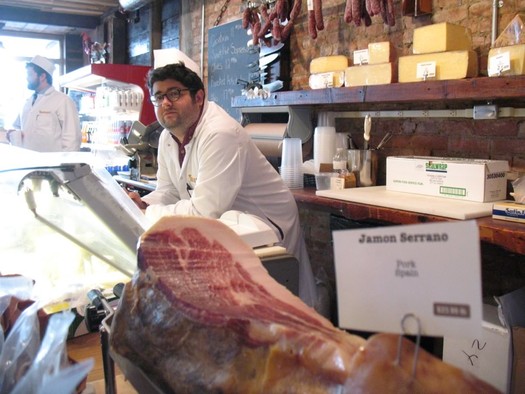 Andrew Siskind, The Grocery's manager
When we stopped into The Grocery Tuesday Siskind was chatting up customers, offering them samples of cheese, asking them which products they might like to see. He appeared to be very much in his element.
"It's my interpretation of what a grocery store would be like 100 years ago," he said as we talked over the cheese counter.
The vision for the cozy space -- it's probably no bigger than, say, a Stewart's -- includes a range of products you might not expect. There are expensive specialty cheeses, jamon serrano, and craft beers -- but there are also $1.50/pound apples, Heinz ketchup, and Campbell's cream of mushroom soup.
"I hope people make green bean casserole, because it's delicious," said Siskind, nodding at the soup, as we stood checking out the products in one corner of the store.
Christopher and LaVine highlighted this mix of the high end and the everyday.
"Our goal was to create a place where people could come in, and have enough stuff, that they could walk out with dinner that night," said Christopher.
"Unique, but accessible," added LaVine.
"It will evolve a lot," continued Christopher, "We're going to give the people what they want."
Or, as Siskind explained to us earlier, about an encounter during a store preview for Troy Night Out: "People are like, 'You don't have bologna.' So I ordered bologna."
Making it work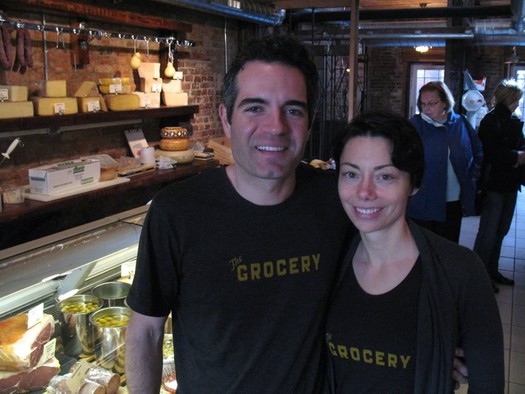 Vic Christopher and Heather LaVine
Fairly or not, the Grocery is going to get compared to the Pioneer Food Co-op. The ambitious project, which was located just a few blocks away, closed in 2011 after about a year of operation.
"You walked into that place and it was spectacular," said Christopher. But the Pioneer market was a multi-million dollar project, and it struggled under the weight of debt it had accumulated during its startup.
Christopher and LaVine are aiming to avoid that fate by taking things slow, opening small, watching expenses, and only taking on debt when they consider it absolutely necessary (they bought the building with cash). "We don't owe a lot of money, so I think we'll be fine," he said.
The couple also seemed heartened by the response they've gotten from Troy so far, both for the Confectionery and their new market, acknowledging the help and support they've received from a range of people.
"People rally around you here," said Christopher. "We couldn't accomplish this in another city."
The Grocery currently opens at 11 am, seven days a week. Daily closing times are still being determined.
____
The Confectionery was a stop on the AOA Historic Bad Boys, Broads, and Bootlegger tour.
Find It
The Grocery
211 Broadway
Troy, NY 12180
Hi there. Comments have been closed for this item. Still have something to say? Contact us.