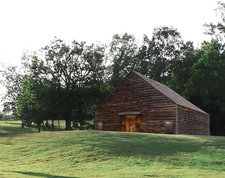 The craft beer/spirits industry is booming, and there's a been a lot of attention over the last few years in New York State on "farm" breweries, distilleries, wineries, and (most recently) cideries. The state has passed legislation that makes it easier/cheaper for these small scale operations -- if they use a specified amount of agricultural products from New York. The goal is to help foster an end-to-end industry in the state: crops are grown here, products are made here, and they're sold here.
But that means getting a lot of different people -- farmers, brewers, economic development orgs -- moving in the same direction. Toward that goal, the Carey Center for Global Good in Rensselaerville is starting a "farm brewery incubator." Blurbage:
For the past year, the Carey Institute has been working to start a model farmstead brewery in Rensselaerville. The aim of the project is to create a new economic development and social networking hub, bringing farmers, brewers and the Capital Region community together.
The Carey Institute has partnered with CSArch, an Albany architecture firm, to reconstruct a 1760's New World Dutch barn donated by Randolph J. Collins from the town of Guilderland. This icon of local history will be erected on our campus and adapted to house New York State's first farm-to-glass classroom and farm brewery incubator. Here, we will provide start-up brewing space and educational opportunities to emerging farm brewery enterprises, cultivating economic opportunities for farmers and brewers in New York State's budding farm-to-glass industry.
The Carey Center has a kickoff fundraising event for the project lined up for November 16, from 5-6:30 pm.
So why does this sort of project matter? Over at Drink Drank, Craig Gravina -- you know, from the Albany Ale Project -- explained recently. Here's a clip:
New York's agricultural infrastructure is woefully under equipped to meet even the first 20%/20% quota [for New York State-grown ingredients in the Farm Brewery Law]. Neither barley or hops are--or even can be--grown in great enough quantities in New York, to meet that requirement. Especially since the license is not restricted to breweries located only on farms. Matt Brewery, alone, could easily consume all of the barley and hops grown in New York.
Barley doesn't grow reliably in this climate. It thrives in cool, dry climates like in northern parts of the U.S.' Midwest and Canada. New York wheat farmers are reluctant to take the risk on growing barley. And who could blame them? Wheat grows wonderfully in this state, and there's an enormous demand for it. Why would they risk taking a loss on barley? The expectation for a variety of barley that will grow reliably in New York (from what I've heard anecdotally) is years away.
What about hops, you ask? Hop farms are opening all the time, right?
Yes, they are, but again infrastructure is an issue. Hops harvesters and pellitizers are expensive, and realistically New York's hops farms are small, in fact many are hobby farms. New York grown hops are expensive. The farms in the Pacific Northwest are ginormous, and ginormoty keeps cost down. Hops are also a uni-tasker, they are grown for one purpose. Granted the craft-beer biz is booming, but the demand for hops is still a fraction when compared to the demand for other New York grown crops--like corn and apples.
Earlier on:
+ More fizz for the cider business in New York
+ Last year the founders of the Albany Distilling Co. told us about how the state's Farm Distillery Bill helped open the way for their business
+ Albany Ale Project: Resurrecting a beer, and part of Albany's history
photo: Carey Center