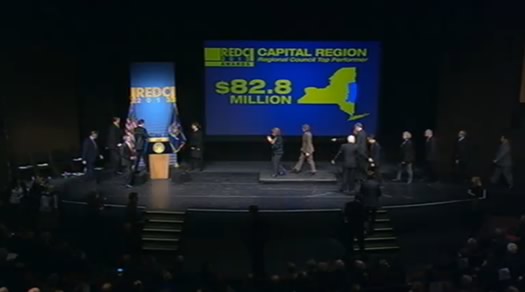 Updated with a map of Capital Region awards, along with an easy-scan table.
The Capital Region scored $82.8 million in funding for projects in the third round of the Cuomo administration's Regional Economic Development Council initiative. A list of the Capital Region projects funded is embedded after the jump.
It was the second-highest total among the state's regions, behind only Long Island's $83 million. And the Capital Region was tabbed as "top performer," meaning it and the other likewise labeled regions got about $20 million more than the, uh, not-top performers. It was a bit of a turn around for the Capital Region's Economic Development Council, which had previously -- what would be Cuomomian word here -- underperformed in the previous two funding rounds. This time the Capital Region's effort was headed up by Albany Med CEO James Barba and UAlbany president Robert Jones.
A few projects that caught our eye as we scanned through the list the first time...

An interactive map of the Capital Region awards, along with the list of regional awards in tabular form, is embedded above -- click or scroll all the way up.
Schenectady Riverfront Revitalization Project - $5,000,000
Maxon ALCO Holdings LLC
Description: "Multi-year, multi-phase waterfront Brownfield development to include 144,000 SF retail, 304 apartments, supermarket, hotel, and banquet house."
This is the proposed redevelopment of the old ALCO site in Schenectady. Not mentioned: The proposed movie studio. It received the most money of any project in the region.
Digital Data Open- Innovation Training Center (DO-IT Center) - $3,500,000
Fuller Road Management Corporation
Description: "Establish a Digital Data Open-Innovation Training Center (DO-IT Center) for workforce training, a SMWBE Business Enterprises business center for software development, a data operations center, and a smart city operations training & development lab."
FRMC is associated with the NanoCollege. This project got the second-highest amount in the region. From a project description earlier this fall:
To be located at CNSE's Albany nanotech Megaplex, DO-IT will expand upon the successful co-location model employed by CNSE. Building on the emerging cluster of capital Region based data center cloud-enabled operations including consolidated NYSS data center, commercehub, iBM and nFrastructure among others, DO-IT will impact capital Region and statewide job creation by establishing a googleplex-like environment with specialized infrastructure to educate SMWBes and on-site employees on emerging it platforms. DO-IT will support existing and future partners by integrating a unique space of physical classroom with remote learning and real world hands-on training facilities for next gen high tech workforce that the capital Region requires. DO-IT will be a scalable model targeting training/retraining in software development, retail content development, and advanced ecommerce software based application utilization.
So it sounds like it will be leveraging some synergies. We think.
Quackenbush Square - $1,200,000
First Columbia Development
Description: "Project includes 260,000 SF mixed use development with 240 car parking garage, 120 room hotel, 30,000 SF office, with restaurant & retail space in downtown Albany."
This is the parcel at Broadway and Spencer in downtown Albany, near the Pump Station and the Olde English. "Capital Center" is a proposed $61 million dollar mixed-use development.
Wellington Row Revitalization - $950,000
Columbia Development Companies
Description: "Renovation of Albany's historic Wellington Row, consisting of five buildings located at 132-140 State Street, to create new office space for Aeon Nexus and to establish downtown condominiums, apartments and commercial space."
Wellington Row is the facade-only strip of State Street just down from the Capitol. Columbia announced this project earlier this year.
Park South Redevelopment Project - $2,500,000
Albany Medical Center and City of Albany Partnership
Description: "Relocation of electrical and communications lines and poles for a $58 million development project including construction of a mixed use and medical office building, housing units, and a parking garage in collaboration with Albany Medical Center."
Proctors Downtown District Energy Expansion In Schenectady - $2,903,522
Proctors
Description: "The Downtown District Energy (DDE) Expansion project at Proctors will provide heating and cooling to seven historic buildings in downtown Schenectady, in addition to the five that are currently serviced by Proctors' combined heat and power system. This will simultaneously benefit the local economy while lowering greenhouse gas emissions, improving efficiency, and demonstrating a highly effective model of energy co-operation."
We wrote about this aspect of Proctors earlier this year -- it's basically become a mini utility for downtown Schenectady.
Medical, Residential, and Retail Mixed Use Buildings in Troy - $1,000,000
City Station North, LLC
Description: "Project includes the acquisition, demolition, and renovation of property in the urban core of Troy and 250,000 SF of medical, residential, retail including an urban grocery in mixed use buildings."
A continuation of the City Station development downtown. The key word that caught our eye: "urban grocery."
Dockside Loft - $1,000,000
Pantera Development
Description: "Mixed use Downtown Troy project includes renovation of 35-unit bldg., construct modern walkway on Hudson, rehab parking and infrastructure."
Acquisition and Renovation of Quackenbush Building - $550,000
Tech Valley Center of Gravity
Description: "Not-for-profit to purchase and renovate a vacant building in the heart of Downtown Troy to establish maker space/tech incubator. Projected spinoffs to result in the creation of 25 companies and 150 jobs."
We wrote about TVCOG earlier this year. We heard the space has been very successful so far, thus the desire for more space.
Dutch Barn Model Brewery - $108,000
Carey Institute for Global Good
Description: "The project entails the reconstruction and adaptive reuse of a 1760's Dutch barn on the grounds of the Carey Institute for Global Good in Rensselaerville, NY, to be used as an agri-tourism and agri-education facility."
As mentioned.
Acquisition to support Urban Grow Center - $64,956
Capital District Community Gardens
Description: "The Urban Grow Center is a multiphase project which will enable Capital District Community Gardens (CDCG) to expand its use of agriculture in the Capital Region. The Center will include a local food supply hub, a rehabbed green building with alternate power generation and conservation, a fresh produce market, expanded year- round programming and other features that will double CDCG's ability to deliver local food and services to underserved neighborhoods."
Slate Valley Museum Internship Funding - $5,208
Slate Valley Museum
Description: "The Slate Valley Museum will hire a SUNY or CUNY student to provide administrative support for the programs and activities associated with the 2014's "Slate as Muse" exhibit. Programs may include painting workshops, quarry tours for photographers, slate carving workshops, children's art classes, and gallery talks with exhibiting artists. The Slate as Muse Marketing and Programs Intern will gain valuable experience in the arts field."
Yes, "slate as muse."
____
2013 Regional Economic Development Council Booklet Capital Region
Here's the Capital Region's list of proposed projects from earlier this fall.
And all the projects funded around the state in this round.
screengrab: Cuomo admin livestream
Hi there. Comments have been closed for this item. Still have something to say? Contact us.