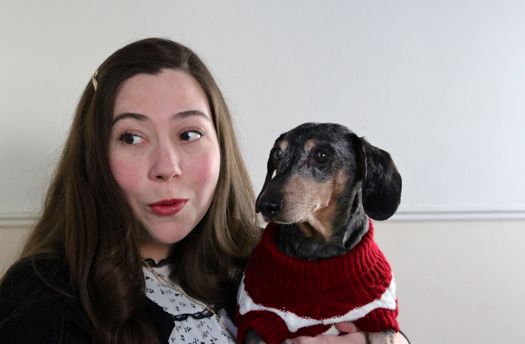 It's not about getting -- it's about giving. Everybody knows that. So instead of asking a handful of interesting people what's on their holiday wish list this year, we asked them what they'd like to give for the holidays this year.
Today's gift list comes from Jessica Belflower -- and it includes a lot of time spent with the people she loves.

Zumba or yoga
If my sister lived in town, I'd buy us passes to take Zumba or Yoga classes together. It's healthy (which, after Thanksgiving is a must!) and working-out is so much more fun with a buddy.
With New Year's resolutions around the corner, many gyms are offering fitness packages to non-members (no contracts) that include a few group classes and some personal training. My current gym, the Albany JCC, has a Slim-Down Challenge that starts January 16 and includes 10 group workouts and 10 seminars for around $200.
If you're looking for something more affordable, Ballroom on Sunset has Zumba packages starting at $30. There are also excellent yoga studios in the area (Heartspace Holistic and The Hot Yoga Spot come to mind) that offer gift cards or class passes that you can buy in advance.
Cooking
Honestly, cooking classes could be fun with almost anyone! I guess it would be most fun with a girlfriend, but any food enthusiast would be excited about this gift. The Cook's Resource (Different Drummer's Kitchen) at Stuyvesant has posted its January cooking classes. The lineup includes everything from homemade tamales to fresh pasta to Sushi 101. Classes start at $65 person and each class is 2.5 hours long. I have it on good authority that you are encouraged to bring a bottle of wine to enjoy during the class... this gift just got even more fun!
Hockey
For the sports enthusiast: the Albany Devils offers flex tickets, so you don't have to know your dad's schedule before buying tickets! These games are wintry fun and the current Holiday Hat Trick promo is only $45, which includes 3 Flex Vouchers as well as a $10 Price Chopper gift card! Hooray!
Wine + philanthropy
Perhaps the perfect holiday gift. If you're up for a little road trip, The Adirondack Winery is having an Ugly Sweater Party with wine tasting and they've partnered with Big Brothers, Big Sisters for a Holiday Gift Drive. They ask all tasters to bring an unwrapped gift or toy (ages 6-18) and gifters will receive a complimentary dessert wine sample! This event takes place before the holiday craziness sets in (Saturday, December 14 11:30 am - 5 pm and Sunday, December 15 11:30 am - 4 pm), so it's a perfect gift for your significant other! Stop by your favorite local toy store on the way up to Lake George and make a child's holiday a little more special, too. There are 3 tasting options: Jingle Bells (free, 4 samples); Holly Jolly ($5 per person, 9 tastings); Deck the Halls ($10 per person, 9 tastings plus cheese and chocolates).
For the animal lover
In my case, this would be my entire family. I could most see volunteering for animal rescues with my mom. She's an avid dog-person, so Homeward Bound Dog Rescue seems perfect. They are always looking for people to help with volunteering (it's not just adopting pets and fostering, you can help with fundraising, driving the dogs to their vet appointments, cleaning, maintaining HB's social media site, or simply donating!). The process is painless: fill out a volunteering application for you and your recipient and wait to hear from Homeward Bound on ways you two can help!
Jessica Belflower is a classical violinist who freelances in the Capital Region. She is also the proprietress of jessjamesjake.
More holiday gift lists
+ Kaitlin Resler
+ Schuyler Bull
Hi there. Comments have been closed for this item. Still have something to say? Contact us.