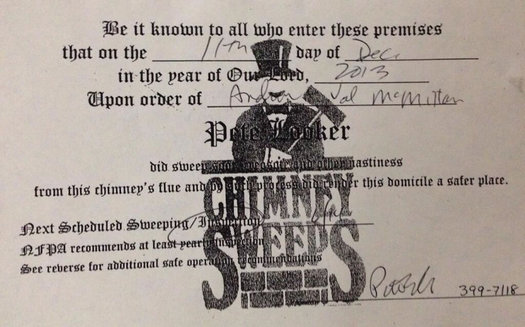 Some fun follow-up on Val's question from a month ago about finding a chimney sweep. She posts on Twitter:
Thanks to my Ask @alloveralbany inquiry we had our chimney swept by Pete Looker who left this excellent receipt. [above]
I wish I was home to meet him. As the other commenters on @alloveralbany noted he did indeed wear a stovepipe hat!
And the judges award the win to Pete Looker, for execution and style!
After seeing this receipt, we were thinking we might enjoy those ridiculously long drugstore receipts if they had passages from Dickens or some sort of other Victorian literature on the back. Heck, some of them are long enough, you might be able to fit a whole chapter.
(Thanks, Val!)
Hi there. Comments have been closed for this item. Still have something to say? Contact us.