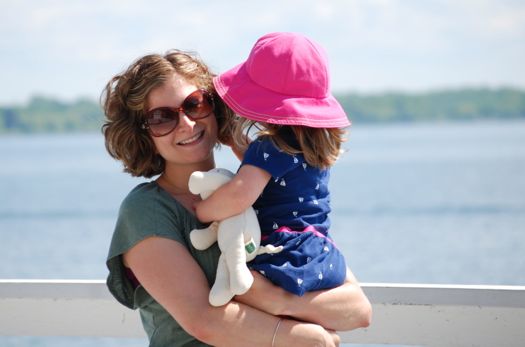 It's not about getting -- it's about giving. Everybody knows that. So instead of asking a handful of interesting people what's on their holiday wish list this year, we asked them what they'd like to give for the holidays this year.
Today's list, from It's Loverly's Nicole Lemperle Correia, is filled with Capital Region traditions.
My husband and I knew we wanted to be in Albany to raise our family, mostly because the majority of our extended family is here. Two sets of grandparents that love babysitting? That can't be passed up! But there's been a bonus: introducing our daughter to the things we loved about growing up here, and being here to continue and begin traditions with our family and friends. That part gets extra fun around the holidays.
My "what to give" gift guide is about those traditions, and some of the things that define an upstate New York holiday season. (*Disclaimer to those mentioned here: gift suggestions do not reflect actual gifts or budget... except in the cases where they do.)
For my husband, who I discovered Lark Street with as a teenager and who enjoys a well-made drink
I'd like to take my husband out on an old-fashioned wintery date. Our date would include a stroll past the tree on the Empire State Plaza, a jaunt to the top of the Corning Tower to take in the view, dinner at The Gingerman, drinks at the Speakeasy, and Crisan for dessert and raspberry hot chocolate.
A City Quilt would be an awesome splurge, custommade to reflect the places we love.
He would dig the Planet Money t-shirt. This NPR show does some of the best reporting on finance and the economy -- they make this stuff interesting even to me. My husband is a big fan. The t-shirt project is brilliant: they are making a t-shirt, available for purchase, and reporting on every aspect of the shirt's production -- from the place the cotton was grown to the factories in Bangladesh where it was produced to how it ships back to the US.
For my sister, who knows all my embarrassing stories, and her husband, who hails from the Utica area
For my fashionable sister, who shares my memories of summers at the family cottage on Lake George, this beautiful Lake George bracelet and an adopted acre through Friends of Camp Little Notch, the camp we attended and loved as girls.
Let's also have a pizza date at Smitty's in Voorheesville, followed by the traditional viewing of National Lampoon's Christmas Vacation and Elf.
For her husband, lover of all those Utica specialties
A gift certificate to Sciortino's -- although I still don't understand tomato pie...
For my two-and-a-half-year-old daughter, who love books, trains, dolls, New York City, and monkeys
I was in the Little Book House the other day and was overcome with nostalgia -- I get to shop for my daughter in the same store I spent many hours in growing up, pouring over Babysitters Club books. While I was there I picked up a copy of The Polar Express for her, a favorite holiday book in my family long before the movie.
Additionally, for the kiddo: snowy days sledding at Capital Hills. Winter afternoons spent running around the New York State Museum -- riding the carousel, exploring the longhouse, and visiting Sesame Street. Snowy walks at Five Rivers.
She'd also go bonkers for a monkey temporary tattoo (she still talks about the Dinosaur Bar-B-Que tattoo she had months ago), a Playmobil set from The Toymaker in Stuyvesant Plaza, and the new Pete the Cat book.
For good friends who make me laugh so hard I cry
For Albany friends, bits of ephemera and local history found among the treasures at Silver Fox Salvage -- vintage postcards for framing, printers' trays, stained glass windows from historic buildings, wacky garden statuary, and this very cool rain lamp.
For out-of-town friends who come to visit
Ice skating excursions at the Empire State Plaza and Swinburne. A box of Freihofer's cookies, and a bottle of Albany Distilling Co.' Ironweed Bourbon Whiskey (with a copy of Ironweed, of course).
For those college friends that had an affinity for drag shows back in the day
The fun Mother's Little Helper art calendar, by Troy photographer Brenda Rose. All proceeds from the sale of these calendars will go to the Pride Center of the Capital Region.
For my parents and in-laws, who are fun-loving grandparents, providers of delicious meals, and always take good care of us
My family has been going to Mountain Snow & Mistletoe shows for years - since they were held in church halls. The show is folksy, maybe a little corny, but always fun. My in-laws started coming along a few years ago, and this year we'll all be going together and bringing the little one.
Dinner at Cafe Capriccio. There are a few spots in downtown Albany where it's easy to envision the Italian neighborhoods and restaurants where my family first put down roots. Capriccio is one of those spots. It's especially cozy at this time of year.
I'd love to start a family tradition of playing games on Christmas day, after the food has been eaten and gifts opened. Telestrations, dominoes, and Bezzerwizer are all good options.
A donation to Things of My Very Own, Inc., "a recognized leader in providing supportive services to abused, neglected, displaced and 'at-risk' children within the state of New York." I learned about this organization through this article, and it's at the top of my holiday giving list. This is a bare-bones operation doing incredible work, and 100 percent of each donation goes towards programs, services, operating expenses, and direct aide.
Nicole is the communication coordinator for a statewide organization that advocates for local governments. She writes at It's Loverly, contributes the Open House feature on AOA, and tweets as @nicorreia. She has not actually started her Christmas shopping yet.
Hi there. Comments have been closed for this item. Still have something to say? Contact us.