Open House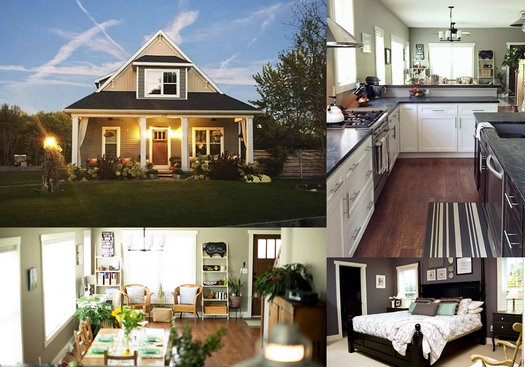 By Nicole Lemperle Correia
Laura's love for Cohoes runs so deeply that she built a home across the street from the house where she grew up. Her passion for her hometown combined with her love for home design have not only resulted in an interesting story -- she's also built a business on these two things.
A new home that has the details and feel of an older house, Laura's thoughtfully-designed place makes it easy to imagine spending a cozy Sunday afternoon or enjoying a large family party. It's a comfortable and welcoming space.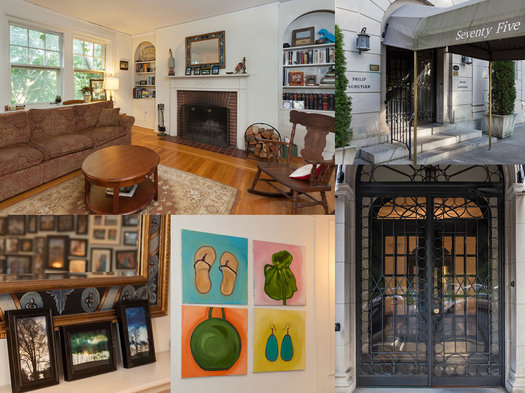 By Nicole Lemperle Correia / Photos by Paul Gallo
Sarah and Brianna's apartment is in an "old Albany" building, perfectly situated on Washington Park. But while the architecture and details throughout the apartment are beautiful, the most notable thing about their space is the way they've filled it with items that are meaningful to them. Their apartment tells the story of their travels, the people in their lives, and their interests. The artwork, the photographs, and the books on the shelves tell their story in a very personal way. The apartment is comfortable and welcoming, clearly a space they love and enjoy opening up to others.
Sarah and Brianna also offer an interesting perspective on life in Albany versus life in New York City (spoiler alert: Albany wins), their reasons for choosing this spot on the park, and the things that make a place feel like home.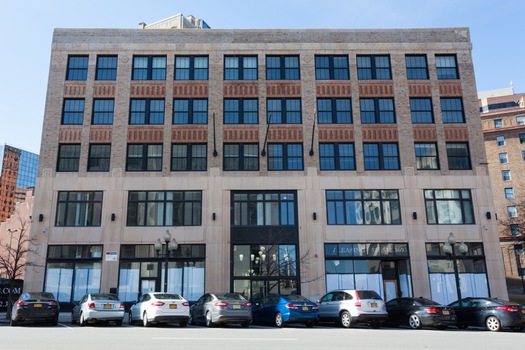 By Nicole Lemperle Correia / Photos by Paul Gallo
Within the past few years, the downtown Albany apartment and condo options have multiplied. And within the past year, more of my friends have moved farther downtown, closer to the Hudson River than to Lark Street.

Katie both lives and works on Broadway in Albany -- her home and her office are just a block apart. We talked about her reasons for moving downtown, what it's been like so far, and what she hopes to see downtown in the future.

By Nicole Lemperle Correia / Photos by Paul Gallo
If you'd walked by Erica and Christian's home before it was theirs, you may not have spotted this jewel. When they bought it six years ago, the front of the home was hidden from view by several large pine trees. The Craftsman home's beauty -- both inside and out -- needed some uncovering.
Erica and Christian have lovingly restored and updated their house. Today, its beauty shines through while also providing a warm and comfortable space for their active young family. They have taken a historical house and updated it to create a home that meets their family's needs.
Their neighborhood is another example of Albany's many unique little corners. Just blocks from their home they have a Little League park, a playground, and several restaurants. I spoke with Erica about their home, their neighborhood, and their reasons for living here.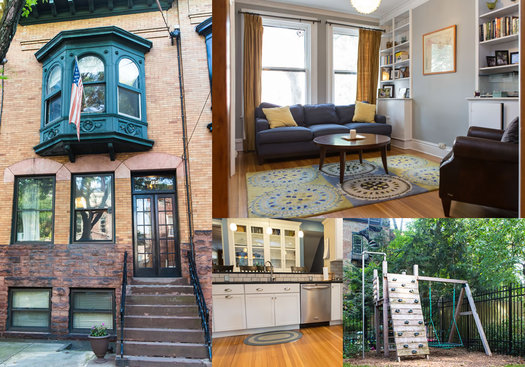 By Nicole Lemperle Correia / Photos by Dave Hopper
As a child growing up in suburbia, I daydreamed about living in the city: walking to museums, living in a bustling neighborhood, sitting on a stoop a la the characters on Sesame Street. It all seemed so exciting and very different from my quiet street.
Gail* and her family have found that raising kids in an urban setting really is fun. The family, including two young children, makes the most of everything their neighborhood has to offer -- and in Albany's Center Square, there's plenty to see and do. They have found a vibrant community and eagerly shared their experience with downtown living.
I spoke with Gail about her reasons for choosing urban living, how it works for her family, and what it's like to raise kids in a 116-year-old row house.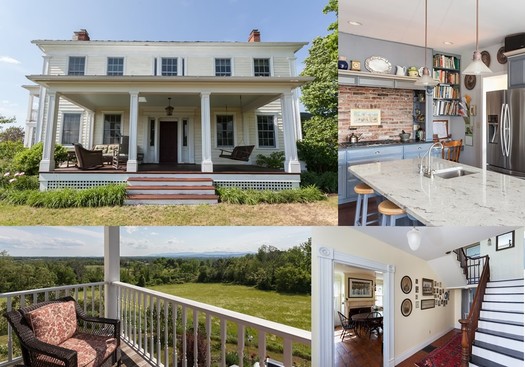 By Nicole Lemperle Correia / Photos by Paul Gallo
Many of the previous Open House homes belong to fairly new owners -- people beginning their life in that home, or those who had spent a couple years making the home their own. Martha and her family have owned their Columbia County home for 14 years, a time during which the house was lovingly restored, her three children grew up, and now the family is beginning the process of letting go of this home and preparing for the next chapter.
Despite growing up in the Capital District, this is a part of Columbia County that I had never been to until about 10 years ago. It is breathtaking. The rolling hills, the open space, the vast sky -- it is a gorgeous part of our region. Martha's house is perched on a hill and has a splendid view of the surrounding countryside.
The story of Martha's family and their home is a look at the choices a family made about where to live at various points in their lives, the labor of love that home ownership involves, and the relationship between a home and the land it sits on.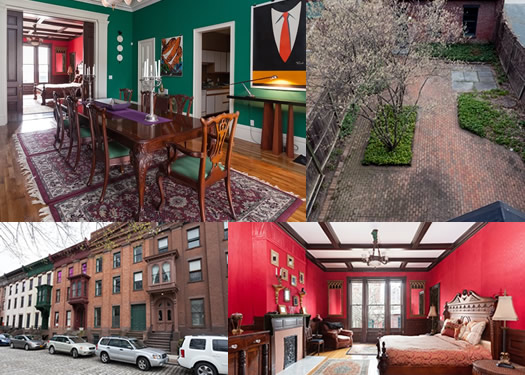 By Nicole Lemperle Correia / Photos by Paul Gallo
Peter and Alan live in a brownstone along Troy's Washington Park. Dating back to 1840, the park is one of only two privately-owned urban parks in the state. The buildings that surround it are stately and beautiful.
This corner of Troy is the kind of place to stroll around on a warm evening: lovely architecture, people walking along the tree-lined streets, and just a few blocks over from the Russell Sage campus. It's an idyllic place that most people don't wander into, but it's an area worth exploring.
The homeowners themselves are gracious and excited to share their corner of the Capital Region. As they joke, if you live in Troy, there's a good chance you've been in their house...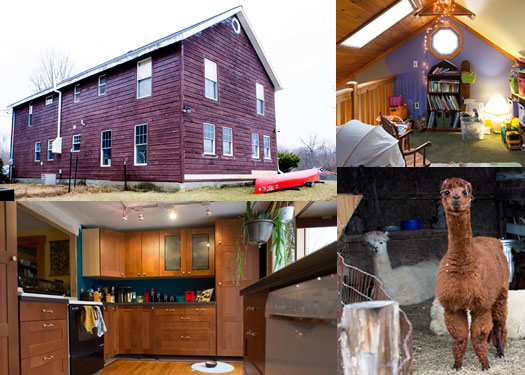 By Nicole Lemperle Correia / Photos by David Hopper
Suzanne and Erik's home story is one of transitioning from urban to rural, from a large house to a smaller one, from a life of convenience to a life of homesteading.
A year ago, the couple and their two young boys moved from their large home near Schenectady's Central Park to a smaller home on several acres in the northern Columbia County countryside.
I had a chance to visit with the family -- as well as their 19 chickens and 4 alpacas -- and hear about what it's meant for them to live in a rural part of the Capital Region, where their land is as important to them as their home itself. The family brings a unique perspective, with Suzanne's background as a biologist and Erik's background in engineering. They take a passionate, thoughtful, and intentional approach to their home and the land surrounding it.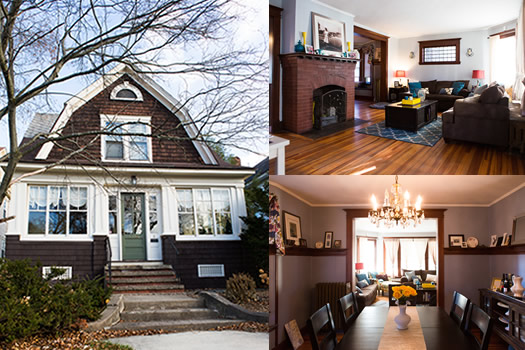 By Nicole Lemperle Correia / Photos by Dave Hopper
One of my favorite things about living in the Capital District is all the corners of our area to discover, even after living here most of my life.
Alicia lives in an area of Schenectady that I'd driven through in the past, but never knew much about. The Upper Union neighborhood is charming and grand -- wide boulevards lined by old trees, stately homes, and a mix of residents who have spent their lives there and younger people moving in. When I visited Alicia on a Saturday afternoon, the voice of the announcer at the Union College football game could be heard echoing off the houses.
Alicia's home reflects the history of the area -- a neighborhood built around the beginning of the 20th century, in part for General Electric executives and Union professors. Alicia has honored the home's past and at the same time created a vibrant and welcoming space.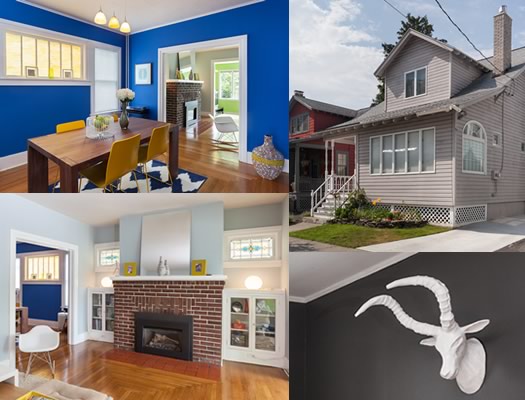 By Nicole Lemperle Correia / Photos by Paul Gallo
When I spoke to Paul about his home back in May, he told me that I had check out the home of his friends KC and DW and hear about their love for Pine Hills. I'm so glad that he connected us, because the charm and style of KC and DW's home made me want to move right in.
In a lot of ways, it's the kind of home you think of when you think of Albany's architecture and old houses. But KC and DW have filled their lovely old home with bright colors and modern touches that exude energy and creativity -- much like the vibrancy of the Pine Hills neighborhood.
KC and DW love their home and enjoy their neighborhood, but they also grapple with some of the same challenges that Albany faces as a city. They shared their experiences living in the Pine Hills neighborhood -- the things they love, the things they hope will change, and their favorite parts of their classic Albany house.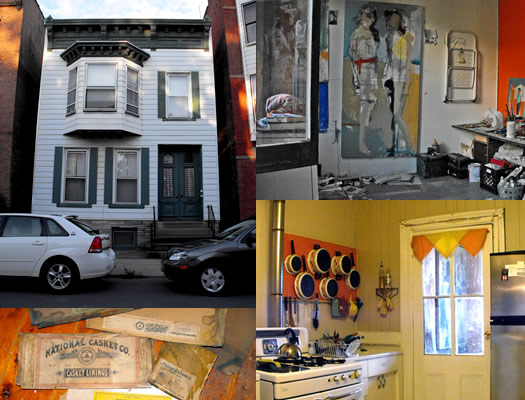 By Nicole Lemperle Correia
Renata and I met many years ago, when we worked at a Girl Scout camp together. Renata was the camp's arts and crafts director, and her artistic talent shines through in the Troy home she and her husband Mike are renovating.
The couple's love for their home and neighborhood is evident. The house is full of details that can only be found in historic homes: tin ceilings, detailed trim, beautiful woodwork, and perfectly-worn wood floors.
Unlike previous homes that have been featured in the "Open House" series, Renata and Mike's home is in the earlier stages of renovations, and they have some great stories about the process (just wait until you see what they found in their walls). I love how their creative vision has shaped their approach to their home, and how their artwork fills the space.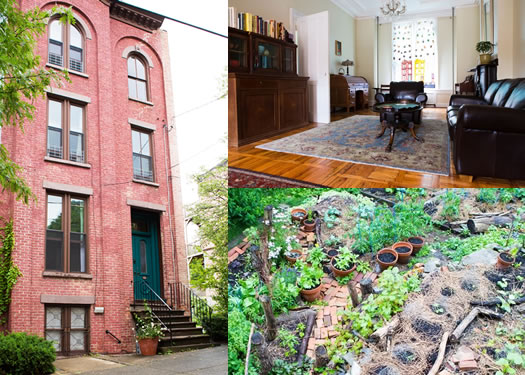 By Nicole Lemperle Correia
I was connected with Laurie and Jeremy Kirchman through a friend of a friend of a friend. But when I entered their downtown Albany house it felt like I'd known them and their home for years. Laurie, Jeremy, and their two young sons live in the Mansion Neighborhood, which I'm now fully convinced is one of Albany's best kept secrets.
Their home is a historic row house, bursting with original details -- from the molding that adorns the high ceilings to the unusual wide-planked floors.
Their yard has a secret garden quality: a rambling shared space that includes hops, which were used to produce their home-brewed beer (and which they happily share with visitors - lucky me!).
The Kirchmans have found and created an Albany lifestyle that combines urban and rural, small-town and city living. I spoke to them about their home, their neighborhood, and their life as Albany residents.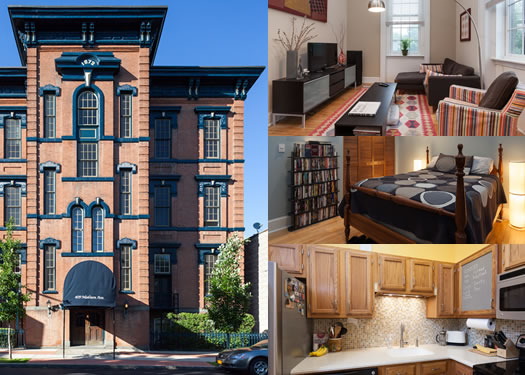 By Nicole Lemperle Correia
Have you ever walked or driven through a neighborhood and wondered what it's like to live there? I've always been interested in our area's neighborhoods and why people choose to live where they live.
Paul Gallo gave us a glimpse into his Albany home within a historic repurposed building. You've probably seen Paul's beautiful photography on local websites, blogs, and on display around the area. With his interest in old buildings, it's not a surprise that he's chosen to live in one of Albany's beautiful historic buildings.