By Nicole Lemperle Correia / Photos by Paul Gallo
If you'd walked by Erica and Christian's home before it was theirs, you may not have spotted this jewel. When they bought it six years ago, the front of the home was hidden from view by several large pine trees. The Craftsman home's beauty -- both inside and out -- needed some uncovering.
Erica and Christian have lovingly restored and updated their house. Today, its beauty shines through while also providing a warm and comfortable space for their active young family. They have taken a historical house and updated it to create a home that meets their family's needs.
Their neighborhood is another example of Albany's many unique little corners. Just blocks from their home they have a Little League park, a playground, and several restaurants. I spoke with Erica about their home, their neighborhood, and their reasons for living here.
Photos
There are large-format photos above -- click or scroll all the way up.
Interview
What part of your city/town do you live in?
We're part of the Woodlawn Neighborhood Association -- so between the Pine Hills and Helderberg Neighborhoods.
What brought you to this corner of the Capital District?
We lived in Center Square and then when we knew we wanted to have kids, we wanted a little more space, a garage, a basement... all of those things. We enjoyed life in Albany as well as the amazing old homes here.
What is your neighborhood like?
In many ways, our neighborhood is the most diverse place we could imagine, and that's why we chose to live here. Our neighbors are from all over the world, old and young, black and white, gay and straight, Orthodox and heathen. It seemed like a wonderful mix, and we wanted to raise our kids in that kind of environment.
What's your favorite part of your home? (And the biggest challenge with your home?)
We live in a Sears Kit House, which has been an amazing journey into the architectural archives for us. These homes were produced by the Sears Roebuck Co. in the early 1900s and then shipped as wooden beams and blueprints to families who could then assemble them on the spot. (We have the blueprints framed in our hallway -- we found them in the attic after moving in.)
They took the simplicity of the Craftsman architectural style of the time -- and that gorgeous natural, clean aesthetic that had been popularized by architects like Frank Lloyd Wright -- and made it accessible for regular people.
Our Spanish mission style house -- "The Alhambra" -- was a "top of the line" model at the time! It's been fun for us to do research on other Alhambra houses around the country and to see what those families have done with their homes.
Has anything crazy/weird/scary/funny happened in or around your home while you've lived here?
The yards on our street are notorious for being unable to grow anything because we have so much "wildlife" --squirrels, birds, possums, voles, skunks. If you try to grow a garden, it will be gone before you see a bud. Our house, however, has a patio on the second level, on the roof of the first floor patio. I am happy to report that I grew tomatoes, cucumbers, and peppers on the roof this year, unimpeded by animals.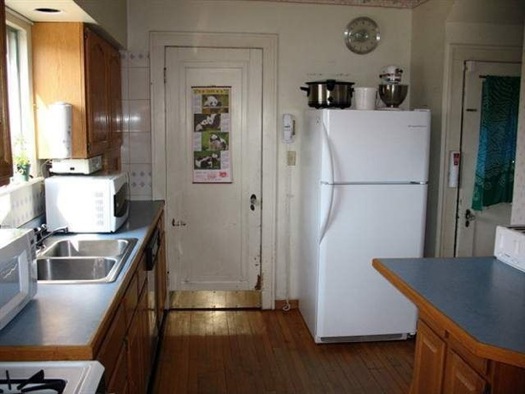 The kitchen pre-renovation...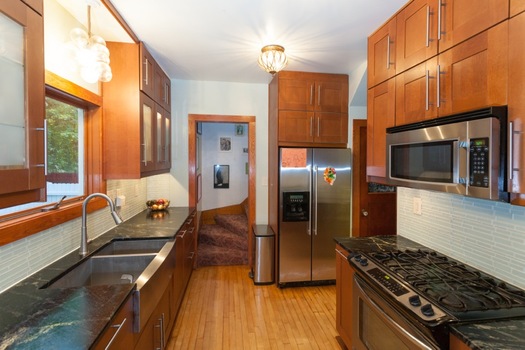 ... and after.
If you were selling your home, how would you pitch it to a potential buyer?
Beautiful, four-bedroom, historic Craftsman style home with all of the original woodwork in spectacular condition. New, contemporary kitchen that blends seamlessly into the vintage style of the home, with every master chef's detail accounted for. Lovingly restored and re-designed living spaces, including a large back deck for entertaining. New roof, restored stucco, restored and reclaimed light fixtures. Family-friendly block with a kiddie park up the street, on the parade route for the Little League Parade, and in the New Scotland Elementary School neighborhood.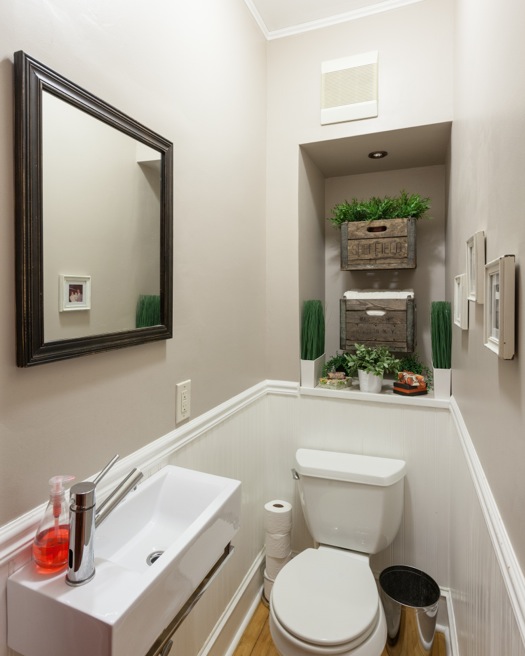 If you could buy any work of art for your home, what would it be?
I'd love to have a Deborah Butterfield horse for the backyard. Just because I'm never quite sure what to do with the backyard and I think a horse would be great. But I'd also love some original William Morris wallpaper for the living room. I know that it's a Craftsman -- not Arts & Crafts -- but we've mixed things up a bit and I think that it would look fantastic with all of the original woodwork.
What is the best thing about the space around your home?
There's a playground just a few houses away from our house that we take the kids to literally every day. We have a backyard, but we wouldn't really need to, because the park is our outdoor space. Also, the Little League fields are about 100 yards away, so we get to watch the Little League parade pass in front of our house every year. And last year, for the first time, we were a part of it!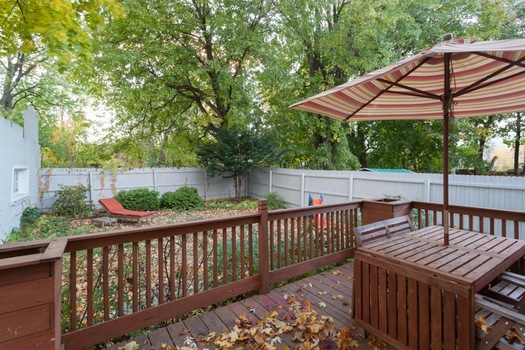 What would you change about your home (or neighborhood or city) if you could?
I'd like to see some of our neighbors taking as much pride in their homes as we and the majority of our other neighbors do.
Do you see yourself living here in 10 years?
It's hard to know what direction our careers will lead us. Maybe? If we stay in Albany, we'll definitely stay in this house.
What is your favorite memory of living here?
I love sitting out on our front porch in the summer and meeting other families as they walk by. Similarly, we love meeting other families when we're playing at the park on the corner. There's a great sense of community in the neighborhood.
What would you say to someone thinking of moving to your area?
Do it! It's a great area, especially if you're looking for a neighborhood with lots of other families with kids. It's also great to be able to walk two blocks to great restaurants and bars, or to be able to run to Stewart's in two minutes flat if you need a quart of milk or eggs... or emergency ice cream.
This interview has been lightly edited.
____
Nicole Correia writes at her website and is on Twitter as @nicorreia. | Some of Paul Gallo's photos are at No3rdW.
More Open House:
+ Living with kids in a Center Square row house
+ A family home in the country
+ Peter and Alan's Troy brownstone on the park
Hi there. Comments have been closed for this item. Still have something to say? Contact us.