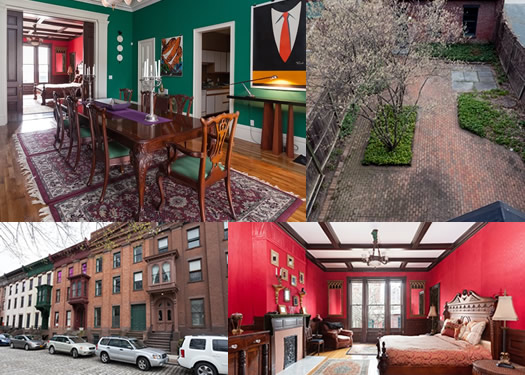 By Nicole Lemperle Correia / Photos by Paul Gallo
Peter and Alan live in a brownstone along Troy's Washington Park. Dating back to 1840, the park is one of only two privately-owned urban parks in the state. The buildings that surround it are stately and beautiful.
This corner of Troy is the kind of place to stroll around on a warm evening: lovely architecture, people walking along the tree-lined streets, and just a few blocks over from the Russell Sage campus. It's an idyllic place that most people don't wander into, but it's an area worth exploring.
The homeowners themselves are gracious and excited to share their corner of the Capital Region. As they joke, if you live in Troy, there's a good chance you've been in their house...
There are photos in large format above -- click or scroll all the way up.
How long have you lived here?
Twelve years. We bought the building from E. Stewart Jones, and it had already been renovated at that point. When he and his wife bought it, the roof was in the basement -- the building had just completely collapsed in. Everything had to be reconstructed, but the couple saw the beauty in it. The renovation had an emphasis on historic integrity, and where the original pieces couldn't be salvaged, accurate reproductions were crafted.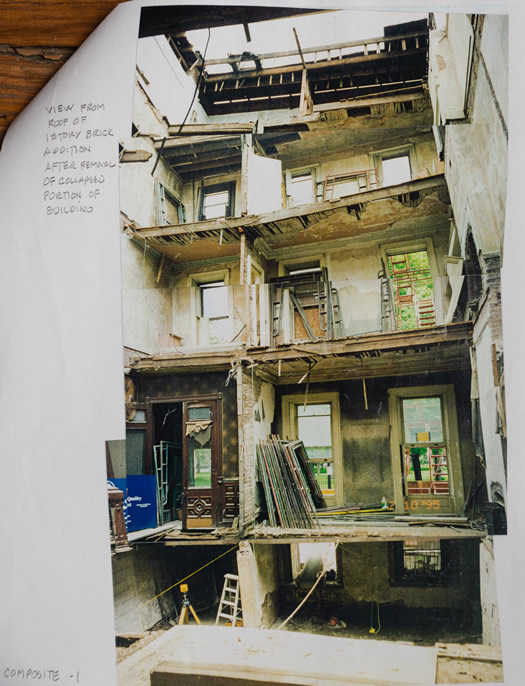 When we bought the building, only four out of ten buildings on the block were being lived in -- the others were in very rough shape or being renovated. We were the only building in the middle of the block that was livable.
And we just fell in love with the place.
What brought you to this part of the area?
Peter: It turns out we're an urban legend here in Troy. We were living on the east end of Long Island, and came up to Lake George for a cooking weekend, a gift from a friend. We were leaving Lake George a little bit earlier than planned and decided to come down the eastern side of the river. When we got to Lansingburgh and Troy we couldn't get over the architecture. There were these gorgeous houses, being misused, on the river -- you'd think they'd be prime real estate.
When we got to downtown Troy it was dead -- not a soul. We came down 3rd Street and we saw Washington Park, and we ended up parking directly in front of this building. Back then you could look in the windows of some of the building and see the sky, because there were no roofs, there were no floors.
I was a school teacher, and every year after school let out I came up north to see a group of antique dealers in the Adirondacks. On the day I came back home in 2002 I decided to stop in Troy again, and I started chatting with people on the street -
"Do you live here in Troy?"
"Yes."
"What do you think about Troy?"
Everybody loved Troy. And I loved what I saw. So I wrote down real estate agent names and numbers. There was no reason for it. We weren't looking to buy a house. But I went home, and again, no reason for it, but I made calls and set up appointments to see some homes in Troy.
The very first house we saw was up the block, and the agent couldn't get me in the house -- she couldn't unlock the lock. And -- this is out of my character -- but I got so annoyed with her! The next appointment was to see this house. I took photos in each house, and took them back home. And still, why we proceeded -- it made no sense.
But we ended up buying the house. And we love it here.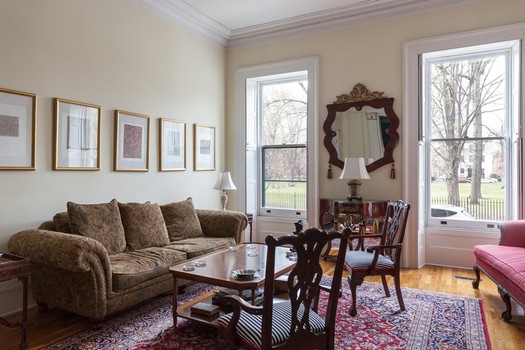 What's your favorite part of your home?
Alan: The location. The view. The neighbors.
I like sitting on the stoop, having a drink, chatting with the neighbors. Everyone comes out in the evenings.
The biggest difference between when we first got here and now is that there are young families here now. When we first got here there were no kids. Now there are lots. It's really neat.
Inside the home, I love the high ceilings. I'm impressed by that every time I walk in the door. And the view of the park -- we are so lucky to have this view, out these windows.
Has anything crazy/weird/scary/funny happened in or around your home while you've lived here?
Peter: I was sitting near the back window reading the paper one day, and three feet over there was somebody with a jackhammer working on that building, and on the other side they were working on the building, throwing things out of the third floor window, clouds of dust were rising up, and I smiled to myself thinking: it's happening, it's really happening. The block is coming back.
Alan: We weren't here, early on, but the back fell off of the building next door -- it was derelict.
A few years ago, the cobblestone street out front was restored -- that was an exciting project to watch. It was a cooperative effort funded by a grant and initiated and directed by the park association in alliance with the city and homeowners. Many of the cobblestones came from Albany.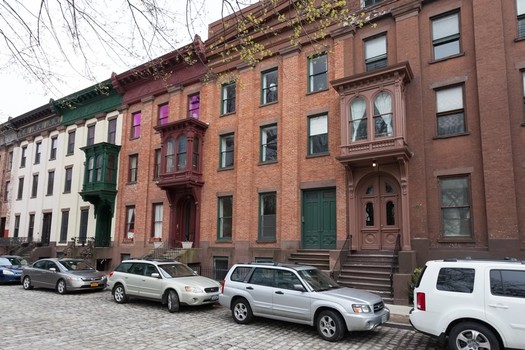 If you were selling your home, how would you pitch it to a potential buyer?
It's all about the location and the community -- the neighborhood is the best thing. We've made so many friends here in such a short time.
It's not a huge house, but the openness of the space is also great for gatherings. We've hosted several fundraisers and parties -- we always joke that nearly everyone in Troy has been in our home at some point. And it's probably true.
This building has two apartments -- had you been landlords before?
Not like this. We only choose tenants that fit in with the house -- with the other tenant, and with us. It's important to us that it's a good group living here. Almost everyone we've rented to has bought a house in the Capital District. Nearly every tenant that's lived on the second floor has gone on to married, bought a house, and had a baby. So there's a good blessing on that apartment!
If you could buy any work of art for your home, what would it be?
Peter: I'm going to answer it a little differently than what you'd expect. I wouldn't do it to my home -- I'd do it to the entire block. If I won Mega Millions: this block was built as one grand palace. It was built based on the architecture of the Royal Crescent in Bath, England. So it was built as one building, ten different homes. As soon as people moved in they started changing things: windows, doors, stoops, pediments.
So if I won Mega Millions, I'd buy every building on the block and I'd turn it back to that.
What is the best thing about the space around your home?
The view, the openness, the private backyard.
Inside, it's the height of the ceiling. You walk in and you automatically look up. Almost every time I sit down and look out I'm impressed. It's a privilege to have this.
What would you change about your home if you could?
We do intend to take over another floor of the building, whether it's go down or go up, we're not sure yet. And the kitchen needs to be redone, but most people say that right?
This interview has been edited.
____
Nicole Correia writes at her website and is on Twitter as @nicorreia. | Some of Paul Gallo's photos are at No3rdW.
More Open House:
+ Suzanne and Erik's North Chatham homestead
+ Alicia's charming Schenectady home
+ KC and DW's Pine Hills modern
+ Renata and Mike's Troy fixer-upper
+ At home in the Mansion Neighborhood
+ Paul's old school condo in Albany
Say Something!
We'd really like you to take part in the conversation here at All Over Albany. But we do have a few rules here. Don't worry, they're easy. The first: be kind. The second: treat everyone else with the same respect you'd like to see in return. Cool? Great, post away. Comments are moderated so it might take a little while for your comment to show up. Thanks for being patient.