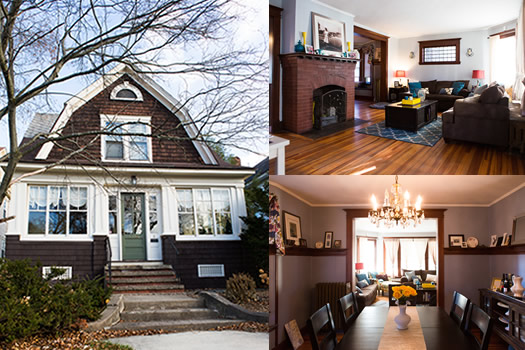 By Nicole Lemperle Correia / Photos by Dave Hopper
One of my favorite things about living in the Capital District is all the corners of our area to discover, even after living here most of my life.
Alicia lives in an area of Schenectady that I'd driven through in the past, but never knew much about. The Upper Union neighborhood is charming and grand -- wide boulevards lined by old trees, stately homes, and a mix of residents who have spent their lives there and younger people moving in. When I visited Alicia on a Saturday afternoon, the voice of the announcer at the Union College football game could be heard echoing off the houses.
Alicia's home reflects the history of the area -- a neighborhood built around the beginning of the 20th century, in part for General Electric executives and Union professors. Alicia has honored the home's past and at the same time created a vibrant and welcoming space.

There are photos in large format above -- click or scroll all the way up.
How long have you lived here?
I lived in the area for just over four years. When I moved back to the area from Boston I stayed with my sister, literally just on the other side of Union Street, for a year. I loved the area and was so excited to buy a house in the same neighborhood.
What brought you to this part of the Capital Region?
My wonderful family! I went away to college in Boston and loved the city so much I stayed there for about 12 years. I found myself traveling home to see my family quite a bit, and at the time, my first niece. After she was born I quickly decided that it would be great to be closer to home. Four years later, I have five nieces, an awesome pup, a great job, and my beautiful home -- and time with my family. Oh, and my Yankees. I have to say, I couldn't be happier about the decision.
What's your favorite part of your home?
My favorite part of my home is also the biggest challenge. It was built in 1910, so it has its original woodwork, beautiful windows, a tin kitchen ceiling, and awesome built-in cabinets throughout.
With all the great charm of an older home, upkeep and maintenance are things I always have to be aware of. I fell in love with the house's character, and have made some really great upgrades without losing its originality. The warm character of the home makes the upkeep totally worth it!
Shoes off or on in your house?
Whatever the mood strikes... I have a young, fun-loving boxer mix pup, and my five nieces have the run of the house when they visit. I always want to make sure my house is comfortable first. It's a lived-in place. Shoes on or off, I want everyone who visits to feel right at home. Just no shoes on my favorite chair!
Has anything crazy/weird/scary/funny happened in or around your home while you've lived here?
I have had several incidents with "critters." I had bats in my bedroom and a raccoon in my pear tree in the daytime. I have been very lucky to have had several stray dogs find their way into my yard. Probably five that I can recall. I'm not sure how, but they knew I was home and knew I would feed them, give them water, and take care of them until I found their owners. Each time they were safely returned home, and now every summer I just expect a few to pop up at my fence looking for some treats.
Do you have a favorite decorating touch or update that you've done?
My favorite piece of art in my home is an image of my mother with her father from the 1950s. I've always loved older black-and-white photos, and my siblings and I each have a few of my mom from when she was growing up. They are in really great condition, but only 2x2-inch or 3x3-inch in size. I blew it up to three feet by three feet, framed it, and placed it above my fireplace. The photo is a focal piece for my home.
My mom passed away when I was a teenager and the photo makes me feel like she is right there with me. She would've loved my house and I'm so glad I can make the memory of her a very big part of it.
What is the best thing about the space around your home?
Schenectady has so much to offer. Specifically around my home, I am able to walk almost anywhere: GE Realty Plot, to Union Street shops/restaurants, and over to the Niskayuna bike trail. Just a short drive away, downtown Schenectady offers restaurants, movies, and Proctors. Aperitivo is one of my favorites.
What would you change about your home or town if you could?
I would probably change my outdoor space. I have a good-sized yard, but with an old house also comes old trees and bushes. Every spring and fall I work to clear it out so I can eventually start with a blank canvas. I'd love to plant a vegetable/fruit garden. It is a work in progress.
What is your favorite memory (or more than one) of living here?
I have been very lucky to have a lot of great memories in my home; from hosting my first Thanksgiving in my home, to New Year's with all my friends and family (from home and Boston).
But my favorite memories over the past few years have been the time my brother, sisters, cousin and I have met, planned, and celebrated our newly-formed foundation: Dee's Kids. We lost our mom to breast cancer when she was 47. When my sister was diagnosed with the same disease four years ago, we wanted to do something more than charity walks. Her diagnosis was devastating, to say the least. Since then we have have raised over $50,000 and my sister has a clean bill of health.
I can't imagine not being here for any of it. We've cried, laughed and really just been able to be together. I am always trying to create a home where we can continue to make great memories for years to come.
This interview has been edited.
____
Nicole Correia writes at It's Loverly and is on Twitter as @nicorreia. | More of Dave Hopper's photography at David Charles Photography.
More Open House
+ KC and DW's Pine Hills modern
+ Renata and Mike's Troy fixer-upper
+ At home in the Mansion Neighborhood
+ Paul's old school condo in Albany
Hi there. Comments have been closed for this item. Still have something to say? Contact us.