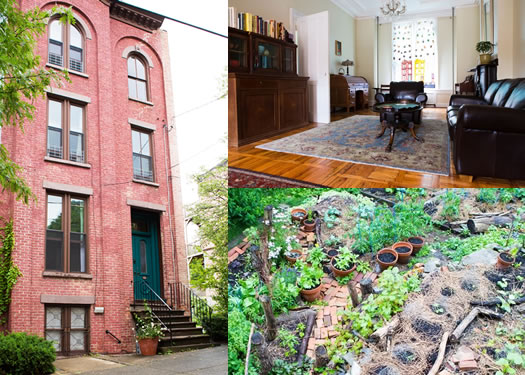 By Nicole Lemperle Correia
I was connected with Laurie and Jeremy Kirchman through a friend of a friend of a friend. But when I entered their downtown Albany house it felt like I'd known them and their home for years. Laurie, Jeremy, and their two young sons live in the Mansion Neighborhood, which I'm now fully convinced is one of Albany's best kept secrets.
Their home is a historic row house, bursting with original details -- from the molding that adorns the high ceilings to the unusual wide-planked floors.
Their yard has a secret garden quality: a rambling shared space that includes hops, which were used to produce their home-brewed beer (and which they happily share with visitors - lucky me!).
The Kirchmans have found and created an Albany lifestyle that combines urban and rural, small-town and city living. I spoke to them about their home, their neighborhood, and their life as Albany residents.
There are large format photos above -- scroll up.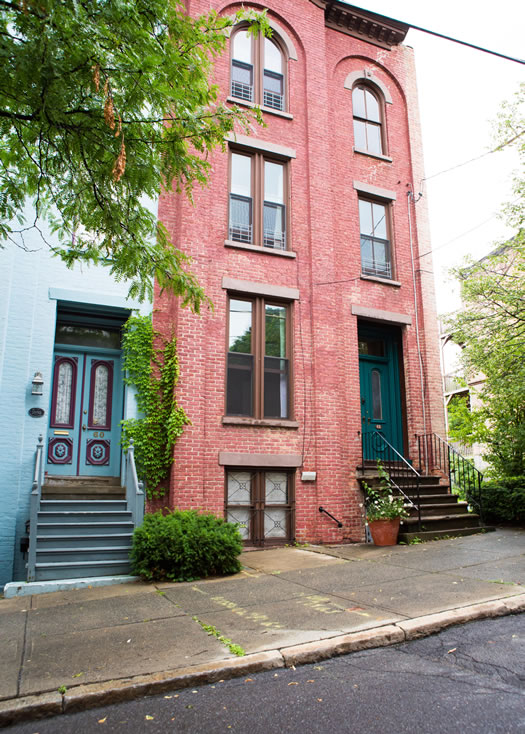 What part of your city do you live in?
We live in the Mansion Neighborhood of Albany on Philip Street.
How long have you lived here? Do you rent or own?
We bought the house and have lived here since 2007, six years.
Why did you choose to live in this city and this neighborhood?
Albany really chose us when Jeremy was offered a job as Curator of Birds at the New York State Museum. We chose the Mansion neighborhood primarily because it offers a two-block walking commute to work and also because we like historic neighborhoods.
We previously lived, studied, and worked in several places, including Virginia, Chicago, and Florida. At this point we can't see any reason to leave Albany -- it has everything we look for in a place to live. City living is an environmental and aesthetic choice for us.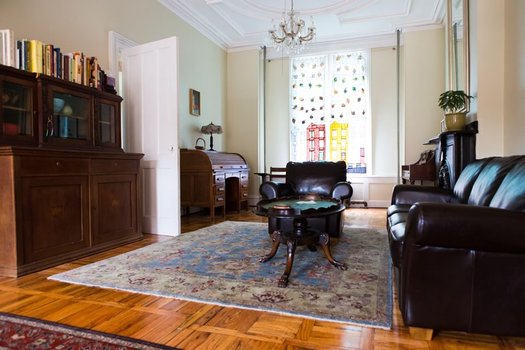 What's your favorite part of your home?
This house was built in 1859 by James Eaton (supervising architect of the New York State Capitol, who designed several Albany homes) as part of a row of tall skinny townhouses, and is very special. It's hard to choose a favorite part because there are so many outstanding features, such as tall ceilings with awesome plaster moldings, iron fireplaces with marble mantles, cool staircase, etc.
Unlike most downtown Albany houses, ours was never chopped up into apartments, and so it still has a lot of big rooms and open space (although a tiny kitchen and one bathroom). We feel very fortunate to live in this space. We love the big bedrooms on the second floor and the views from the third floor windows, from which we can see the big buildings and the Egg on the Empire State Plaza, the Governor's Mansion, and the Alfred P. Smith Building out the front, and all the downtown buildings, Hudson River bridges and the Rensselaer Plateau out the back.
That said, and it being summer, the garden is our favorite place to be at this time of the year.
What is the best thing about the space around your home -- your street, neighborhood, or yard?
Elm Street and Philip Street are beautiful. We've chosen to send our son to one of Albany's magnet public schools, Thomas O'Brien Academy of Science and Technology, and we love it for many of the same reasons that we like our neighborhood: walking commute, diversity, in a park, close to the museum.
We love our backyard. We grow many things, including hops, raspberries, greens, pumpkins, tomatoes, herbs, pole beans -- we get teased a bit for the diversity in our garden!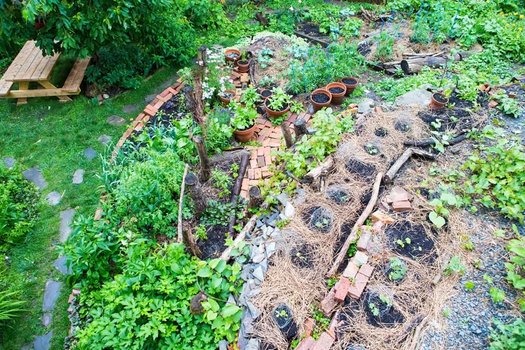 What would you change about your home and/or neighborhood if you could?
We'd like to see less trash on the streets. We also wish it was safer for bicycling.
Shoes off or on in your house?
Shoes on if they're not snowy or dirty.
Has anything crazy/weird/scary/funny happened in your home or neighborhood while you've lived here?
Our neighborhood is extreme. The best thing is the amazingly caring and fun neighbors. We love the proximity to city parks (two on Philip Street, plus Lincoln Park rocks), visiting the animals and plants at the Radix Center, the river, and the Plaza. Miller's Garage is out our back door (how convenient is that! We drop off our keys when we need an oil change, they get the car, change the oil, and bring it back to our driveway). [The neighborhood] is super diverse.
Our neighbors here are amazing. When we had our first child, shortly after moving into this neighborhood, dinner was delivered to our door every day for a month! It's a tight-knit community that really takes care of each other.
Mansion gets a bad rap sometimes, but you're less likely to get robbed or mugged here than in other neighborhoods. The crime is mostly drug related and so can be avoided. (Our closest encounters with crime: We had an umbrella stolen from the doorstep once, and another time someone took one of our potted plants.)
Do you have a favorite memory of living here?
When we first saw the house as prospective home buyers it was a snowy February night. When we reached the third floor's east-facing wall of windows and gazed out over the Hudson River valley at the bright, falling flakes we wanted to live here. Since then, we have watched many snowflakes fall, seen lots of rainbows, and watched fireworks throughout each summer from our third floor.
____
Nicole Correia writes at It's Loverly and is on Twitter as @nicorreia.
Photos: Dave Hopper.
Earlier on AOA: Open House: Paul's old school condo in Albany
Hi there. Comments have been closed for this item. Still have something to say? Contact us.