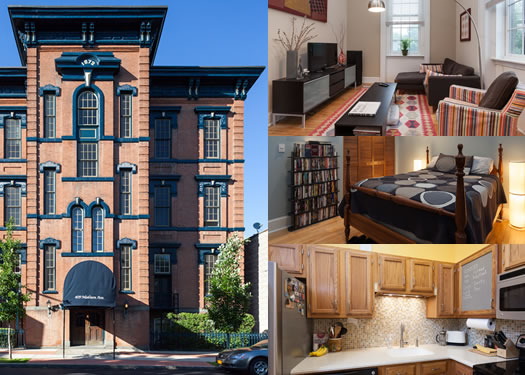 By Nicole Lemperle Correia
Have you ever walked or driven through a neighborhood and wondered what it's like to live there? I've always been interested in our area's neighborhoods and why people choose to live where they live.
Paul Gallo gave us a glimpse into his Albany home within a historic repurposed building. You've probably seen Paul's beautiful photography on local websites, blogs, and on display around the area. With his interest in old buildings, it's not a surprise that he's chosen to live in one of Albany's beautiful historic buildings.
There are large-format photos above -- scroll all the way up to see them.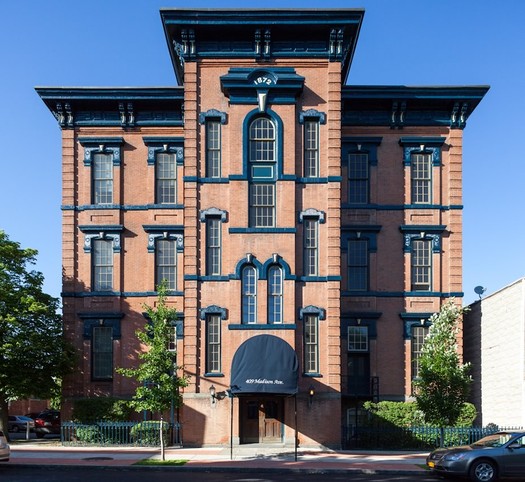 What part of your city/town do you live in?
The Hudson/Park neighborhood of Albany.
How long have you lived here? Do you rent or own?
I've lived at my current home (and in the city of Albany in general) for four and a half years. I own, but my home is a condo -- City School 11 -- converted to fourteen units in the mid-80s.
Why did you choose to live in this neighborhood?
I've lived in the Capital Region my entire life, but grew up at the far edge of the suburbs. Entertainment options were limited, to say the least -- I'd ride my bike to a gas station a couple miles away just because it was the closest thing I could get to. After attending college in Burlington, Vermont and experiencing their beautiful, walkable downtown, I knew I wanted to live in a place where I could walk to something... anything!
At the same time, I had friends who were moving to New York City and were constantly trying to convince me to join them. I was jealous of their access to restaurants and culture, but there were aspects of living in the city that I did not envy -- like the cost of living, the inability to escape or to easily own a car, and the way that simple everyday things seemed to take much longer despite the convenience of living so close to everything.
Albany is the perfect mix of what I loved about visiting friends in NYC, without the added stress, hassle and cost that comes with actually living in NYC. It's hard to find a more walkable part of Albany than Hudson/Park or Center Square. Hudson/Park is central to Lark Street, Delaware Ave, the Plaza and Washington Park. (Home prices are also a bit lower than in adjoining Center Square.)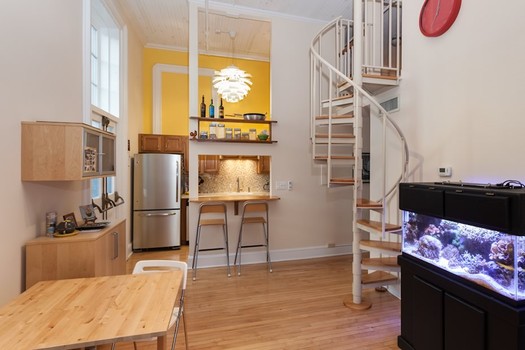 What's your favorite part of your home?
My favorite aspect has to be the building's history and character. When looking for a condo in the area I found quite a few that had larger floor plans, but were very plain in their design. Most were newer construction, and further from the city.
Honestly, I didn't think that a loft unit like mine existed in Albany until I saw the listing online. I wasn't interested in going to open houses just for the fun of it, so I looked at places online for months until I finally saw the listing for what would become my house. It was the first property I actually visited in person, and I knew I would be making an offer before I even went to see it. I love the high ceilings, huge windows, thick molding, hardwood floors and neat wainscot ceiling. The character of the building has been maintained throughout and it's easy to guess the original purpose of the building from the wide stairwells and common hallways - the shared areas still look like a school. A few gas light hookups are even visible in the halls.
Shoes off or on in your house?
Shoes on for guests is fine. I tend to not wear shoes in the house because it's more comfortable, and because I know I hear my upstairs neighbor when they walk around with shoes on... That's one downside to the old converted building -- the space between the floors acts like an echo chamber.
Has anything crazy/weird/scary/funny happened in your home or neighborhood while you've lived here?
It took a while to close on the house sale due to some holdups by the seller. The week after the closing, I refinished the hardwood floors and then moved in all of my belongings. A day or two later, my upstairs neighbor's washing machine hose burst while I was out of the house. Nearly the whole house was flooded when water poured in from above. It ruined the ceiling, the newly refinished floors, some of my electronics, furniture, and most of my documents related to the house sale.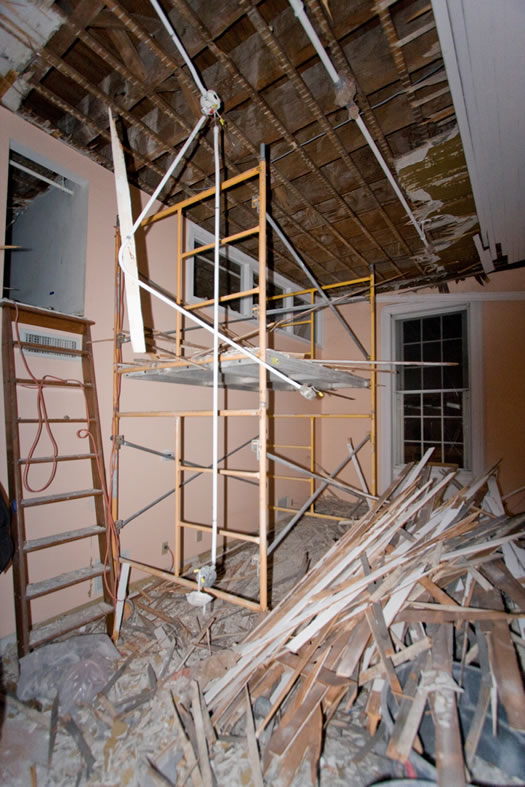 Restoration from the upstairs washing machine flood.
Insurance covered the repairs but it was another two months before I was able to move in -- not the ideal first home purchase experience! My patience paid off, since I was able to update the lighting, customize paint colors, and make a few upgrades during the insurance repairs. It would have taken me a lot longer to get to those things otherwise.
What is the best thing about the space around your home- your street, neighborhood, or yard?
The local arts scene is something that I really appreciate. It's so much fun to see everyone out on 1st Friday or at the Lark Street festivals and events. Since I don't have a single square foot of yard space, the proximity to the park is also a big plus.
It gets a bad rap, but I'm also thankful for the Price Chopper on Delaware Ave, despite their limited selection. Walking over to pick up one or two items I need to make dinner is so much easier and quicker than driving up supermarket alley... er, I mean Central Ave.
What would you change about your home (or neighborhood) if you could?
I wouldn't change much about my home. After going through the flooding and one particularly noisy upstairs renter, I can see the advantage of being on the top floor of a building like mine. That may be the one thing I would change.
For the neighborhood: My dream is to have an authentic Mexican taqueria in the neighborhood, one that's quick and simple and perfect for take out! Picture a small storefront version of La Mexicana in Schenectady. A street taco truck would also work.
I'd also love to see more events in Washington Park. Not huge, TulipFest-size events, but smaller music/culture/food events (think Harvest Fest). The park could benefit from permanent food truck spots in the park a la Troy's Riverfront park and more use of the Lakehouse. Washington Park is such an amazing feature in our neighborhood, but could be so much more!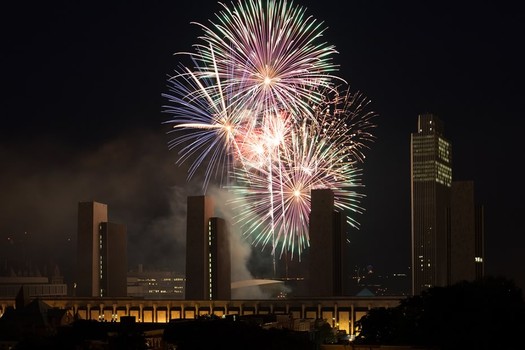 Do you have a favorite memory of living here?
Watching the Plaza's 4th of July fireworks on my roof and seeing all my neighbors up on their roofs as well. It was fun, and such a great view!
____
Nicole Correia writes at It's Loverly and is on Twitter as @nicorreia.
photos: Paul Gallo
Hi there. Comments have been closed for this item. Still have something to say? Contact us.