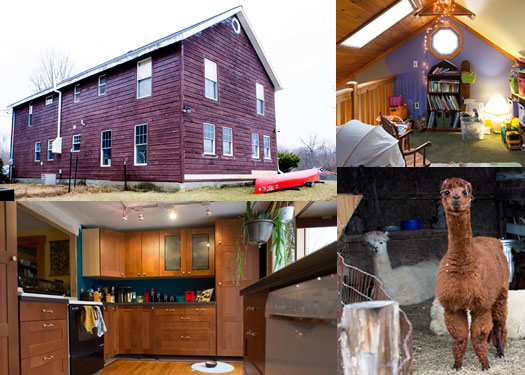 By Nicole Lemperle Correia / Photos by David Hopper
Suzanne and Erik's home story is one of transitioning from urban to rural, from a large house to a smaller one, from a life of convenience to a life of homesteading.
A year ago, the couple and their two young boys moved from their large home near Schenectady's Central Park to a smaller home on several acres in the northern Columbia County countryside.
I had a chance to visit with the family -- as well as their 19 chickens and 4 alpacas -- and hear about what it's meant for them to live in a rural part of the Capital Region, where their land is as important to them as their home itself. The family brings a unique perspective, with Suzanne's background as a biologist and Erik's background in engineering. They take a passionate, thoughtful, and intentional approach to their home and the land surrounding it.
There are photos above in large format -- click or scroll all the way up. Interview with Suzanne:
Where do you live?
We are in North Chatham with a Nassau mailing address. We're in the country, but just outside of the small village.
How long have you lived here?
We bought the house August 2012, but moved in April 2013. We spent the time in between renovating the kitchen and getting our house in Schenectady ready to put on the market.
What brought you to this part of the area?
We moved from a very urban environment in Schenectady, where we walked to Central Park, the grocery store, etc, to North Chatham for a couple of reasons: We wanted a parcel of land we could live off of by cultivating a small homestead with a big garden, animals, and in general something that we could take care of and give our children.
"Being in-tune with nature and feeling like a part of the landscape is important to us. We wanted to have a sense of place where we would know all the plants and animals and could explore the land, as well as care for it."
Being in-tune with nature and feeling like a part of the landscape is important to us. We wanted to have a sense of place where we would know all the plants and animals and could explore the land, as well as care for it.
We also needed a house that we could renovate to add an in-law apartment. My parents love being with my children and we wanted them to have their own space when they come for extended visits, with the intention that down the line, they would move into the apartment permanently. This house had an unfinished wood shop on the first floor with all the living space on the second and third floors, making it perfect for adding an accessible and private in-law apartment.
My husband works in downtown Albany and he takes the bus daily, so we wanted to be near a bus line, which is not always easy to find in rural areas. Our house is about three miles from Nassau, where he hops on a bus to downtown Albany.
We loved having so many places we could walk to in our old neighborhood and having friendly neighbors -- not always easy to find in a rural area, but we got lucky. Although we're in the country, we still have neighbors nearby, and we can walk to the village of North Chatham and to the library.
Finally, because this house is just over the border in Columbia County, the local property taxes are drastically lower than what they are in Schenectady County, even though this house is technically worth more.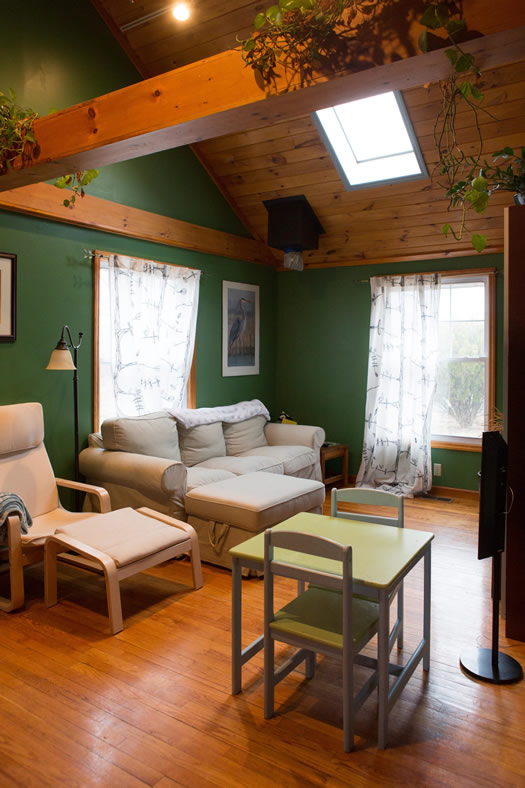 What's your favorite part of your home? And the biggest challenge?
I love the vaulted ceiling in our living room. It's a small living room, but the ceiling makes it feel open, spacious, sunny, and inviting. I also love that this house is so small -- that makes it much easier to maintain.
The kitchen is right in the heart of the house and I love being able to hear what's going on around me. When we moved in, the kitchen was small and pretty much useless. We spent a lot of time designing and building a space that we love to be in.
The house does have a couple of challenges: our old house was lovely, unique, old, and very large with an attic and a full basement that provided plenty of storage space. Now we don't have a basement or a garage, which makes it hard to store anything or find anything -- always difficult when you have kids. Also, the house really only has a bedroom and a half, and we don't have much of a bedroom at all, so I do really miss having a private bedroom to ourselves. Adding on to the house to give us a bedroom and more space for my parents is on the drawing board!
Living out here has been an adjustment. We spend a lot of time driving to and from my son's preschool, and running errands -- everything is further away. I hadn't anticipated how much more we'd be in the car.
Shoes off or on in your house?
Because we basically live on a farm, shoes always stay off and by the door because of all the dirt and mud. This summer we are going to add on the biggest mud room we possibly can where we can have all of our shoes and outdoor/farm clothing in one place without bringing dirt into the house.
Has anything crazy/weird/scary/funny happened in or around your home while you've lived here?
Well, we have four alpacas that we adopted from a local farm. They are fairly mellow animals and rarely if ever try to get out of their pasture. One day, I was bringing in water to their barn and didn't close the gate well enough behind me. All four of the alpacas ran right out, down our driveway and were heading for the road.
Luckily, a neighbor heard me screaming, came out of his house and helped me guide them to my neighbor's backyard where there's an old horse paddock. And, as luck would have it, a vet tech was driving by and saw me trying to catch them -- she stopped to help me and my mom and my three-year-old son. (She regularly works with alpacas, such luck!) They were running around like crazy until we finally managed to corner them and the vet tech got ahold of one. The best and worst thing about alpacas: they are such herd animals. One goes out, they all go out and when you catch one and halter it you can lead all the others back.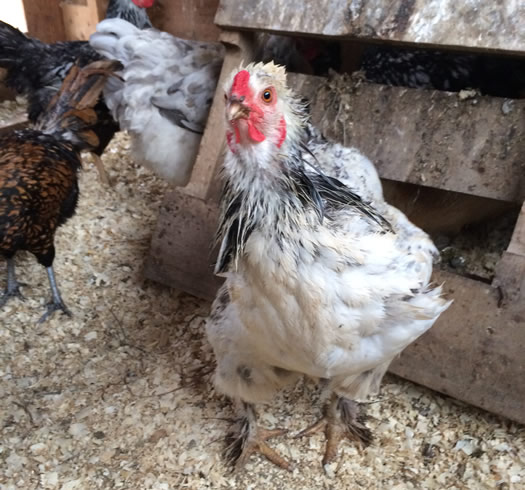 We also free range our 19 chickens and it's always funny when we have to dive through our neighbor's yard or run down the road to get them to come back!
If you were selling your home, how would you pitch it to a potential buyer?
Beautiful sunsets, land that can feed your family, small town feel, yet close to Albany.
If you could buy any work of art for your home, what would it be?
I would love to have someone paint a mural in our living room depicting the sunrise and sunset.
What is the best thing about the space around your home?
We have a wetland in the far back part of our land, and I LOVE it. As a former biologist, I love hearing red-winged blackbirds setting up their territories, spring peepers, grey tree frogs; I enjoy seeing snakes, bluebirds, foxes, mink. It's lovely. Also, we have a very, very old pear tree just off our deck. It's scraggly, but I just love it.
What would you change about your home or town if you could?
Besides adding on a bedroom and a mudroom, what we would love to eventually get off the grid completely. We're thinking about adding solar hot water to heat our house to get off heating oil.
Also, I miss our wonderful neighbors from Schenectady and sure wish they moved with us! And I admit: I hate having to mow so much grass. Adding more trees and a few more animals will help tremendously with all the mowing!
What is your favorite memory of living here?
Moving is incredibly stressful, and one of my favorite memories is having many of our closest friends lending us a hand with moving, and sitting down in our new house feeling thankful that even though we had moved a bit farther away from them, they would still be there and be our friends even if it was a bit more of a drive and less convenient to spend time with us.
Also, I love seeing my kids running around outside and soaking up all the land that this house offers, playing and enjoying nature.
What would you say to someone thinking of moving to your area?
Welcome to country living! Don't be a stranger! Want to buy some eggs?
This interview has been lightly edited.
____
Nicole Correia writes at her website and is on Twitter as @nicorreia. | More of Dave Hopper's photography at David Charles Photography.
More Open House:
+ Alicia's charming Schenectady home
+ KC and DW's Pine Hills modern
+ Renata and Mike's Troy fixer-upper
+ At home in the Mansion Neighborhood
+ Paul's old school condo in Albany