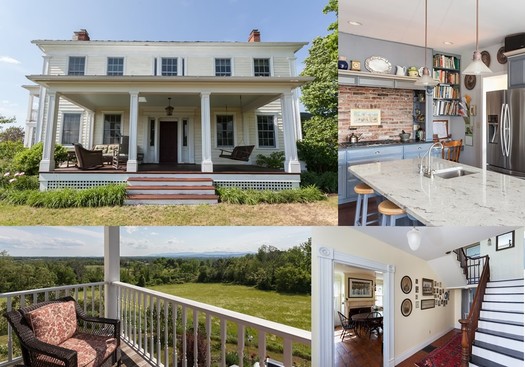 By Nicole Lemperle Correia / Photos by Paul Gallo
Many of the previous Open House homes belong to fairly new owners -- people beginning their life in that home, or those who had spent a couple years making the home their own. Martha and her family have owned their Columbia County home for 14 years, a time during which the house was lovingly restored, her three children grew up, and now the family is beginning the process of letting go of this home and preparing for the next chapter.
Despite growing up in the Capital District, this is a part of Columbia County that I had never been to until about 10 years ago. It is breathtaking. The rolling hills, the open space, the vast sky -- it is a gorgeous part of our region. Martha's house is perched on a hill and has a splendid view of the surrounding countryside.
The story of Martha's family and their home is a look at the choices a family made about where to live at various points in their lives, the labor of love that home ownership involves, and the relationship between a home and the land it sits on.
Photos
There's a photo tour above in large format -- click or scroll all the way up.
Talking with the homeowner
What part of your city/town do you live in?
We live out in the country, five miles outside of Kinderhook village and about two miles from the StuyvesantTown Hall. Where we live used to be called "Turkey Hill," and it is the highest point in Stuyvesant. Now we call it "Hollow Head," which we do not take seriously (who could?). It's kind of a joke to make fun of people who name their grand houses. Also, it is at the head of Hollow Road.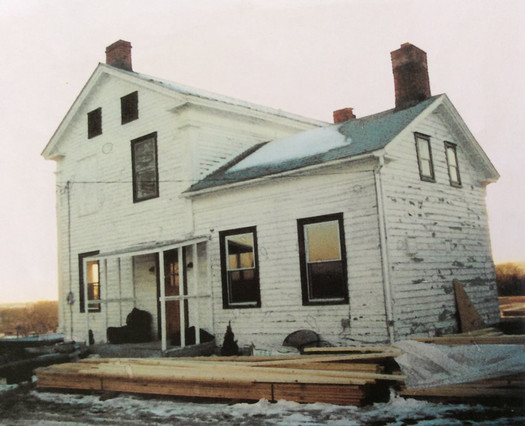 Before the renovations.
And besides that, the house was such a wreck when we bought it, we had to have hollow heads to take on such a project!
How long have you lived here?
We closed on the house the week of September 11, 2001, pretty stunned by the week's events and operating in a kind of fog. We moved in in August of 2002 after extensive renovations and additions.
What brought you to this part of the area?
We moved to the Kinderhook/Stuyvesant area to raise our children in an environment that was as down home and old-fashioned as we could find. We had been living in NYC and didn't really want to raise kids there. We wanted them to have childhoods more like our own. We have been in the area since 1987.
What's your favorite part of your home?
I am personally really fond of the upstairs hall landing. I know that's an odd choice, but there's a great view from there, and it's the kind of old-fashioned feature that I love. The kitchen, of course, is where we spend most of our time, and I especially like the brickwork behind the stovetop.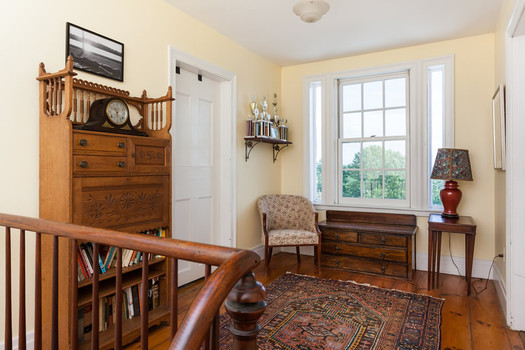 And the biggest challenge with your home?
The biggest challenge is definitely dealing with the wind. When it's whistling by in the winter it makes us feel glad to be inside. It's a real gardening challenge.
Shoes off or on in your house?
Wearer's preference. I should be a shoes-off person, but I go in and out so much that it's not practical. We are all like that, I think -- the outdoor space is such a big part of how we live here.
Has anything crazy/weird/scary/funny happened in or around your home while you've lived here?
Yes, but it's kind of a long story, which I will condense here: When we were working on the renovations, I was up at the house alone one Halloween, ripping bad paneling off of the walls, and I was taking a break with the cat who came with the house when we heard, unmistakably, a man's footsteps pacing back and forth upstairs.
When I went to investigate, there was no one there. I looked all over the house, and heard the footsteps several times, but could find no one. The following Halloween, my son heard them too. I don't even believe in ghosts, and I've taken a lot of ribbing for this, but it was very real.
If you were selling your home, how would you pitch it to a potential buyer?
I hope it will sell itself when the time comes. It's a great family home, a great space for entertaining, and it has amazing views. There is a great pool and pretty gardens, including the absolutely wonderful vegetable garden. Where else will you find a house with a hot tub, a pool, a home theater, a giant kitchen, three porches and a patio, and great views?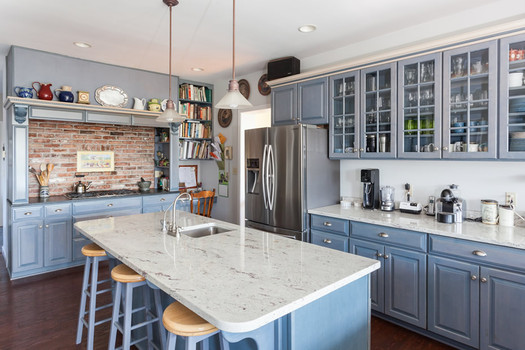 It started out as a falling down wreck with potential, and of course, it has all new mechanicals because the old ones were shot -- it was such a mess. It's a great house-- the ultimate party house, and/or an amazing place to raise kids.

If you could buy any work of art for your home, what would it be?
I would like a new, really good rug for the dining room -- a work-of-art type rug. Our walls are pretty filled as they are. All my rugs are from eBay, when you could get cheap wool orientals on eBay, but I would like to have a really nice rug there.
What is the best thing about the space around your home?
No question. The view.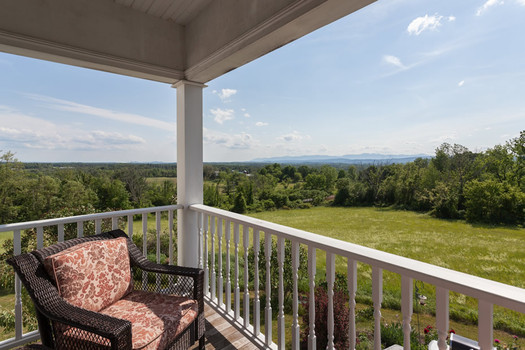 What would you change about your home or town if you could?
I wish the house had more big trees around it. As I said, it is hard to grow things up here. Between the deer and the wind, it can feel bare. I have planted quite a few trees, though with mixed success. But I won't live long enough to see them get big. If I had a magic wand, though? Definitely, the trees.
I love this area, and I really don't want it to change.
What is your favorite memory (or more than one) of living here?
There are so many! One time I planted 140 tulips in the vegetable garden in the fall, and they came up for Mother's Day, and I invited some of my favorite mothers over and we took pictures. One time when Ben was about ten we had his friends overnight and we were playing "Monster" with them (we acted like monsters and chased them around), and I hid just inside the secret back staircase and waited, and Sean S. opened the door to run up the stairs and I scared him really a lot! I don't think either of us will ever forget that!

I really enjoyed painting the interior of the house -- a real labor of love -- especially the dining room and Ben's room in its old incarnation, when it was blue with an orange stripe, to be like the Knicks. The kids all gave names to their rooms. Ben made them up, I think. Sarah's, which is pale yellow, was "Le Bebe," Rachel's, which is pink, was "The Flamingo" (must be spoken with a lot of flair -- "The flaMINGo!"), and Ben's was "The Cheetah!"
What would you say to someone thinking of moving to your area?
If you love peace and quiet, nature and countryside, old houses, front porches, history and tradition, this is the most beautiful place on earth. If you need fast food, malls, clubs and nightlife, look elsewhere.
____
Nicole Correia writes at her website and is on Twitter as @nicorreia. | Some of Paul Gallo's photos are at No3rdW.
Hi there. Comments have been closed for this item. Still have something to say? Contact us.