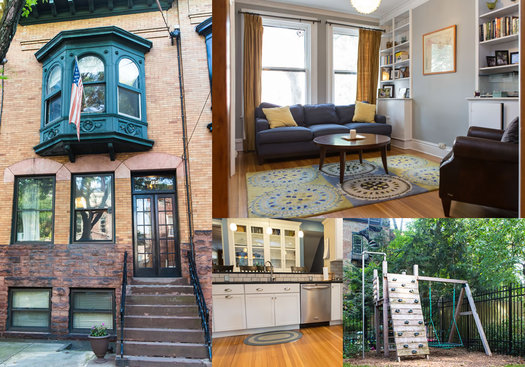 By Nicole Lemperle Correia / Photos by Dave Hopper
As a child growing up in suburbia, I daydreamed about living in the city: walking to museums, living in a bustling neighborhood, sitting on a stoop a la the characters on Sesame Street. It all seemed so exciting and very different from my quiet street.
Gail* and her family have found that raising kids in an urban setting really is fun. The family, including two young children, makes the most of everything their neighborhood has to offer -- and in Albany's Center Square, there's plenty to see and do. They have found a vibrant community and eagerly shared their experience with downtown living.
I spoke with Gail about her reasons for choosing urban living, how it works for her family, and what it's like to raise kids in a 116-year-old row house.
Gail's home is located in a section called "Brides' Row." The homes were built by John Myers in 1899 and intended for young couples. Brides' Row homes are known for their yellow brick exterior, trimmed in sandstone and second-story bay windows. Her home is 2800 square feet, 19-feet wide, and four stories. The fourth story isn't visible from the street -- something that was done by home owners at the time of construction to evade additional taxes.
Photos
There are photos above in large form -- click or scroll all the way up.
Interview
What part of your city/town do you live in?
My family of four lives in Albany's Center Square neighborhood, off of Lark Street. When we first moved here, my husband and I rented an apartment downtown, fully thinking that we'd have fun while we were young and childless but buy a home in the suburbs, eventually. Eleven years and two kids later and we've purchased not one, but two homes (we moved on to the second, larger one, to accommodate a family and a husband who [works from home]) in our vibrant, diverse, and amazing neighborhood.
What brought you to the Capital District?
We moved to Albany from southwest Florida for my job and to be closer to family. Since my husband works remotely, he can be anywhere in the world. But Albany is exactly halfway between my family in New Jersey and his in Vermont.
How is your neighborhood different from (or the same as) the perception "outsiders" may have of it?
Outsiders love to visit our neighborhood of row houses and brownstones for its unique architecture, excellent restaurants, historic Washington Park, charm and proximity to theaters/museums/culture. That's why we live here, too! As a mom of two young girls, I feel so fortunate that we are within walking distances to several museums and three parks.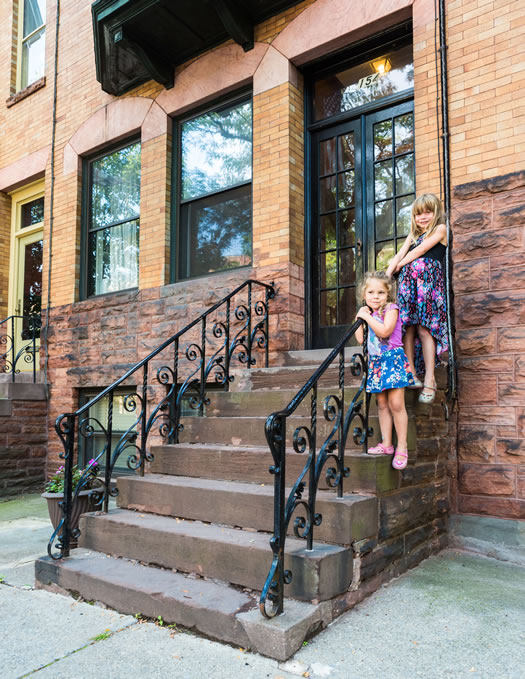 It's great fun for us to grab a slice of pizza on Lark Street, follow it up with an ice cream cone at Ben & Jerry's, and round out our evening with a walk through the 'hood and quick visits with our friends and neighbors who are out on their stoops. (In the warm months, Friday night is "stoop night" -- everyone is outside visiting while the kids scoot up and down the sidewalks on their bikes.) During the summer, it's possible to attend free outdoor concerts almost every night of the week. Empire State Plaza provides dramatic views any time of the day, during all the seasons. All of this is practically in our backyard.
Co-workers and friends often ask me, "Aren't you scared to live in a city?" And my response is an emphatic "No." Statistically there is, of course, more crime in a city than there is in a suburb or country [setting]. But we have such an amazing "community" in downtown Albany that even if a neighbor or passerby doesn't know us personally, they sure as heck know who should or should not be walking up or under our stoop. And if something seems suspicious or out of place they will say something or contact authorities. I actually feel safer knowing that there are always people around and we're not isolated or living in a home set back from the road with a long driveway, out of view.
What's the most interesting thing that's happened in or around your home while you've lived here?
Lark Street... enough said. My girls are exposed to a lot (a bunch of "Santas" running in speedos in December, drunk people who've "enjoyed" Lark Street too much, homeless people asking for money) and all of these things are life lessons. I think their experiences here will help them grow up to be well-rounded, strong, open-minded and empathetic adults. And really, what more can a parent ask for?
My girls are exposed to a lot (a bunch of "Santas" running in speedos in December, drunk people who've "enjoyed" Lark Street too much, homeless people asking for money) and all of these things are life lessons. I think their experiences here will help them grow up to be well-rounded, strong, open-minded and empathetic adults. And really, what more can a parent ask for?
What would you change about your neighborhood if you could?
I'm not going to lie, the snow emergencies stink. That being said, they are also a reminder about the amazing community that surrounds us. Sometimes finding a parking spot or digging out your car in the winter is a hassle, for sure, but there is nothing more uplifting than getting out to your car in the morning and seeing that a complete stranger has already dug you out, anonymously, or getting pushed out when you're stuck on ice or snow by someone you don't know. Everyone is in the same boat and always willing to help when they can during snow emergencies. Along these same lines, we rent an off-street parking spot, but permit parking has been life changing and so excellent for our quality of life. I park in front of my house more often than not now.
One of the reasons we live where we do is because so much is happening here. However, I do think our neighborhood now has more than its fair share of races/festivals/events. Getting to and from our home, due to street closures, is pretty difficult on those days and takes planning. I think it would be great if the city could "spread the love" and have a couple 5ks down on the waterfront, and not always in Washington Park. There are also other areas/neighborhoods in Albany that could host festivals. The Albany Police Department has really listened and done an outstanding job cracking down on public drinking during special events in recent years, but we would feel less inundated if there weren't as many here.
What is the most challenging thing about your home?
I get most of my exercise inside my house because it's FOUR floors. My girls' rooms are on the fourth floor and my laundry is in the basement so I go up and down A LOT of stairs all day long. It works for us but I understand that the layout may not be ideal for many.
What is the best thing about the space (yard/street/neighborhood/you pick) around your home?
We have a very open floor plan with a large (for our neighborhood) kitchen, which I love. A lot of the houses in Center Square have small, galley kitchens so I feel fortunate that minor renovations allowed us such an open and airy main living area.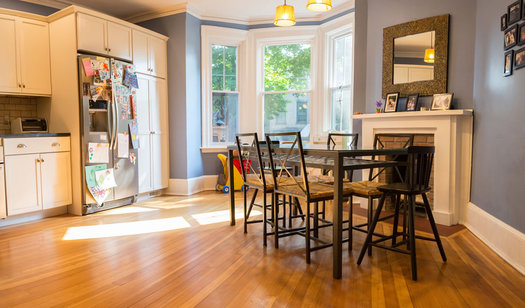 People are always surprised to learn that we actually have a backyard. It's small but we have enough space for a jungle gym, grill, and patio. Plus, it takes about six minutes to cut our grass. We live downtown because we don't want to spend hours on the weekend doing yard work.
What is your favorite memory (or more than one) of living here?
One night, a couple years ago, I was sitting in my darkened and quiet kitchen after putting the girls to bed. It was early spring and probably one of the first times our windows had been open in a while. I could hear the clink of dishes as one neighbor washed up after dinner, another neighbor's child practicing his musical instrument, I could smell someone else nearby grilling dinner, and I could see the lights of the Corning Tower looming in the distance.
I thought to myself, "This is city living. We are close enough that I can see, hear and smell what everyone else is doing. But we are in our separate houses, going about our different lives." It was comforting and an image that has stuck with me.
What would you say to someone thinking of moving to your area?
Downtown living is not for everyone. You have to really want to live here, and appreciate its magic, to make it work. But I don't think I'd want to raise a family anywhere else: we have diversity, culture/arts, the best and worst of humanity, beautiful architecture, history, the bizarre, and lots of fun.
* That's a pseudonym. And this interview has been lightly edited.
____
Nicole Correia writes at her website and is on Twitter as @nicorreia. | More of Dave Hopper's photography at David Charles Photography.
Say Something!
We'd really like you to take part in the conversation here at All Over Albany. But we do have a few rules here. Don't worry, they're easy. The first: be kind. The second: treat everyone else with the same respect you'd like to see in return. Cool? Great, post away. Comments are moderated so it might take a little while for your comment to show up. Thanks for being patient.