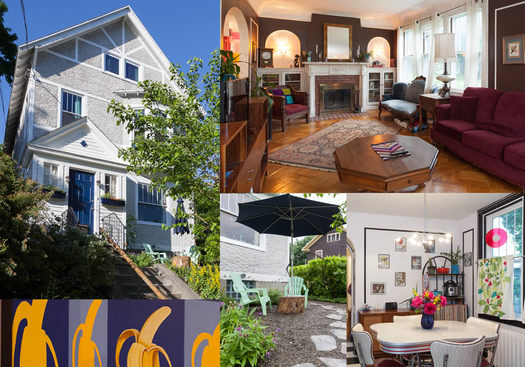 By Nicole Lemperle Correia / Photos by Paul Gallo
R and L's home feels inviting and historic and funky all at once. The house itself is full of beautiful architectural features, and the family has filled its rooms with quirky details, interesting art, beautiful old furniture, and fun touches. It's the kind of place where you want to pull up a chair, have a drink, and chat with friends.
It's also a home that is very much a part of its surroundings. Perched above the street and featuring a front-yard patio, it's set within a vibrant Albany neighborhood of older homes.
With more than a decade spent in their home, R and L have plenty of home ownership tales and neighborhood love to share.
Photos
There are photos at the top in large format -- click or scroll all the way up.
Interview
Answers are from R.
How long have you lived here?
1/3 of our life. 624 movies. 156 spontaneous dance parties. 3 World Cups.
In the timeline of our 100 year old home, we would be the 10 percent at the end.
Or, more simply put, just shy of 12 years.
What brought you to this corner of the Capital District?
Sidewalks.
Seriously, we wanted to live in a walkable neighborhood. We wanted to be able to walk the dog and not get run over. We wanted to take romantic moonlight walks to the pharmacy together. We wanted to have bars and restaurants (yes, this was before kids so we could actually make use of such establishments).
If we weren't going to have a big piece of land out in the country or some waterfront villa, might as well live in a part of the city that offered the conveniences of city living.
When we saw this house we knew it was right. It had lots of character. We fell in love with the parquet floors and the picture panel moulding... and there were sidewalks.

What is your neighborhood like?
Our block has a strong sense of community. We are all at various stages in our lives, but everyone is warm and welcoming. There are kids close by for my children to play with, someone to help my daughter off the school bus in a pinch or chat over a beverage on a warm summer evening. We all look out for each other and get together a few times a year for block parties, birthday parties, and potlucks.
Overall it's a welcoming and supportive community that we are lucky to be a part of.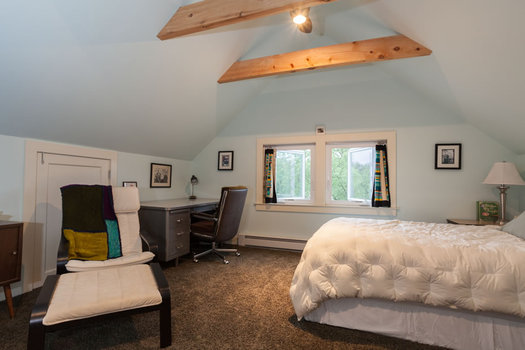 What's your favorite part of your home?
The finished attic. It's like this secret, hidden gem hiding perched above the city. We don't use it a ton, but it's a great space that we hope to make a master suite once our kids are a little older.
Our house is a tall frame house that sits atop a hill. From the third floor windows, all you can see are treetops and sky. Our son was born up there -- an experience that we will never forget.
And the biggest challenge with your home?
The backyard looked great when we moved in, like a lush green jungle. Turns out those lush vines growing on the fence were actually poison ivy. We thought we might be able to ignore it at first, but before long we were "itching" to get rid of anything remotely green back there. It took a few summers to eradicate the ivy and there were casualties. After trying several methods, we launched an aggravated assault on our yard which eliminated the pest, but left with a bare brown mud patch for a yard. We've been struggling to bring back the lush green feel ever since, and it's starting to get better.
If you were selling your home, how would you pitch it to a potential buyer?
A unique and charming house in a small community nestled in the heart of a small city. This street has everything you need at your fingertips: great neighbors, a park and playground, movie theater, pharmacy, coffee shop, grocery store, and a community garden all just a short jaunt down the sidewalk.

If you could buy any work of art for your home, what would it be?
A Viking professional series double oven with 6-8 burner gas range. Cooking is an artform, so shouldn't this be considered a work of art?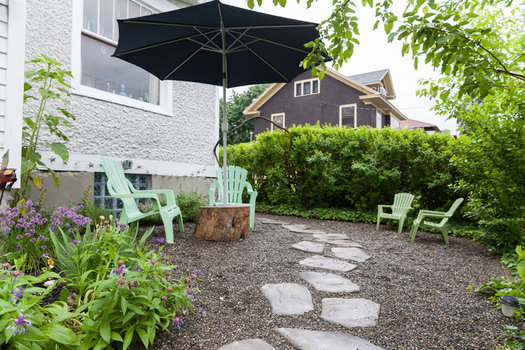 What is the best thing about the space around your home?
Our patio. When we first moved in the house had been vacant and the hedges had taken over the front yard. On a whim we dug up the hedges a few years ago. We completely underestimated how big they were and how much prime real estate they were taking up. We put down some pea gravel and created an awesome new seating area and play space. Our kids enjoy digging in the rocks, while we sip a cocktail and relax after work. It's like having another backyard, only it's in the front and we can wave at passersby on the sidewalk.
Did I mention we have sidewalks?

What would you change about your home (or neighborhood or city) if you could?
I would like a bigger and more open dining room and kitchen area. Since moving here, our family has expanded with the addition of two kids, my parents and my sister have relocated here, and our extended family continues to grow. I love to cook and entertain and it is challenging to accommodate big holiday meals in our dining room space.

What is your favorite memory (or more than one) of living here?
We've ushered in many life transformations in this space and the house has grown along with us. We have gone from a young unmarried couple "playing house" to a family of four. With every life transformation our house has been a part of it, swelling and adapting around our changing needs. We've had so many formative memories here in this space it would be hard to imagine raising our family anywhere else.
Nicole Correia is a non-profit communications professional by day and freelance writer by night. She enjoys writing about the Capital Region, parenthood, food, and the places people call home. She can be found on Twitter and on https://nicolemcorreia.com/her website.
Some of Paul Gallo's photos are at No3rdW.
More Open House
+ RT and ST's Mansion Neighborhood Row House
+ Laura's hometown home in Cohoes
+ Sarah and Brianna's apartment on the park
Hi there. Comments have been closed for this item. Still have something to say? Contact us.