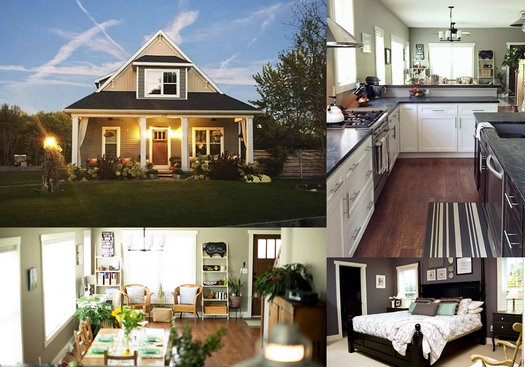 By Nicole Lemperle Correia
Laura's love for Cohoes runs so deeply that she built a home across the street from the house where she grew up. Her passion for her hometown combined with her love for home design have not only resulted in an interesting story -- she's also built a business on these two things.
A new home that has the details and feel of an older house, Laura's thoughtfully-designed place makes it easy to imagine spending a cozy Sunday afternoon or enjoying a large family party. It's a comfortable and welcoming space.
What part of your city/town do you live in?
We live on what is known as "the hill" section of Cohoes on Berkley Avenue. I live across the street from an old farm and directly next to a city park. My parents live across the street and my brother and his family live behind me. We jokingly call it the "family compound."
How long have you lived here?
I've lived on this street since I was seven years old. When my parents purchased the land to build their home, they had to purchase the parcel across the street as well. As a young girl I dreamt of building my own home there someday. It's amazing that it has become my reality.
People always say "Wow -- you live right next to your parents! What's that like?" My response is always: I couldn't be more blessed. My children are growing up with so much love and support literally within steps from their own front porch.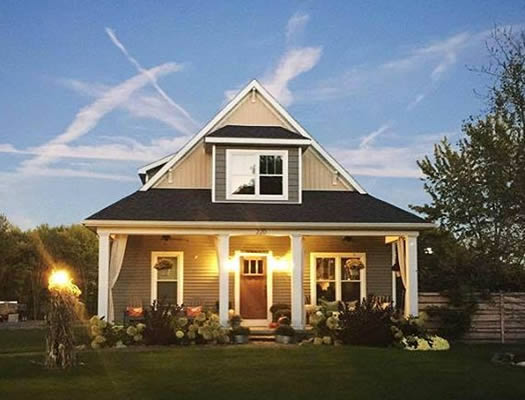 What brought you to this corner of the Capital District?
I have lived in Cohoes most all of my life. I did live briefly in Denver, Colorado (about six months) as well as seven years in Wilton and one year in Halfmoon.
I was always drawn to Cohoes and coming back to the city. Something about the people and the community called me back. It's a community of people who care and are genuine neighbors. This city is rich with history and is experiencing an exciting period of revitalization and business development. It's been a long time coming!
My family owns LePage's Market across from the Cohoes waterfalls. It's great to walk with my kids to visit Papa and get an ice cream cone. I love the location and small town feel of our city. I couldn't be happier than to have settled down and raise a family here in my hometown.
What is your neighborhood like?
My neighborhood is mostly quiet with familiar faces and beautiful old bungalows. It's no wonder that I love bungalow/Craftsman homes -- Berkley Ave is filled with old bungalows rich in character. I am also very inspired by the farmhouse style having grown up next to a working farm.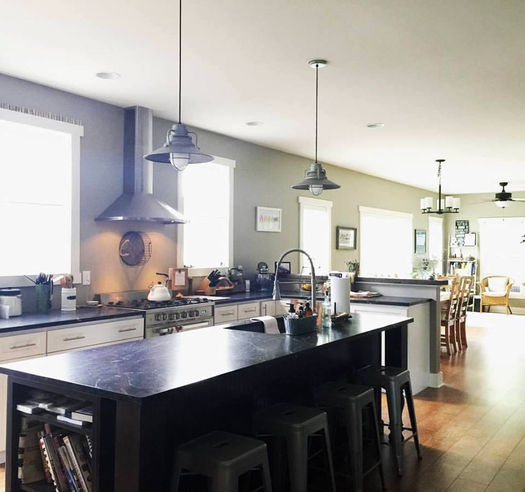 What's your favorite part of your home?
My favorite part of our home is the kitchen. It is directly in the middle of our home and is the heart of the household. I spent a lot of time designing and customizing its form and function. We love to entertain and cook so having a functional kitchen that also looked pretty was really important to us.
We also incorporated passive solar design along the whole south-facing wall of our home and achieved this with no wall cabinets, only pull-out drawers. We paired white cabinetry with soapstone and stainless steel appliances. Everyone constantly gathers in the kitchen and it is where I choose to spend most of my day when I'm home.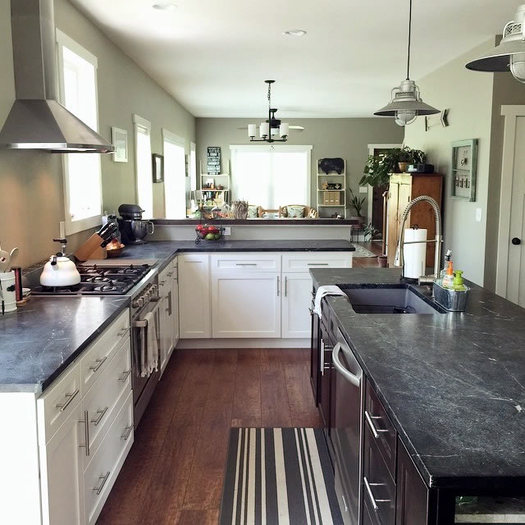 And the biggest challenge with your home?
Our home is truly an open floor plan. So all the rooms bleed into one another which makes it a challenge for when I want to change paint colors, etc. I also wish that we went a little bigger with some of our rooms (like our mudroom and family room). But overall, the challenges are minor in comparison to our overall feelings toward the home.
Has anything crazy/weird/scary/funny/notable happened in or around your home while you've lived here?
We have a variety of animals that live around us. There's a family of deer that live in the yard, as well as several opossums, raccoons, and other creatures. I think they have been kicked out of their homes because of all the development in the surrounding areas and have nowhere else to go.
I don't mind it and oddly enough find it kind of cozy.
If you were selling your home, how would you pitch it to a potential buyer?
I would let the buyer know it's a one-of-a-kind home, located in one of the best spots in the city. The home has good, positive energy and is close to everything. I'm partial, of course!
If you could buy any work of art for your home, what would it be?
I would love to own some paintings of the beaches and ocean areas of Cape Cod. We go there every summer and the beautiful paintings I always see for sale in Provincetown catch my eye every time. I will, at some point, invest in a fine painting like this and will escape to the Cape every time I look at it!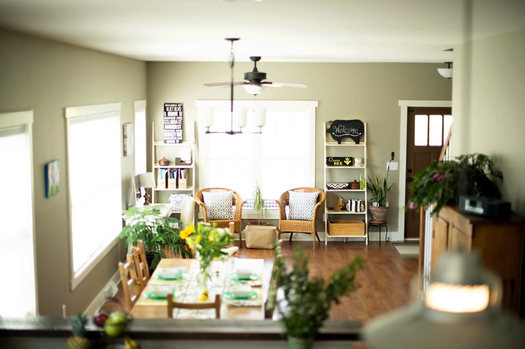 What is the best thing about the space (yard/street/neighborhood/you pick) around your home?
We have a beautiful front, side, and back yard. There is so much space to entertain, play ball with the kids and garden. I LOVE mowing the lawn and working on landscaping, so having all this yard space is a dream for us. We also live next door to a city park so the kids have tennis courts and a jungle gym right next door to them. It's such a great place to grow up!
What would you change about your home (or neighborhood or city) if you could?
I would change the people that come to the city, disrespect it, and then complain about it. My mother always said, "If you're not part of the solution you're part of the problem." I try to live by those words and make the city a better place by contributing to it.
I'm the assistant principal of Cohoes High School and also the co-owner of Milltown Homes LLC, a building and renovation company. It's a busy life but I wouldn't want it any other way. I run into a lot of youth and even adults that make negative comments about the city and what they dislike about it. However, the reality is that many of these individuals do nothing to contribute to it or make it a better place. So if I could change one thing, it would be to have more buy-in from the residents of our city. I am hopeful this will happen over time.
Do you see yourself living here in 10 years?
I do see myself living here in 10 years and can't imagine leaving. I do hope though, within the next decade, to own a cabin in the Adirondacks (preferably Lake Placid area) where I can getaway and enjoy the simplicity of nature. For now I have my RV camper and that will have to do!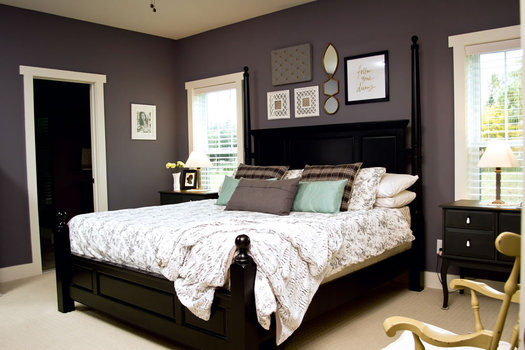 What is your favorite memory of living here?
I have too many fond memories and cannot think of one specifically. I can tell you that the home was really the inspiration behind me launching my design blog, The Unique Nest, and gave me a canvas to be creative. The home (and blog) have allowed me an outlet where I have connected with so many wonderful people. I'm not sure that would've happened otherwise.
What would you say to someone thinking of moving to your area?
I would say, "Please come and be a part of this great city". I'd also let them know I could renovate a home for them or sell them one of the custom town homes I'm currently building!
If that didn't work, I'd let them know I could keep a close eye on their children at school.
Photos courtesy of Laura Tarlo.
____
Nicole Correia is a non-profit communications professional by day and freelance writer by night. She enjoys writing about the Capital Region, parenthood, food, and the places people call home. She can be found on Twitter and on https://nicolemcorreia.com/">her website.
More Open House
+ Sarah and Brianna's apartment on the park
+ Apartment living in downtown Albany
+ Erica and Christian's Albany Sears Kit Home
Hi there. Comments have been closed for this item. Still have something to say? Contact us.