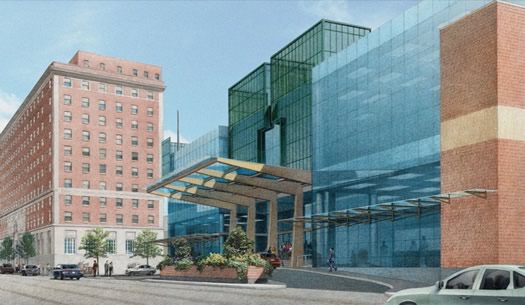 Updated
So, this is news: "A government official involved in the project's negotiations" tells the Biz Review's Adam Sichko that the Cuomo administration has approved the scaled-down version of the Albany convention center. That's a big deal because buy-in from the Cuomo admin would open the way for the release of about $70 million in money that's already allocated/promised/set aside for a convention center project.
The new scaled-down plan was introduced in November. It would site a 82,000-square-foot facility at Howard and Eagle in downtown Albany. The Albany Convention Center Authority has touted the new plan -- about a third the size of the of the originally proposed project -- as a "hub" between the Empire State Plaza and the Times Union Center, with all three connected by a covered walkway.
The ACCA said the $66.5 million project could be paid for with the already-allocated money. It estimated that it could be completed by July 2016.
The Cuomo administration confirmed the approval in a press release later on Tuesday. The release included a name for the facility -- "Albany Capital Center" -- and a start date for construction -- June 2014.
Oh, and there's important bit tucked into the administration's announcement:
Furthermore, the land accumulated by the Authority for the first proposed location would be conveyed to the Office of General Services (OGS) and would be made available for appropriate development through a Request for Proposal managed by OGS and Empire State Development (ESD), with the goals of expanding the local commercial tax base and the creation of jobs and opportunities
That land is the chunk on the south side of downtown Albany near the bus station. Earlier this year an idea was floated for the land to be used for an aquarium/science center/something or other. The fact that the state will directly controlling the land prompts a lot of questions -- including what state officials consider "appropriate development" for the site.
Earlier on AOA: Renderings, a footprint map, and more details about the new convention center proposal
image: ACCA/CHA
Hi there. Comments have been closed for this item. Still have something to say? Contact us.