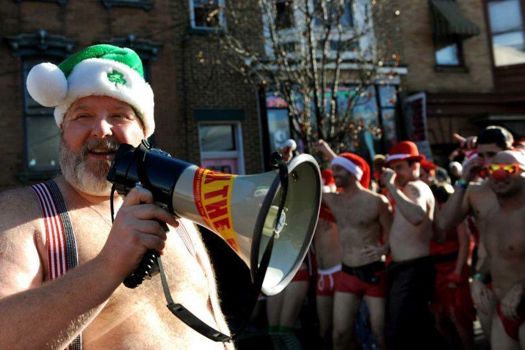 It's not about getting -- it's about giving. Everybody knows that. So instead of asking a handful of interesting people what's on their holiday wish list this year, we asked them what they'd like to give for the holidays this year.
Up next: Everyone's favorite Santa Speedo sprinter, Jim Larson...
This year is so exciting, there are so many great things to give! Word of caution, I am a fella who likes to eat out quite a bit, so most of my gifts are food centered.
Looking forward to next summer and fall, some folks will be getting gift certificates to Samascott Orchard and Market in Valatie -- their cider is top notch and during the summer, they had corn-flavored ice cream, it was amazing!
Some of my bearded bear friends will be getting the new line of products from Patsy's Executive Cutters -- the peppermint shampoo and the fantastic hair and beard wax are quickly becoming a favorite of mine and I hope they love them.
For keeping me out of jail this year (another good year!), my accountant and lawyer are getting taken to the Bear's Steakhouse in Duanesburg for a fantastic meal of house-made specialties -- the love that the Paynes put in every meal make it fantastically delicious and memorable.
For my adventurous friends, and there are plenty of vegetarian offerings at these places, I will be offering up gift cards to both the Dutch Pot in Albany on Madison and to Oasis Cafe on Delaware -- two very wonderful restaurants right off Lark that are doing amazing things. If they have the chickpea and pomegranate salad or the Alexandrian liver at Oasis Cafe, pounce on it! The jerk chicken at the Dutch Pot is out of this world.
Speaking of vegetarians, I will be hosting my best friend's birthday right after Christmas this year at Flavors of India -- amazingly delicious, light, and wonderfully executed Indian food. They have an Indo-Chinese menu as well with amazing chicken soup. A go-to would also be the chili paneer -- so delicious and wonderful.
A tradition I started a few years back of dropping off delicious eggnog from Meadow Brook Dairy is being ramped up this year with the addition of chocolate chip cookies from Bake for You over on Delaware Ave, next to Mingle (get the fish tacos) and the Cheese Traveler.
One very special friend already received his St. Nicholas Day Vitamix from Williams-Sonoma in Crossgates Mall, the staff is so knowledgeable and friendly.
A wonderful, talented friend that did a huge house project for me this year is getting a weekend at the American Hotel in Sharon Springs. This place is always top notch and a great time. Always. Every time.
And it isn't really a gift, but I figured out the perfect first date, and it's in Schenectady. Right, believe it! Dinner for two at Tara Kitchen, walk to the movies, and then a late night espresso at Villa Italia. I haven't had a chance to test my theory yet, but maybe Santa will work some magic!
All the best! Happy and healthy New Year!
Jim Larson is a wordsmith, urban farmer, and culinary demonstrator in the
Capital Region.
Hi there. Comments have been closed for this item. Still have something to say? Contact us.