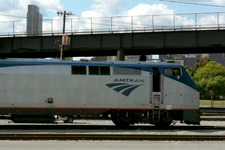 Sean emails with a travel question:
It's no secret that Albany has a small airport, and that finding reasonably priced, direct flights to big cities can often be a bit challenging. I've just booked a cross-country flight out of NYC and was hoping your readers could help me settle on the best option for getting from here to there before lift-off (and then back again a week later).
The current options (as I see them) involve driving + paying to park our car for a week, trains (whether from Albany or Poughkeepsie) or a one-way car-rental each way. We'll have lots of suitcases and a small child in tow.
We did the math on a similar Albany-to-NYC question in the past -- and while the numbers surely aren't still the same, some of the general conclusions probably still hold true. But Sean's question is different because he's headed to one of the NYC airports (presumably JFK or LaGuardia, not Newark). And the "lots of suitcases and a small child in tow" adds a degree of difficulty.
So... thoughts for Sean on the best option for his trip? Please share!
Hi there. Comments have been closed for this item. Still have something to say? Contact us.