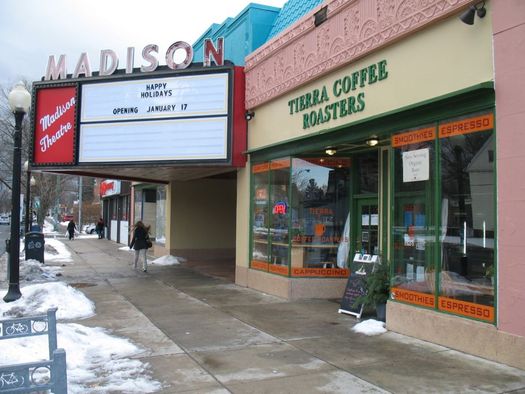 The screens at the Madison Theater in Albany will flick back to life January 17 when the theater opens for the first time after a renovation.
The 85-year-old venue has lived through many different versions in its history. But this next life represents a significant transformation. The Madison is now operated by Tierra Farm, the Columbia County-based organic nuts/coffee/dried fruit company that also runs the coffee shop at the front of the building. Tierra has big plans for the space: upgraded theaters, digital projectors, a retail store for its products, and, eventually, an event space.
We stopped by the theater Monday to get a look at the renovations and hear a little bit more about what's planned for the neighborhood theater.
There are large-format photos above -- click or scroll all the way up.
How a nut/fruit/coffee company ended up running a theater
Tierra -- which owns two coffee shops in Albany, including one by the Spectrum -- might not seem like the first company you'd think of to run a theater. But as we talked with Dan Laiosa, the Tierra partner who will be heading up the operation of the venue, it makes some sense.
Laiosa explained that Tierra was looking to extend its lease for the coffee shop space with the theater company that owned the building -- but the company didn't want to extend because it wanted to sell the building. So the two companies worked out a lease-to-own arrangement.
"We look at it as a way to support the community and build the brand up of our coffee shop in a different way," said Laiosa Monday afternoon. "We look at the building as a real estate investment."
The venue
Tierra, whose other partners are Gunther Fishgold (president) and Darren Grout (CEO), is hoping to make the most out of the space by doing a few different things with it: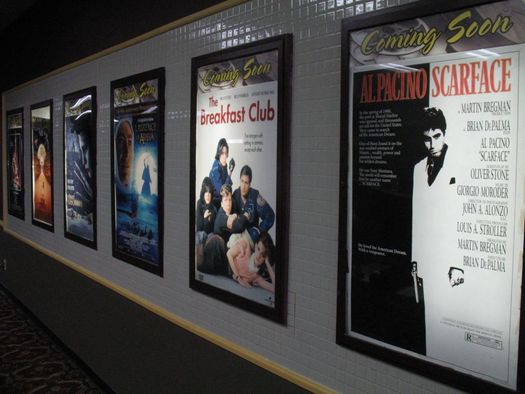 Movies
The new configuration of the Madison includes just two theaters for showing movies. Those theaters are getting upgrades that include digital projectors and new seats.
The plan is to use the theaters to show a range of old movies -- from classics like Butch Cassidy and the Sundance Kid to more recent cult classics like The Big Lebowski and Zoolander. Tickets will be $5.
Said Laiosa: "We think it's fun. We're hoping if we build it, they will come. We'll make it a nice theater. We'll show high-quality digital prints. It shouldn't be two hard to get two people to pay $10 for a movie."
And the snack bar will include the sort of items you might expect from an organic foods company: organic candies, natural sodas, organic popcorn and butter, and (of course) Tierra products.
The retail store
The Madison building includes two retail storefronts -- check out this old photo from the 1930s -- but the one opposite the coffee shop had been used as two tiny theaters. Tierra is turning that space back to retail, where it will sell the line of products it roasts at its Columbia County facility.
The projected opening for the retail store is April or May 2014.
The event space
That leaves three more former theaters, which Tierra is planning to combine into an event space that could potentially hold 400-500 people. The idea is that the space will host concerts, talks, and community events. It's farther along on the timeline -- Tierra doesn't expect to have it operational until 2015.
There's been a fair amount friction in Albany over the last few years between entertainment venues, bars, and residential neighborhoods. And the Madison is right in middle of a residential area. But Laiosa said they were hoping to avoid that tension.

"We're definitely trying to be responsible and make this a venue for adults. We're not looking to have a bar that's open until 4 in the morning and people drunk in the street. ... We'll be very respectful."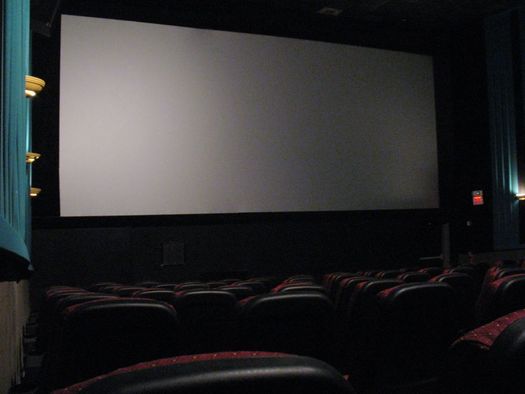 Will it work this time?
The Madison is a landmark in the Pine Hills neighborhood, and lot of people have memories associated with it. Dan Laiosa is one of them -- he recalled seeing Return of the Jedi there when he was a young kid.
But the theater has struggled to find its footing over the last few decades. And whenever we've walked by in recent years we've kind of had this sinking feeling that the theater would eventually go dark for good -- and even the building might not survive (there was a plan to turn the site into a new drug store about a decade ago).
So it's interesting to see Tierra give this a shot. And unlike previous attempts, maybe the multi-use approach will be enough to keep it afloat.
"We're not completely dependent on the movie theater to be a totally big-time profitable business because we're going to have some other businesses propping it up," said Laiosa. "So we're looking at it as a way to draw people into our coffee shop, or someone buys some nuts at our store and they come in to see a movie. ... It's almost more like a coffee shop with a movie theater than a movie theater in itself."
Opening day for The Madison Theater's next life is January 17 -- it'll be showing four Paul Newman films that night. The theater's schedule is up on its website.
Find It
Madison Theater
1036 Madison Ave
Albany, NY 12208
Hi there. Comments have been closed for this item. Still have something to say? Contact us.