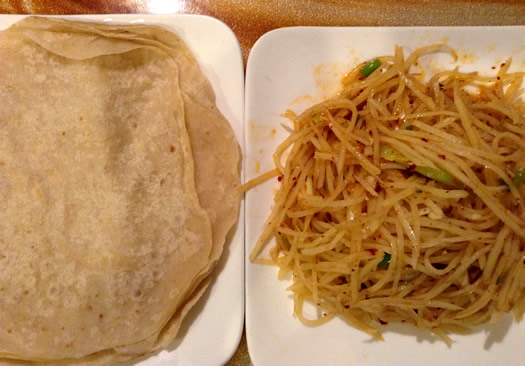 By Jeff Janssens
For an area of its size, the Capital Region boasts an impressive array of Chinese restaurants, strong in both quality and diversity. And it's only getting better: Northeast Dumplings House opened just two months ago in Albany and offers not just tasty dumplings made in-house, but small Sichuan delights.
Judging from the lack of traffic there on a recent weekend evening, it seems most are unaware of what this new restaurant is offering. That needs to change.
The Spiced Potato with Hot Pepper, served with a pile of the restaurant's "special pancakes," turned out to be a real surprise: complex in taste, it's a dish that satisfied my longing for authentic and delicious Sichuan food, one type of regional Chinese cuisine that had been previously lacking in our area.
Sichuan cuisine isn't absent from area restaurants; it's represented by popular dishes such as Kung Pao chicken. But as Fuchsia Dunlop writes in the introduction to her excellent cookbook Land of Plenty, "Szechuanese cooking is one of the great unknown cuisines of the world. It is legendary in China for its sophistication and amazing diversity, but known in the West only by a few famous dishes and its 'hot-and-spicy' reputation."
Northeast Dumplings House showcases that diversity, even though its menu is fairly small outside of its dumpling offerings. The menu is devoid of any rice dishes, and the dish I want to talk about here features potatoes, which aren't often thought of as being a part of Chinese cuisine.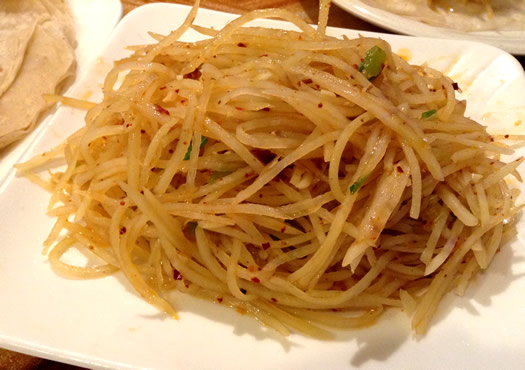 I had planned on ordering the Sliced Potato with Hot Pepper at Northeast Dumplings House for $3.99, but before that asked about the "special pancakes" that were just above them on the menu for $4. Our server said that these went with the potatoes, and the proper way of eating them was to place some potatoes in the middle of one of these thin pancakes and then wrap it up and eat it. This might seem strange at first, but it's not all that different than a knish from Jewish cuisine or a dosa you might find in an Indian restaurant. And in terms of texture, the potatoes inside the pancake at Northeast Dumplings House might be the most satisfying.
That's because these potatoes are shredded and cut to the size of matchsticks. Stir-fried, they retain their crunchiness. The Sliced Potato with Hot Pepper can certainly work on its own, but they do work quite nicely inside the soft and slightly chewy pancake.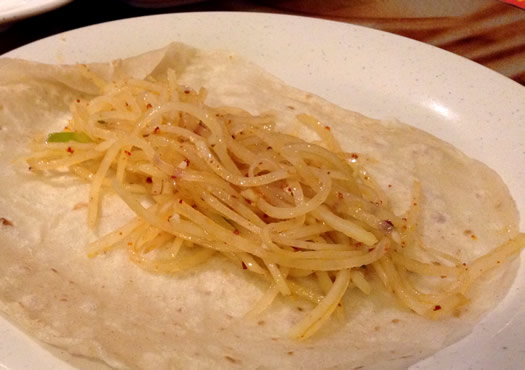 And in terms of the taste, these potatoes provide a surprising jolt of flavor for what appears to be such a simple dish. There is the heat that comes from the chiles, but it's moderate and allows for other flavors to assert themselves. Most notable among them is garlic, which seems to be liberally used throughout many of the dishes I sampled at Northeast Dumplings House.
There is also the pleasant sourness of vinegar present in these potatoes. While some recipes call for Chinkiang (black) vinegar, I believe Shaoxing rice wine or sherry vinegar was used here. And to add both texture and taste, there were slivers of scallions interspersed with the potato slices. In all, the serving of potatoes was enough to spread among the eight pancakes and still have a bit left to scoop up with chopsticks afterward.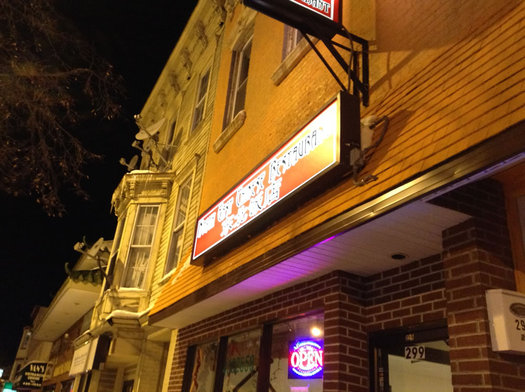 Northeast Dumplings House occupies a modest storefront on Central Ave that formerly housed CCK Chinese Restaurant. The interior is highlighted by the large window at the rear of the restaurant that allows patrons to watch as the chef goes to work. It's a fun place for a meal, particularly when sharing with others so you can sample as many items as possible.
The dumplings come steamed or fried as orders of 15, and there are numerous side dishes -- like the sliced potatoes or any of the buns or pancakes offered -- that are best when divided up. You can also get a sack of 30 frozen dumplings to take home and cook yourself.
Yes, there are many quality Chinese restaurants in the area to choose from, but Northeast Dumplings House shouldn't be a forgotten member of the pack. They -- along with their larger sister restaurant, the nearby Northeast Chinese II -- are bringing exciting new options to the Albany area.
China is a pretty large country, after all; it's nice to see another of its many regional cuisines represented well here.
Jeff Janssens writes about food and beer at The Masticating Monkey.
More Eat This!
+ Samosa Trio at Umana
+ Pho at Kim's Restaurant
+ Cajun Pork Belly and Prosciutto Panini at Illium Café
Find It
Northeast Dumplings House
299 Central Ave
Albany, NY 12206
Closed on Tuesdays.
Hi there. Comments have been closed for this item. Still have something to say? Contact us.