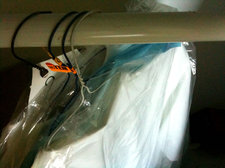 Will emails:
As the legislative session is cranking up again, I was wondering if you guys have ever done something similar to your grocery shopping comparison to dry cleaning? With all of us here at the capitol mostly only in suits and tie for 6 months of the year, could be something very helpful.
We did something kind of like that a long, long time ago (and it's now very much out of date). But we hear from Will that he's most interested in price (which that thing didn't address). That's something we might be able to explore, but it will take a little while. So, in the meantime:
Which dry cleaner is is your favorite? Why?
Your suggestions could not only help out Will (and everyone else), but we might also be able to feed the suggestions into a price comparison.
So, got a suggestion? Please share!
Hi there. Comments have been closed for this item. Still have something to say? Contact us.