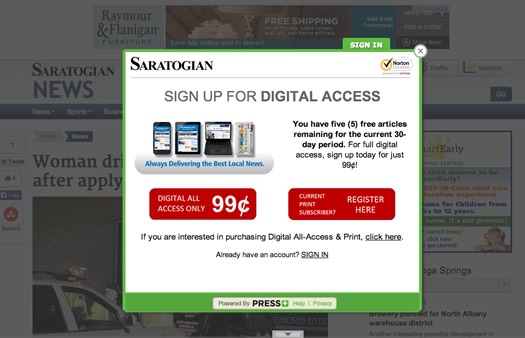 We were greeted by something new when visiting the websites for The Record and The Saratogian this week: paywall notices.
The paywalls allow a certain number of free articles before access is restricted, though it's not designated in the FAQ (it appears to be five articles). Access beyond that limit is $3 per week for online only (print subscribers also get access). If the papers can deliver good content, that's not a bad price -- most people probably spend more on a cup of coffee.
From the answer to the "Why Is There A Meter?" question in the FAQ:
As The Saratogian continues to evolve, we continue to invest in the digital future of The Saratogian so we can continue to serve you and others in our communities. We have set the meter on www.saratogian.com high enough that many readers may never reach it but if you are a regular/daily reader - and we hope you are - then you will want to subscribe to ensure you continue to have access to the news and information that matters to you.
It was announced this past November that both papers would be metering access to their website as part of a company wide plan by their parent, Digital First Media. In a post describing the company's path to the decision, DFM CEO John Paton said the paywalls are an effort to provide the "proverbial gas in the tank" to get the DFM through the transition from traditional printed products to digital.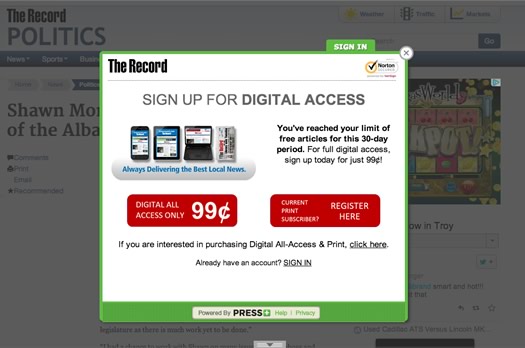 Even though newspapers have seen a large portion of their audience move online, the bulk of most paper's revenue still comes from print ads. Paywalls are an attempt to start generating more revenue from the online side (and/or help shore up print subscriptions). The tactic seems to have had varying levels of success (having good content helps). The New York Times is one of the most prominent examples of a metered paywall, and last August it reported pulling in more $150 million a year in revenue from its wall (that also included the Boston Globe).
Locally, the Daily Gazette has a had a paywall for years. And it appears to be having some success with it. The paper reports having 20,000 paid online subscribers. That probably represents a fair chunk of revenue. (Update: We hear that number doesn't necessarily represent only online subscriptions -- it also includes discounted online-add-ons to regular subscriptions, so the chunk of revenue might be not be as big as it appears.)
With the Gazette, Record, Saratogian, and Post-Star now all paywalled to some extent, it will be interesting to see how the new situation affects the strategy at the currently un-walled Times Union.
The fact is that no media company has yet figured out a guaranteed plan to stay afloat over the longterm. A lot of people are making guesses, some of which will end up working (eventually, maybe) and some will probably result in total failure. The trends for newspapers aren't exactly encouraging. Print subscriber circulations are eroding, digital advertising revenue isn't rising quickly, and paywalls can be a tricky proposition.
So maybe the paywall is a way forward. It's worth a shot. At this point, there's more risk in doing nothing.
Hi there. Comments have been closed for this item. Still have something to say? Contact us.