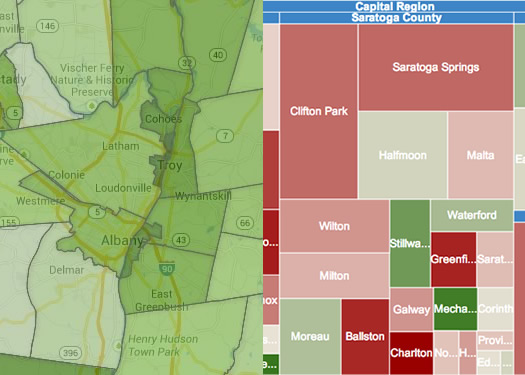 The Capital Region is in line to get a casino as part of the vote to allow full casino gambling last fall (as you know). And based on comments made by Andrew Cuomo in last week's State of the State address, the selection of the casino site is scheduled to happen sometime during the six months or so.
As the selection process picks up, the discussion around it is focusing in part not just on where a casino might be viable, but also which municipalities do -- or don't -- want one of the gambling facilities. Examples: The vocal opposition in Saratoga Springs to a full casino, despite conventional wisdom that the Spa City would be a leading potential site; or, conversely, the mayor of Rensselaer's lobbying for his city to be in the running.
The casino selection process doesn't include local approval. Even so, we thought it'd be interesting to get a better feel for how cities and towns in the Capital Region might be leaning on the issue based on how residents voted last November on the state constitutional amendment that allowed casinos.
So we pulled the vote totals on the ballot question for the Capital Region by town, mapped 'em, and also put together some "tree maps" (kind of like square pie charts) to get a sense of how a city or town's support or opposition fits into the whole.
That's a long way of saying: look at these maps and charts...

Maps and charts above in large format -- click or scroll all the way up.
All cities and towns, by support
Vote percentages from the November 2013 general election. (So it's possible some people have changed their mind since then.)
Statewide
Here's map of the casino amendment statewide vote by county, from last November.
Hi there. Comments have been closed for this item. Still have something to say? Contact us.